Internationally, the Islamic Republic of Iran is still basking in having falsely attained a "moderate" status for President Hassan Rouhani and a seat on five sub-committees of the United Nations Economic and Social Council, including the Commission on the Status of Women. Inside Iran, however, daily life still consists of systematic arrest, torture, persecution of minorities and accelerated executions.
In just one week under the Islamic Republic:
Roya Nobakht, a dual British-Iranian citizen who lived in Stockport, England, was sentenced on May 30 to twenty years in prison for a comment she posted on Facebook during her three week holiday in Iran. The comment simply stated that the government was "too Islamic." According to HRANA News Agency, she was among eight others sentenced to a total of 128 years for similar comments. All were charged with "endangering national security, insulting Islam and gathering crowds."
The arrest of four men (Bahman Tafazolinasab, Afshin Zemanati, Reza Tejareh and Davood Afrooz) was also reported by HRANA on May 30 for "Facebook activities" in the city of Dehdasht. Three social media users (Saleh Tamouli, Hamzeh Zargani and Adel Sadooni) from Ahwaz were sentenced -- after being severely tortured for two months -- to three years each on charges of administrating pages in Facebook. Facebook, Twitter and, most recently, Instagram are strictly banned in the Islamic Republic.
Gholam-Reza Khosravi was hanged at dawn as an "enemy of God" on June 1 for donating approximately $500 to an opposition TV station. According to the Boroumand Foundation in Washington D.C., there have been 11 unofficial executions reported for June, and a total of 340 officially documented for 2014.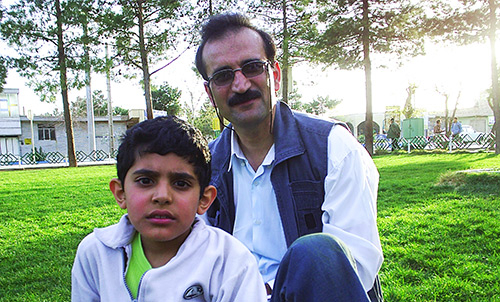 Gholam-Reza Khosravi (right, pictured with his son) was hanged on June 1, for donating approximately $500 to an opposition TV station.
That comes to, on average, 17 persons hanged each week by the Islamic Republic -- a number equal to the executions in 2010 after the 2009 uprisings during President Mahmoud Ahamdinejad's far-from-moderate-reign.
Reminiscent of the widely reported brutal attack on political prisoners in Ward 350 of Evin prison in April 2014, the INU News Agency reported that despite the international outrage, prisoners in Bandar Abbas and Zahedan prisons were attacked by prison authorities on May 25 and May 28 respectively. The prisoners were brutally beaten and some left in the scorching sun without access to water or lavatories.
Of all the prisons in Iran, Bandar Abbas is regarded as having the most inadequate conditions, making this attack even more objectionable. Nearly 3,800 prisoners are housed in a facility meant to support only 400, making water and toilets scarce.
INU also reported on May 31 that 70 members of Iran's security forces raided Section 10 of Rajai-Shahr prison, which houses nearly 100 Sunni Muslim prisoners of conscience. The officials insulted the prisoners and their Sunni religion by throwing religious books at them, and looting and confiscating valuables.
In Iran, a predominately Shiite country, members of its Sunni Muslim minority are systematically persecuted. Based on the regime's own court documents, many of these prisoners have been sentenced to death. Presently, the whereabouts and fate of ten Sunni men who were arrested in mid-April by intelligence services for celebrating Sunni holidays remain unknown.
In just the last week, four Baha'i's were arrested -- three in the city of Mashhad and one in Sermnan. Baha'is in Iran have been persecuted as a matter of government policy since the 1979 revolution. During the first decade after the revolution, 200 were executed, and hundreds tortured to give up their faith and accept Islam. Tens of thousands lost their jobs, pensions, businesses, right to education and the right to religious gatherings. Crimes committed against Baha'is, their property or their businesses are not punished by the authorities in Iran: under Islamic law, they are considered non-persons.
The arrest of a children's rights activist, Saeed Shirzad was also reported in Tabriz on June 3. He will join many other prisoners of conscience, including human rights lawyers, activists, journalists, bloggers and religious minorities.
According to information received from sources inside Iran on June 3, conditions are also getting worse for Ayatollah Boroujerdi, the dissident clergyman who has been imprisoned, routinely tortured and denied urgent medical treatment for the past eight years, merely for speaking against the violent crimes of political Islam.
The authorities are still refusing treatment for Boroujerdi's serious health conditions, which include acute heart disease, Parkinson's, and ocular, pulmonary and respiratory disorders, mostly due to years of torture. As a new form of psychological torture, he is being filmed and watched at all times, even while in the shower or bathroom -- an abuse that is causing him great distress. According to the source, Boroujerdi has been told that if he writes a letter to human rights organizations informing them that he is now receiving medical care and that he is in good health, this treatment will stop.
Despite an urgent appeal on April 10 from five UN human rights experts to the Iranian government, to provide immediate medical care for . Boroujerdi, along with imprisoned blogger Mohammad Poursharaji, both men are still in grave condition.
Zaynab Jalalian, a female political prisoner who is suffering from a serious eye disease (Pterygium) directly as a result of trauma sustained during torture, was again refused treatment by prosecutor's office on June 1.
Mushallah Hayeri, 59, who was is serving 15 years in Rajai-Shahr prison for participating in the 2009 protests, went into a coma on June 5 due to lack of medical care for his cardiovascular disease. He was reportedly taken to a facility outside prison, but it is not yet clear if he is receiving medical care or simply being photographed for the media. Hayeri's daughter has been repeatedly arrested for demanding medical aid for her father.
The Islamic Republic continues to exterminate its political prisoners silently, through well-planned and prolonged torture that includes denial of medications and medical treatment -- to kill the prisoner without formal execution. This practice has not changed since Rouhani's election; many prisoners claim that since his arrival, the situation is even worse.
The only difference seems to be that now prisoners are taken to hospital, photographed in an examination gown and returned to prison without treatment. This charade is intended to create the appearance that the prisoner was treated in order to appease human rights organizations. This deception was visited on prominent imprisoned workers' activist Reza Shahabi, in dire need of spinal surgery for injuries sustained during torture. Immediately after the visit of EU foreign policy chief Catherine Ashton to Iran in March, Shahabi was taken to a hospital outside prison and photographed. Although pictures of him on a hospital bed in a gown were posted on social media, he was taken back to prison that evening without any treatment.
Most recently, on June 2, Shahabi was transferred to Rajai-Shahr prison along with six other political prisoners from Ward 350 of Evin Prison. Rajai-Shahr's conditions are much harsher than Evin's; usually prisoners with serious medical conditions do not survive this transfer.
It is alarming how the world continues to casually refer to President Rouhani as moderate even when the evidence shows very much the contrary.
Perhaps, however, it is wrong to blame the President of Iran alone; it may be more accurate to take a closer look at Supreme Leader Ali Khamenei. According to Article 110 of the Islamic Republic's constitution, the Supreme Leader must oversee all matters -- big or small. Even the release of one single political prisoner is not possible without his personal signature. Iran's presidents are simply figureheads paraded around for the sake of the West and the Iranian people.
In reality there has been only one man -- Ali Khamenei -- who has ruled Iran since June 4, 1989, when he was given his omnipotent title. As such, it is he who is to blame for the sadistic and homicidal practices of the regime.