A new law has come into effect in England and Wales that makes it a crime to force people into an unwanted marriage.
Advocates of the law say it represents a benchmark shift in thinking because—after decades of kowtowing to multicultural sensitivities—British policymakers now view forced marriage as a gross violation of human rights rather than a socially acceptable cultural difference. They also say the law will create a deterrent effect because many perpetrators will fear criminal prosecution.
Skeptics counter that the new law is retrograde and will drive victims underground due to fears that family members will be criminalized and sent to prison.
The new law, which entered into effect on June 16, makes forced marriage a self-standing criminal offense in England and Wales (the law does not extend to Northern Ireland and will be introduced in Scotland at a later date) and is punishable by up to seven years in prison.
The law also makes it a crime to breach a so-called Forced Marriage Protection Order (issued by courts to prevent people from being married against their will) in England and Wales, in line with Scotland where this is already the case. This crime now carries a penalty of up to five years in prison.
In addition, the law makes it a crime to take a British national overseas with the intention of forcing them to wed, even if the forced marriage does not ultimately take place. It is estimated that every year, hundreds of British girls are being taken out of school and flown abroad to be married, sometimes to men who may be two or three times their age.
Formally known as the Anti-Social Behavior, Crime and Policing Act of 2014, the law defines forced marriage as the use of "violence, threats or any other form of coercion for the purpose of causing another person to enter into a marriage ... without free and full consent."
The exact number of victims of forced marriage in Britain remains unknown. Research commissioned by the UK Department of Education estimates that between 5,000 and 8,000 young women in Britain are the victims of forced marriages each year. But some charities say the actual number is far higher because many victims are afraid to come forward.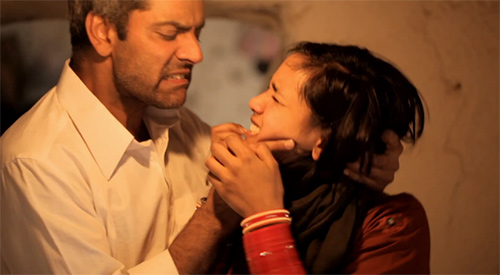 An image from the video "Right to choose: Spotting the signs of forced marriage - Nayana", produced by the UK Foreign & Commonwealth Office.
In 2013, 1,302 victims of forced marriage sought help from the Forced Marriage Unit, a special agency established by the British government. Some 82% of victims were female and 18% male, while 15% were under the age of 15.
The forced marriage cases in 2013 involved 74 different countries, with 43% relating to Pakistan, 11% to India and 10% to Bangladesh. Most of the other cases involved Afghanistan, Egypt, Iran, Iraq, Morocco, Nigeria, Saudi Arabia, Somalia, Tunisia and Yemen.
Reaction to the new legislation has been mixed. Anti-forced marriage groups, which have pressed the government for years to take meaningful action to stop the practice, have hailed the move.
Aneeta Prem, director of Freedom Charity, which educates young people about forced marriage, told the BBC that the law sends out a "powerful message that this indefensible abuse of human rights will not be tolerated."
"In the most tragic cases, people forced into marriage become domestic slaves by day and sexual slaves by night," Prem added. "Everyone should have the freedom to choose."
Jasvinder Sanghera of the Karma Nirvana charity, which supports victims of honor crimes and forced marriage, told the BBC that it was a "historical day and the right move" and that it was important for victims to report any abuse.
But others say the new law could end up deterring people from coming forward. Shereen Williams, director of the Henna Foundation, which supports Muslim victims of forced marriage, told the Telegraph:
"Victims will be very reluctant to take action that could lead to the imprisonment of their parents or other family members. We are also concerned that no guidance has been issued to police or the Crown Prosecution Service on how to implement the new law, meaning things will continue as they are."
Still others say the law will be difficult to implement. Aisha Gill of the University of Roehampton told the BBC:
"As with any law introduced, it may have unintended consequences. What we have to do is make sure victims are supported from the moment they report such an abuse, right the way through the court process, and post-court process, in terms of the outcome of a criminal prosecution.

"The challenges are in terms of giving evidence, particularly where the perpetrators may be those who are close to them i.e. family members, and the coercion and pressure that they may be subjected to in terms of withdrawing [the complaint]."
There may be some evidence in support of the skepticism.
In Scotland, for example, where Forced Marriage Protection Orders were introduced into law in 2011, there have been no prosecutions for breaches of the orders since then, suggesting that victims may be reluctant to enforce them.
Separately, an article published in the March 2014 issue of a law journal called International Family Law examined the case of a young girl who had obtained a Forced Marriage Protection Order against her mother and her aunt. The two women ignored the order and went ahead with the wedding anyway. In the end, the girl was unwilling to initiate proceedings to enforce the order because she was afraid that her relatives would be imprisoned.
Sanghera of the charity Karma Nirvana estimates that 80% of the Forced Marriage Protection Orders issued in Britain culminate in the victim being returned to the perpetrator.
Meanwhile, the National Society for the Prevention of Cruelty to Children (NSPCC) on June 13 revealed that the number of children who called ChildLine (a free 24 hour phone counselling service for children and young people in the UK) over concerns that they could be forced into marriage nearly tripled during the past three years.
Across Britain, the number of calls to the charity about forced marriage rose to 141 in 2013, up from 55 in 2011. Around one-quarter of those who contacted ChildLine about the issue were aged 12 to 15, according to the NSPCC.
This comes amid reports that some families have begun hiring bounty hunters to track down the victims of forced marriage who try to run away. In one instance, parents in Scotland paid a gang to trace a 17-year-old woman who ran away from home after she was told she had to marry in Pakistan. The bounty hunters eventually found her and fearing for her life, she went through with the wedding in Pakistan.
In an interview with the BBC, Diana Nammi, the director of the Iranian and Kurdish Women's Rights Organization (a British charity representing women and girls from Middle Eastern, North African and Afghan communities), said: "Victims live in constant fear. Families pay bounty hunters. It means you never know who the perpetrator is. We have cases where the family paid more than £100,000 [€125,000; $170,000] to track someone down and kill them."
Not surprisingly, nearly everyone involved in the debate seems to agree that ending the epidemic of forced marriage in Britain will require much more than a change in legislation.
The new law is a "huge step forward," said NSPCC director Ash Chand. "However, there is still much work to be done. Choosing a life partner is a basic human right ... yet, despite this, many children and young people are being coerced or even forced to do so without their consent."
Britain is not the only European country coming to grips with forced marriage. Austria, Belgium, Cyprus, Denmark, Germany, Malta and Norway have already outlawed the practice.
In addition, 23 European countries have signed, and 11 have ratified, the Council of Europe's Istanbul Convention, which commits state parties to introduce new laws at the national level to outlaw forced marriage and other forms of violence against women. The treaty enters into force on August 1, 2014.
Soeren Kern is a Senior Fellow at the New York-based Gatestone Institute. He is also Senior Fellow for European Politics at the Madrid-based Grupo de Estudios Estratégicos / Strategic Studies Group. Follow him on Facebook and on Twitter.