Recent missile tests by North Korea indicate that North Korea has been vehemently violating its United Nations Security Council [UNSC] resolutions -- again.
The UNSC's Resolution 2094, adopted in 2013, was intended to "significantly impede[s] North Korea's ability to develop further its illicit nuclear and ballistic missile programs, as well as its proliferation activities," according to Susan E. Rice, U.S. ambassador to the United Nations.
Further, the Security Council unanimously adopted Resolution 1718 in 2006, under Chapter VII, Article 41 of the UN Charter, prohibiting North Korea from any nuclear or missile testing.
The Resolution also requires North Korea to suspend all activities related to development of ballistic missiles, and calls for North Korea to rejoin the Non-Proliferation Treaty and thereby abide by IAEA safeguard norms.
In 2013, UNSC Resolution 2094 also imposed sanctions on North Korea that would "ban financial transactions" with it -- apparently due to suspicions that such financing could be used to fund the state's nuclear and missile development program.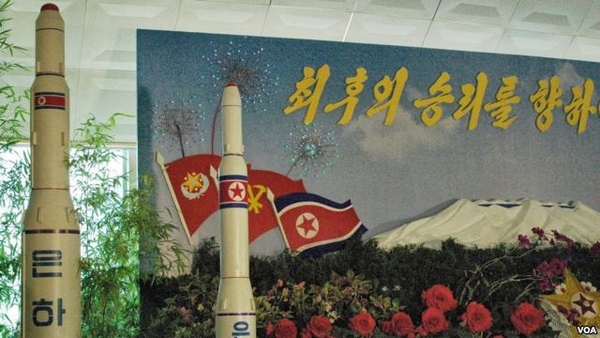 A model of the North Korean Unha-9 long-range rocket on display at a floral exhibition in Pyongyang. (Image source: Steve Herman/VOA News/Wikimedia Commons)
Missile Tests Since December 2012: A Brief Analysis
On December 12, 2012, there were reports that North Korea had "successfully demonstrated" the capability of being able to launch a "small payload into orbit," enabling the country to target territories in the United States. The test earned North Korea worldwide criticism.
The United States responded by calling the test a "highly provocative act that threatens regional security."
North Korea justified its actions, however, by claiming that the rocket launch test was conducted for "scientific and technological" purposes, to launch weather satellites into orbit.
Brian Weeden, a former U.S. officer and also currently a technical advisor to Secure World Foundation writes, "North Korea's position is that it is simply exercising its rights to peaceful exploration and use of outer space in accordance with the rights given to all nations under Article I of the 1967 Outer Space Treat, to which it is a party."[1]
In May 2013, North Korea test-fired six tactical ballistic missiles, of the KN-02 type, in defiance of all sanctions against it. The first three missiles were fired on May 18, 2014 while next three were fired on May 19, 2014, purportedly "exercising its right to test-fire rockets as a part of regular military drills." At the time, the move was believed to be an "armed protest" against the U.S.-South Korea military drills in which B-52 bombers -- capable of delivering nuclear bombs -- were also engaged.
North Korea seems to perceive threats against it as largely coming from Japan, South Korea and the United States; its missile development program therefore appears to be directed at these countries.
North Korea's missile tests are rapidly becoming a worrisome factor not only for South Korea and Japan, but also for the world -- especially as North Korea has also continued to conduct nuclear-weapons tests. According to Victor Cha, an expert from the Center for Strategic and International Studies, "North Korea's ballistic missile and nuclear threat is very much a near-term threat. ... Steady progression in their program is not harmless."
This year, since February, South Korean officials claim that North Korea has confirmed at least 90 test-firings of missiles, rockets and artillery, among which ten were ballistic missiles.
On March 25, when the United States, Japan and South Korea met in Netherlands to discuss security threats emanating from Pyongyang, North Korea reportedly test-fired Rodong medium-range ballistic missiles -- capable of reaching Japan and U.S. military bases in the Asia-Pacific region.
The Rodongs were also fired earlier, in July 2006 and July 2009. Kim Min-seok, a spokesman of the South Korean Defence Ministry, condemned the act and stated that the missile tests were a "serious provocation against South Korea and the international community."
In May 2014, many sources, including Reuters, reported that Pyongyang was conducting engine tests for its KN-08 intercontinental ballistic missile, which can deliver a nuclear warhead. The reports also said that North Korea has been working on a miniaturized nuclear warhead for its long-range ballistic missiles, but it is still unconfirmed if the North Koreans have been able to master the technology of mating miniaturized nuclear warheads with ballistic missiles.
The KN-08 missile, however, apparently with a range of 10,000 km, is reported to be able to reach targets in the United States. As the missile, according to Global Security, is road-mobile, it increases its chances of survivability during an attack. According to the US-Korea Institute at John Hopkins, however, North Korea has yet to conduct a test that would confirm if it has the "re-entry technology required for an effective ICBM."
On June 29, 2014, North Korea fired two short-range missiles, possibly to express "anger" over South Korea's artillery test firing near a disputed boundary in the Yellow Sea. South Korean officials assumed the missile to be of a Scud-C category.
The test took place days before Chinese President Xi Jinping was to visit South Korea, to attend a summit meeting to discuss North Korea's nuclear program.
North Korea however, justified its test by claiming that is was just "part of its routine military exercise." North Korea also claimed that the test should have no affect on the "planned government talks" between South Korea and China.
This missile test also came three days after North Korea conducted a "routine test firing" of three short range missiles into the sea which, at least according to North Korean state media, are "cutting edge ultra-precision tactical guided missiles."
There are also reports that North Korea test-fired ballistic missiles on July 2, 2014, also ahead of the Chinese President Xi Jinping's most recent visit to South Korea.
On July 3, Pyongyang also pledged that it would continue to test-fire its tactical guided missiles as a "righteous exercise of its sovereignty."
On July 26, 2014, North Korea test-fired a short range ballistic missile on the eve of the 61st year of the armistice that ended the Korean War. South Korean military officials said they viewed the missile test as a part of North Korea's "traditional dual strategy of engagement and pressure" to express its will to "participate in the upcoming Incheon Asian Games."
On August 14, 2014, reports came in that North Korea had test-fired short range rockets just before Pope Francis was to arrive in South Korea, to bring a message of "peace and reconciliation" for both North Korea and South Korea. North Korean rocket scientist, Kim In-yong claimed, however, that the tests had already been preciously scheduled.
With a fresh round of military drills to start between the South Korea and the United States -- drills that North Korea apparently believes are "invasion preparations" -- such tests could be a way to express anger at these plans.
North Korea is well aware that South Korea -- a neighbor it has held hostile relations with since the Korean War -- is under the extended nuclear deterrence of the United States. Hence, North Korea might be hoping that these nuclear-capable missiles might be seen by South Korea as a deterrent. North Korea made clear on August 8, that, "[g]iven that the U.S. and the puppet forces of South Korea continue staging nuclear war exercises against us [North Korea], we [North Koreans] will take counter measures for self defence which will include missile launches, nuclear tests...."
At bottom, every state conducting nuclear tests desires to be officially recognised as a nuclear weapons state. According to Joseph De Trani of the National Counterproliferation Center, North Korea, too, wants to be recognised as a nuclear weapons state. According to Bruce Bennet, a defence analyst at RAND Corporation, North Korea's recognition as a nuclear weapons state would be a status that North Korea assumes would enable it to "hype nationalism" and "demonstrate regime empowerment."
Another, possibly remote, eventuality is that, because North Korean missiles are liquid-propelled, they could be highly destabilizing in the Korean peninsula. Launching a liquid propelled missile involves a hazardous process of adding the liquid fuel in the rocket just before ignition. Hence, the preparation time to launch these missiles is longer than solid-propelled ones, possibly prompting North Korea to launch a pre-emptive strike during a crisis in the Korean peninsula.
In any event, North Korea's missile development has had an adverse affect on South Korea and its adherence to the Missile Technology Control Regime (MTCR) norms, which prevent proliferation of "unmanned delivery systems" capable of delivering weapons of mass destruction.
In April 2014, there were reports that the United States had allowed South Korea to develop ballistic missiles with ranges above 300 km, including missiles with a range of 500 km. In addition, South Korea is developing missiles of range 800 km, also in violation of MTCR norms, which restrict states from co-developing missiles of ranges above 300 km and payloads of over 500 kg.
North Korea's missile development is not only alarming from a security standpoint, but also from the standpoint of proliferation. In the past, North Korea has sold missiles such as the Scud B and the Scud C to Iran and Syria.
North Korea has also reportedly assisted Iran with a new rocket booster for long-range missiles, which could be transferred to Hezbollah and Hamas, to be used against Israel.
On July 23, 2014, a U.S. court ruled that North Korea in 2006 transferred "rocket and missile components to Iran where they were assembled and shipped to Hezbollah in Lebanon via Syria. … and were in fact used by Hezbollah to carry out rocket and missile attacks against Israeli civilian targets."
In July 2014, there were reports that Hamas may be seeking North Korean "missiles and communications equipment" to "maintain their offensive against Israel." Although denied by North Korea, it is reported that Hamas has already made a cash down payment.
Despite Chapter VII of the UN Charter and UNSC Resolutions, it seems that North Korea will continue developing its missiles -- and eventually weaponize them with nuclear warheads.
Debalina Ghoshal is an Associate Fellow at the Centre for Air Power Studies, New Delhi, India.
[1] Weeden however, argues that the Treaty also states that this exercise of right to peaceful exploration and use of outer space should be in "accordance to the international law," which also includes UNSC resolutions.