At the beginning of September, President Barack Obama met with Turkish President Recep Tayyip Erdogan on the sidelines of the NATO Summit in Wales. After the meeting, the White House said in a statement: "They exchanged views on how best to cooperate in the struggle against ISIL [Islamic State of Iraq and Levant/Syria] and violent extremism in Iraq and Syria, and on the need for strengthened measures against foreign fighters transiting to and from the battlefield." What could be more normal if the U.S. president discussed measures against extremism with the president of a country that now borders ISIS?
But it was bizarre that Obama and Erdogan also discussed one topic that was neither NATO- nor ISIS-related. The White House said: "The President and President Erdogan also discussed the importance of building tolerant and inclusive societies and combatting the scourge of anti-Semitism."
Apparently, the White House wanted to tell American Jews that the president had finally wanted to be tough with Erdogan on the new heights of anti-Semitism in Turkey. In return, Erdogan may have replied: "What anti-Semitism in Turkey? That's unheard of!" To which Obama may have replied: "Ah, thank you president, I feel relieved!"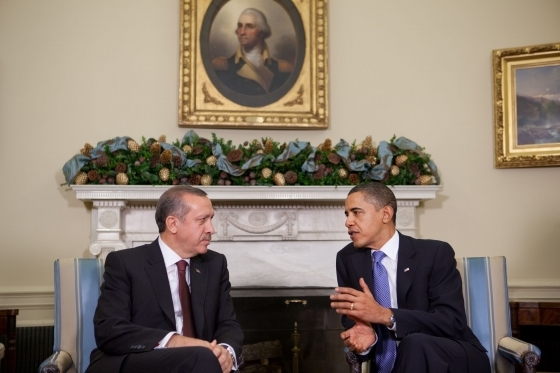 President Barack Obama talks with then Turkish Prime Minister Recep Tayyip Erdogan, in a previous meeting, in Washington, Dec. 7, 2009. [Official White House Photo]
More or less on the same day as "the President and President Erdogan discussed the importance of building tolerant and inclusive societies and combatting the scourge of anti-Semitism," a shop in central Istanbul put up a sign, featuring a photo of an Israeli tank, and saying: "Jew dogs are not permitted entry." Not really creative. The sign was an echo of a 2009 wall poster elsewhere in Turkey that read: "Jews and Armenians are not allowed, but dogs are." (Of course, none of the explicit hate crimes has ever been indicted; in Turkey hate speech is a crime only if committed against Muslim Turks).
A few days after "the President and President Erdogan discussed combatting the scourge of anti-Semitism," an Islamist columnist called for Turkey's dwindling Jewish community to pay for reconstructing buildings in Gaza damaged during Operation Protective Edge, an idea reminiscent of a wealth tax Turkey had imposed on its non-Muslim minorities in 1942.
Faruk Kose, a columnist for the daily Yeni Akit, wrote that the "Gaza Fund Contribution Tax" should apply to Turkish Jews as well as foreign Jews doing business in Turkey and any Turkish nationals with commercial ties to the Jewish state. He even suggested that the tax should apply to any company or business that maintains a partnership with a Turkish Jew. The penalty for failing to pay the tax should be the revocation of the Jew's business license and the seizure of his property, Mr. Kose proposed.
It would have been easy to shrug off the man with a "he is just nuts" wave of the hand. In reality, Yeni Akit has a permanent seat aboard Erdogan's private jet, an honor that shows how much Erdogan admires the newspaper's editorial policy -- and most likely the columnist Kose, too.
Most ironically, a journalist from Yeni Akit was among Erdogan's select group of journalists accompanying him to Wales aboard his jet -- the same jet taking Erdogan to a meeting with Obama to discuss "combatting the scourge of anti-Semitism." Did Obama know? Not easy to know. But if he knew, he could tell Erdogan that a good start to combatting the scourge of anti-Semitism could be not to honor newspapers that propose taxing Turkish Jews to reconstruct Gaza by inviting them on his private jet.
And around the same time as Obama and Erdogan discussed combatting the scourge of anti-Semitism, Turkey's broadcasting watchdog, a body controlled by the government, fined a private channel for airing the Academy Award-winning film, "The Pianist." The 2002 drama directed by Roman Polanski is based on an autobiographical Holocaust-era memoir of the same name, by Polish-Jewish pianist and composer Wladyslaw Szpilman.
The watchdog claimed that its ruling was based on "scenes of violence depicted in the film which might adversely affect the psychological and mental development of minors."
"This is simply ridiculous," said an opposition member of parliament, Ali Oztunc, from the social democrat Republican People's Party. He was right. "The Pianist" had been aired several times by different Turkish channels before, with no fine or warning from the broadcasting watchdog. Since the scenes it contains have not been re-filmed since it was made in 2002, what could have changed to make the film qualify for a fine? The film has not changed, but Turkey has.
When combined, all of these otherwise independent events best exhibit how Erdogan's Turkey responded to Obama's call for combatting the scourge of anti-Semitism, with Erdogan most probably smiling in the background.
Burak Bekdil, based in Ankara, is a Turkish columnist for the Hürriyet Daily News and a Fellow at the Middle East Forum.