It began as a "children's intifada" in Jerusalem, where Palestinians aged eight to 18 were encouraged to take to the streets and throw stones and shoot fireworks at vehicles driven by Israelis and policemen.
Now, however, Palestinians are referring to it as a "car intifada" after two Palestinian drivers deliberately ran over Israelis in Jerusalem over the past two weeks.
The "car intifada," which has claimed the lives of four Israelis, including a three-month-old infant, is being hailed by many Palestinians as a "natural response to Israeli crimes."
The "crimes" they are referring to are visits by Jewish groups and individuals to the Temple Mount in Jerusalem.
The Palestinian Authority [PA], Hamas and Islamic Jihad are using these visits to stir up Palestinians against Israel. The recent terror attacks in Jerusalem are the direct result of this campaign of incitement.
The widow of Ibrahim Akkari, the 48-year-old Palestinian who drove his car into a group of Israelis in Jerusalem on November 5, said that her husband was influenced by TV scenes of clashes between Palestinians and Israeli policemen at the Temple Mount.
The widow, Amira, said that her husband carried out the attack in retaliation against Israeli "assaults" on the Aqsa Mosque. "He was martyred for the sake of the Aqsa Mosque," she said.
Recent statements by PA President Mahmoud Abbas may also have convinced Akkari to go out and run over Israelis. Two weeks before the attack, Abbas called on Palestinians to "use all means" to protect the Aqsa Mosque.
"It is not enough to say the settlers came (to the Temple Mount), but they must be barred from entering the compound by any means. This is our Aqsa, and they have no right to enter it and desecrate it," Abbas told Fatah activists during a meeting in his Ramallah office.
As if not enough, Abbas indirectly encouraged Palestinians to resort to violence against Israel by praising the Palestinian who shot and severely wounded activist Rabbi Yehuda Glick in Jerusalem on October 29.
A special Israeli police unit caught up with the shooter a few hours later and killed him in a gunfight.
In a letter to the family of the would-be assassin, Mu'taz Hijazi, Abbas wrote: "With anger, we have received the news of the vicious assassination crime committed by the terrorists of the Israeli occupation army against your son, who will go to heaven as a martyr defending the rights of our people and its holy sites."
The letter of condolences contradicts Abbas's promise to U.S. Secretary of State John Kerry to work toward calming the situation and refrain from fiery rhetoric that leads to more violence and bloodshed.
What is more disturbing is the widespread support among Palestinians for the recent terror attacks in Jerusalem.
This support is being expressed mostly on social media, where Palestinian activists have launched campaigns that praise the perpetrators and encourage others to follow suit.
The most popular campaign is entitled Daes, which translates into "run over" in Arabic. Daes is also a reference to Daesh, the Arabic acronym for ISIS. The online campaigns feature cartoons that encourage Palestinians to use their vehicles to kill Israelis.
One cartoon depicts a child wearing a Hamas headband and driving a car. The caption reads: "O Palestinian, drive, drive forward!"
The activists have published many other similarly-themed cartoons as part of their campaign to encourage Palestinians to launch terror attacks on Israel.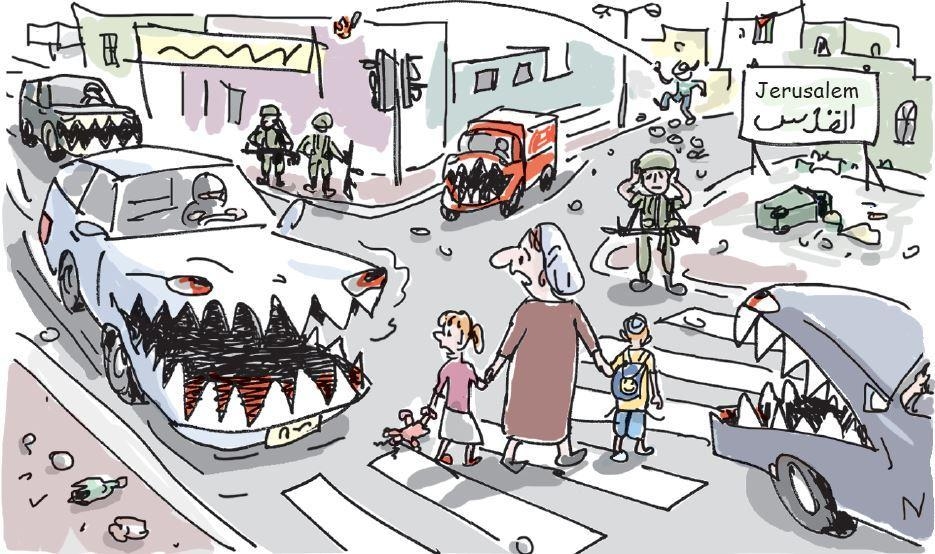 One of many cartoons published by Palestinian activists and their supporters in the Daes ["run over"] social media campaign, aimed at encouraging Palestinians to run over and kill Israelis with their cars.
The anti-Israel campaign, and the incitement by Abbas, Hamas, Islamic Jihad and other Palestinian groups, coincide with Kerry's renewed effort to revive the stalled peace talks between Israel and the Palestinians.
Earlier this week, Kerry met in Washington with a Palestinian delegation, headed by chief PLO negotiator Saeb Erekat, to discuss ways of resuming the peace talks.
But Kerry and the Obama Administration seem to be living on a different planet. While they are trying to find ways to bring the Palestinians back to the negotiating table, Palestinian leaders and organizations are busy inciting their people against Israel.
Even worse, Palestinian activists are busy organizing online campaigns urging and encouraging Palestinians to launch terror attacks on Israelis. It is hard to see how Abbas can return to the negotiating table while many Palestinians, at his behest, are busy thinking about how to kill more Israelis.
The Obama Administration would do well to understand that it is a waste of time to talk about any peace process when Palestinian leaders and activists are openly glorifying those who use their vehicles to kill Israelis.
The Obama Administration is talking about reviving the peace process while Abbas is telling his people that Jews are "desecrating" the holy sites in Jerusalem and praising an assassin as a "hero" and "martyr."
It is not enough for Kerry to listen to what Abbas or Erekat are telling him in English. Instead, Kerry and Obama must also start listening to what Palestinian leaders and activists are telling their people in Arabic.
Moreover, it would also be a good idea for Obama and Kerry to go online and view the most recent Palestinian campaigns that encourage and applaud terror attacks on Israelis. Perhaps then they will understand that as long as the incitement continues, there is no chance — zero — for the success of any peace process between Israel and the Palestinians.