The recent spate of terror attacks in Jerusalem, Tel Aviv and the West Bank did not come as a surprise to those who have been following the ongoing incitement campaign waged by Palestinians against Israel.
This campaign escalated immediately after U.S. Secretary of State John Kerry's last failed "peace process" between Israel and the Palestinians. Kerry's "peace process" actually put Israelis and Palestinians on a new collision course, which reached its peak with the recent terror attacks on Israelis.
Kerry failed to acknowledge that Palestinian Authority [PA] President Mahmoud Abbas does not have a mandate from his people to negotiate, let alone sign, any agreement with Israel. Abbas is now in the tenth year of his four-year term in office.
Nor did Kerry listen to the advice of those who warned him and his aides that Abbas would not be able to implement any agreement with Israel on the ground. Abbas cannot even visit his private house in the Hamas-controlled Gaza Strip, and he controls less than 40% of the West Bank. Where exactly did Kerry expect Abbas to implement any agreement with Israel? In the city-center of Ramallah or Nablus?
What Kerry and other Western leaders do not want to understand is that Abbas is not authorized to make any concessions for peace with Israel, and has even repeatedly promised his people that he would not make any concessions for the sake of peace with Israel.
In a speech in Ramallah on November 11, marking the tenth anniversary of the death of his predecessor, Yasser Arafat, Abbas declared: "He who surrenders one grain of the soil of Palestine and Jerusalem is not one of us."
This statement alone should be enough for Kerry and Western leaders to realize that it would be impossible to ask Abbas to make any concessions. Like Arafat, Abbas has become hostage to his own rhetoric. How can Abbas be expected to accept any deal that does not include 100% of his demands -- in this instance, all territory captured by Israel in 1967?
Abbas himself knows that if he comes back with 97% or 98% of his demands, his people will either spit in is face or kill him, after accusing him of being a "defeatist" and "relinquishing Palestinian rights."
This is precisely why Abbas chose to walk out of Kerry's nine-month "peace process." Realizing that Israel was not going to offer him 100% of his demands, Abbas preferred to abandon the peace talks last summer.
For Abbas, it is more convenient to be criticized by the U.S. and Israel than to be denounced by his own people for achieving a bad deal with Israel.
Ignoring these facts, Kerry tried to pressure Abbas into making concessions that would have turned the Palestinian Authority president into a "traitor" in the eyes of his people.
Instead of being honest with his people and telling them that peace requires painful concessions also on the part of Palestinians, and not only Israel, Abbas has chosen -- ever since the collapse of Kerry's "peace process" -- to incite Palestinians against Israel.
Abbas has since held Israel responsible for the collapse of Kerry's effort. Abbas has used both the media and fiery rhetoric to tell his people that there is no peace partner in Israel. He has also been telling his people that Israel's only goal is to seize lands and carry out "ethnic cleansing" and "genocide" against Palestinians.
Abbas's recent charges that Jewish settlers and extremists are "contaminating" the Al-Aqsa Mosque in Jerusalem need to be seen in the context of the massive incitement campaign that escalated in the aftermath of the failure of Kerry's "peace process."
During the past few months, Abbas, Hamas and Islamic Jihad have radicalized Palestinians to a point where it has become laughable even to talk about any peace process with Israel.
Abbas is well aware that his people will condemn him if he ever returns to the negotiating table with Israel. That is why he has now chosen a different strategy -- to try to impose a solution with the help of the United Nations and the international community.
Abbas wants the international community and UN Security Council to give him what Israel cannot and will not offer him at the negotiating table.
The incitement campaign against Israel is reminiscent of the atmosphere that prevailed in the West Bank and Gaza Strip immediately after the botched Camp David summit in the summer of 2000. Then, Yasser Arafat also walked away from the table after realizing that Israel was not offering him all that he was asking for, namely a full withdrawal to the pre-1967 lines.
Upon his return from Camp David, Arafat also unleashed a wave of incitement against Israel; eventually the incitement led to the eruption of the second intifada in September 2000.
Now Abbas is following in the footsteps of Arafat by stepping up his rhetorical attacks on Israel. This time, Hamas and other terror groups have joined Abbas's incitement campaign by openly calling on Palestinians to use cars and knives to kill Jews in order to "defend" the Al-Aqsa Mosque.
Abbas's refusal to condemn the recent terror attacks on Israel may be attributed to two motives: fear of his people, and the belief that violence will force Israel to make far-reaching concessions. By refusing to denounce the attacks, and even praising the perpetrators as heroes and martyrs (as he did in the case of Mu'taz Hijazi, the east Jerusalem man who shot and wounded Jewish activist Rabbi Yehuda Glick), Abbas is indicating his tacit approval of the violence.
Not a single Palestinian Authority official, in fact, has denounced the wave of terror attacks on Israel. They, too, are afraid of being condemned by their people for denouncing "heroic operations" such as the stabbing murder of a 26-year-old woman or ramming a car into a three-month-old infant.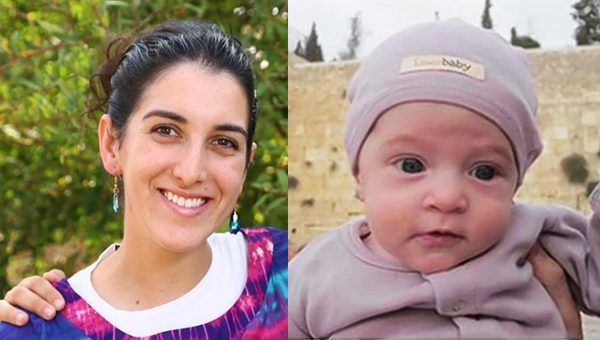 Victims of what official Palestinian Authority media organs call "heroic operations": Left, Dalia Lamkus, 26, run over and then stabbed to death by a terrorist on Nov. 10. Right: Three-month-old Chaya Zissel Braun, murdered on Oct. 23 when a terrorist rammed a car into her stroller. Several other victims were killed or injured in these attacks.
Abbas is hoping that the terror attacks will keep the Israeli-Palestinian conflict at the top of the world's agenda at a time when all eyes are turned toward the threat of the Islamic State terror group in Syria and Iraq. He also knows very well that the people he has radicalized would turn against him if he dared to speak out against the killing of Jews.