Recent press reports have described, in a negative manner, Kurdish efforts to reclaim lands lost to Saddam Hussein's policy of "Arabization", which included the ethnic cleansing of Kurds from various Iraqi governorates, districts, and sub-districts.
A recent Newsweek article focused on a January offensive by Kurdish peshmerga forces, backed by US-led coalition air strikes, which resulted in the capture of a 300 square mile area. This territory was formerly under the control of the so-called Islamic State, and included many areas from which Kurdish families had been dispossessed of their land, or forced to emigrate, by Saddam Hussein's regime. The article went on to describe a Kurdish "land-grab," Ninevah Governorate following their offensive.
Another recent article, published by al-Monitor, was even more critical of the Kurdistan Regional Government (KRG). The article denounced the KRG's alleged policies of territorial expansionism, disenfranchisement of Sunni Arabs, forced population displacements, and unilateral land-grabs. Al-Monitor's item displayed a decidedly pro-Sunni Iraqi orientation. It quoted a Sunni member of Baghdad's legislature, Ahmed al-Jabouri, who accused Kurdish peshmerga troops of destroying 700 Arab homes in Jalawla, in the Diyala Governorate's Khanaqin district, along the Iran-Iraq Border.
The anti-Kurdish orientation of these articles portrays the KRG as exploiting Western assistance to augment its power base unilaterally, in opposition to the Baghdad central government. The Newsweek article quotes an unnamed senior Kurdish federal official as saying, about the Kurdish areas recaptured from the Islamic State, that "we will never ever let Arabs control them again."
These articles suggest that these "land-grabs" are primarily designed to serve Kurdish desires for an independent state. However, neither of the articles addresses the Arabization policies that were pursued the Saddam Hussein regime. The Arabization programs were designed to deny Kurdish influence in areas that contained oil deposits, and also served to reduce Kurdish territory and keep Iraqi Kurdistan subservient. The Arabization policy included: outright confiscation of Kurdish lands; the transfer of Sunni Arab tribes, including Palestinians, to regions inhabited by Kurds; administrative gerrymandering of boundaries to ensure Sunni majorities in oil-rich and agriculturally fertile acreage; and preferential lending schemes to Sunni Arab tribes. [1]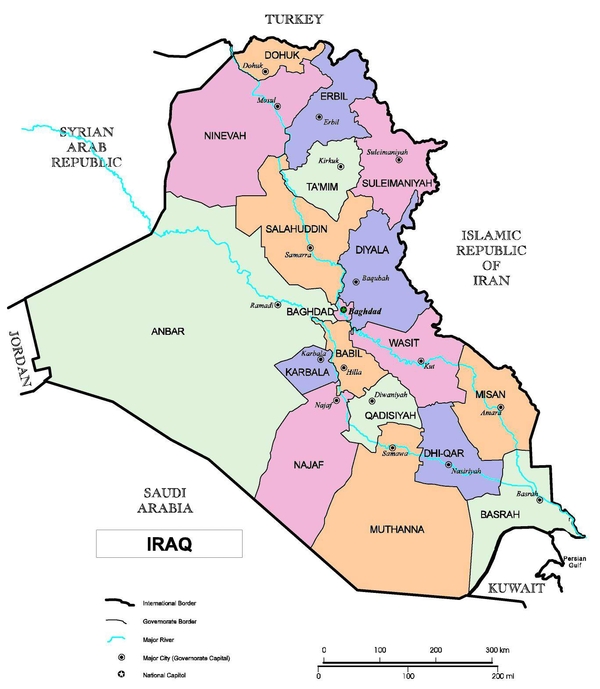 Image source: United Nations Iraq.
Iraq's official census reports demonstrate a progressive decline in Kurdish population statistics over the decades of rule by Saddam Hussein's Ba'ath Party. In the Jalawla sub-district of Khanaqin, Diyala Province, for instance, the Kurdish population declined from 37.8% in 1965 to 19.8% in 1977, apparently due to Arabization policies.[2] Moreover, in 1996 the regime decoupled the Kurd-dominated territory of Mahkmour District from Iraqi Kurdistan, thus shrinking further Kurdish-administered territory. Arabization projects also reduced the Kurdish population in the oil rich governorate of Kirkuk by dispossessing Kurds of their land and giving them to Arab families and tribes loyal to the regime.
Saddam Hussein's policy of Arabization continued over decades, and resulted in the pronounced diminution of Kurd populations in the areas recently recaptured by Kurdish peshmerga troops. From the Kurdish point of view, the incorporation of these lands into Iraqi Kurdistan is a restoration, not a "land-grab." For the Kurds, it is not expansionism; it is a re-balancing the scales of justice.
Baghdad has retaliated by refusing to deliver Western weapons earmarked for Kurdish military units who are fighting the Islamic State terrorists. This pattern has frustrated Western aid, including American military advisors, to Kurdish peshmerga troops as well as the KRG in Erbil.
According to KRG Ministers, Baghdad does not want the Kurds to possess heavy weapons: it would make more difficult any attempt by the Iraqi central government to compel Iraqi Kurdistan to remain within Iraq.
Moreover, Baghdad may calculate that allied air power and Kurdish peshmerga ground troops will be enough to keep the Islamic State at bay or even roll the terrorists back. It is also hard to discount the temptation simply to hang on to valuable materiel; it may have been presented with no strings attached, or no negative consequences should the strings somehow become "unattached."
U.S. policymakers and administration spokesmen have made it clear that Washington favors Iraq remaining united, and thus opposes an independent Kurdish state. It appears that Washington and Baghdad may be pressuring the KRG to remain under Baghdad's control, even if it is only in a federated capacity.
The U.S apparently believes that the secession of Kurdistan from Iraq will lead to the disintegration of the entire Iraqi state. Washington also thinks that secession by the Kurds would lead to Iran's domination of the Shia provinces of Iraq, and the radicalization of the country's Sunni regions.
Nevertheless, despite the combined opposition of pro-Sunni elements in Iraq, the Shia-dominated central government in Baghdad, and the U.S. State Department officials who want to maintain the fiction of a united Iraq, the Kurdish march toward an eventual independent state appears determined.
Consequently, once the Islamic State is defeated, the long-postponed struggle between Iraq and the Kurds will recommence. Unless Iran, now fighting the Islamic State in Iraq, takes over first.
Dr. Lawrence A. Franklin was the Iran Desk Officer for Secretary of Defense Rumsfeld. He also served on active duty with the U.S. Army and as a Colonel in the Air Force Reserve, where he was a Military Attaché at the U.S. Embassy in Israel.
---
[1] "Report on the Administrative Changes in Kirkuk and the Disputed Regions," by Dr. Mohammed Ihsan, Ministry of Extra Regional Affairs, KEG, Erbil. December 2014.
[2] Ibid, pp.46-47, tables 15 and 16.