Overwhelmed by the unprecedented influx of migrants, Germany has imposed temporary border controls. This temporary halt in new arrivals is "intended to give Germany a chance to catch its breath while at the same time ratcheting up the pressure on other European Union member states to accept a quota system for the distribution of asylum recipients across the bloc," according to Interior Minister Joachim Herrmann of the German state of Bavaria on public radio. Germany's move to tighten its border controls, however, is not going to halt millions of migrants already mobilized by Berlin's suspension of existing asylum rules and its open border policy in the first place.
Horst Seehofer, the leader of Christian Social Union (CSU), the Bavaria-based sister party to Chancellor Angela Merkel's Christian Democrats (CDU), painted a grim picture, saying that Merkel's open border policy "was a mistake that will occupy us for a long time yet. I see no possibility of putting the stopper back into the bottle."
German media is in lockstep with the government, giving happy-talk and a positive spin on migrant crisis of gigantic proportions hitting Europe.
German newspapers and media outlets have suppressed the stories of rampant rape and child abuse among the migrants housed in government-run accommodations. In a recent letter addressed to the Minister of Integration and Social Affairs in the state of Hesse, prominent women's organizations have described the culture of rape and violence perpetuated by male migrants -- right under the nose of German authorities. The letter states:
"It is a fact that women and children [at HEAE accommodation facility, under the supervision of Administrative District of Giessen] are unprotected. This situation is opportune to those men who already regard women as their inferior and treat unaccompanied women as 'fair game.' As a consequence, there are reports of numerous rapes, sexual assaults and increasingly of forced prostitution. ... These are not isolated incidents."
According to the letter, women were terrified to walk in the camp even during the day.
The letter, signed by leading officials organizing the settlement of the migrants in the state of Hesse, went virtually unreported in the German media.
For now, the German media can afford to ignore these crimes, committed in makeshift transit centers -- away from the public eye. How do the media plan to suppress this reality once some of these criminals are released into communities? Here is a foretaste of the things to come:
Recently the Germany's top public broadcaster ZDF refused to run a segment about a rape case on its prime time crime show, "Aktenzeichen XY," which helps law enforcement to gather leads from the general public, on the grounds that the alleged fugitive was of a "darker skin" and might fit the profile of a migrant. The editor-in-chief, Ina-Maria Reize-Wildemann, defended her decision: "We don't want to inflame the situation and spread the bad mood. [The migrants] don't deserve it." That the poor rape victim deserved justice was apparently of no concern to the broadcaster.
Mainstream media in Germany are not merely willing executioners of Merkel's open border policy, they are ideological players committed to breaking any opposition to the plan.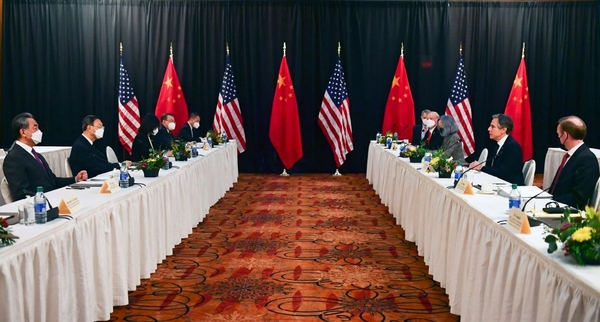 Commenting on Germany's acceptance of hundreds of thousands of migrants, the popular mainstream newsmagazine Der Spiegel last week portrayed Chancellor Merkel as a Mother Theresa-like figure (left). Pictured at right, a German policeman leads a group of newly arrived migrants.
Germany wants to dictate its stand on migration to other EU member states. First Germany wrecked the existing legal framework by unilaterally suspending the Dublin Protocol, and now it wants Europe to shoulder a "fair share" of migrants who are stampeding into Europe -- encouraged by Berlin's irresponsible stance to begin with.
Chancellor Merkel today seems to be promising nothing less than absolution for Germany's sins of the Holocaust. "The world sees Germany as a land of hope and opportunities," she says. "That hasn't always been the case." The problem is, of course, that Muslims are quite different from Jews.
German politicians and EU Commissars, however, seem hell bent on imposing quotas on member states – harkening back to the heyday of Soviets jackboots running the Eastern bloc. It may only be a matter of time until some of the reluctant East European states start complying, possibly forced by economic threats and sanctions from Brussels and Berlin.
Germany under Chancellor Merkel wants to play "Miss Congeniality" at the global scale and wants Europe to pick up the tab.
Vijeta Uniyal is a current affairs analyst based in Germany.