The uproar surrounding a recent meeting held by three Israeli Arab Members of Knesset (parliament) with families of Palestinians who carried out attacks against Israelis is not only about the betrayal of their country, Israel. It is also about the betrayal of their own constituents: the 1.5 million Arab citizens of Israel.
Knesset members Haneen Zoabi, Basel Ghattas and Jamal Zahalka managed to accomplish several things at once with this controversial meeting. They certainly seem to have provoked the ire of many Jewish Israelis. Perhaps they violated the oath they made when they were sworn into parliament: "I pledge to bear allegiance to the State of Israel and faithfully to discharge my mandate in the Knesset."
One thing, however, they have accomplished without question is acting against the interests of Israeli Arabs.
Zoabi, Ghattas and Zahalka met with Palestinian families who are not Israeli citizens and do not vote for the Knesset. As such, none of these families voted for the three Knesset members or the Arab List party to which they belong. Of course, as part of a democratic government, any member of the Knesset is free to meet with any Palestinian from the West Bank, Gaza Strip or Jerusalem.
It is worth noting that not all Arab Knesset members are involved in fiery rhetoric and provocative actions against Israel. However, there is good reason to believe that some Arab Knesset members deliberately engage in actions and rhetoric with the sole purpose of enraging not only the Israeli establishment, but also the Jewish public.
This meeting was the latest in a series of actions by Arab Knesset members that have severely damaged relations between Jews and Arabs inside Israel. Such actions have one clear result: colossal injury to Arab citizens' efforts for full equality.
During the past two decades, some of the Arab community's representatives and leaders have worked harder for Palestinians in the West Bank and Gaza Strip than for their own Israeli constituents.
These parliamentarians ran in elections on the promise of working to improve the living conditions of Israeli Arab voters and achieving full equality in all fields. However, they devote precious time and energy on Palestinians who are not citizens of Israel. Their spare moments are spent vying for the distinction of being the most vitriolic provocateur against their country.
Instead of acting against the interests of the Palestinians -- by pretending they were sitting in a Palestinian parliament and not the Knesset -- there are alternative scenarios. These Arab Knesset members could be serving as a bridge between Israel and Palestinians living under the jurisdiction of Hamas in the Gaza Strip and the Palestinian Authority in the West Bank.
Decisions such as the one to join a flotilla "aid" ship to the Gaza Strip -- which was more a poke in Israel's eye than any attempt to help Palestinians -- turn the Jewish public against the Israeli Arab public, who are then viewed as a "fifth column" and an "enemy from within."
Such provocations make it more difficult for Arab university graduates to find jobs in both the Israeli private and public sectors. The deeds and rhetoric of these Knesset members have ensured a continuing gap between Arabs and Jews inside Israel.
Thanks to some Arab Knesset members, many Jews no longer see a difference between an Arab citizen who is loyal to Israel and a radical Palestinian from the Gaza Strip or West Bank who seeks to destroy Israel.
Of course, Arab Knesset members have the right to criticize the policies and actions of the Israeli government. But such criticism ought to be leveled from the Knesset podium and not from Ramallah, Gaza or on board a ship carrying a load of Israel-haters and activists.
Just to be clear: this is not a call for banning Arab Knesset members from meeting with their Palestinian brethren from the West Bank, Gaza Strip and Jerusalem. Rather, this is a call for Knesset members to consider carefully their aims and the tone in which they are carried out.
The recent meeting in question began with a moment of silence for specific dead -- that is, the Palestinian attackers who murdered and wounded several people. Jewish Israelis are likely to have particular feelings about this choice of opening.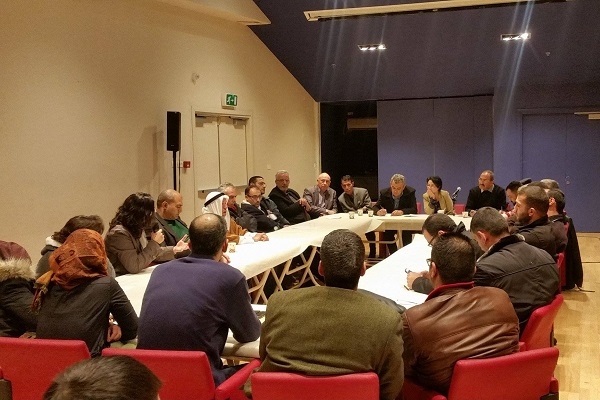 Israeli Arab Members of Knesset Jamal Zahalka, Haneen Zoabi and Basel Ghattas (at the head of the table, facing the camera) recently met with families of terrorists who attacked and murdered Israelis. The meeting opened with a moment of silence for the dead attackers. (Image source: Palestinian Media Watch)
Things could have been different. Arab Knesset members could have used the meeting to issue a call for an end to the current wave of stabbing, vehicular and shooting attacks, which began in October 2015. They could have demanded that Palestinian leaders, factions and media outlets cease brainwashing young men and women, and cease urging them to murder Jews -- any Jews.
The Palestinian families who met with the three Arab Knesset members have nothing to lose. Nor do the other Palestinians living in the West Bank and Gaza Strip. For them, these Knesset members are probably doing a better job representing them than the Palestinian Authority or Hamas.
The big losers are the Arab citizens of Israel, who have once again been reminded that their elected representatives care far more about non-Israeli Palestinians than they care about them.
Thus far, only a handful of Arab Israeli voices have had the courage to criticize their representatives in the Knesset. Yet it is precisely these citizens who need to punish their failed Knesset members, not the Israeli government or any parliamentary committee or court. The power is certainly in their hands.
If the Israeli Arab majority continues to waffle, allowing its leaders free reign, Arab Knesset members will lead their people only to nothing.
Khaled Abu Toameh, an award-winning journalist, is based in Jerusalem.