Palestinian Authority (PA) President Mahmoud Abbas's ruling Fatah faction is supposed to be preparing its people for statehood. But it seems to be busy with other business.
According to sources in the Gaza Strip, Hamas security forces recently uncovered a scheme to assassinate a number of senior Fatah officials living there.
The sources claimed that ousted Fatah operative Mohamed Dahlan, who has been living in the United Arab Emirates for the past five years, was the mastermind of the alleged scheme. Dahlan's men in the Gaza Strip were planning to assassinate Fatah officials closely associated with his rival, Abbas, the sources revealed.
Dahlan's hit list included Ahmed Abu Nasr, Jamal Kayed, Emad al-Agha and Mamoun Sweidan.
After the alleged plot was uncovered, Hamas summoned a number of top Fatah officials in the Gaza Strip and asked them to take precautionary measures to ensure their safety.
Abbas and Dahlan have, for the past five years, been at each other's throats. The two were once close allies and had worked together to undermine the former Palestinian Authority president, Yasser Arafat.
But the honeymoon between Abbas and Dahlan, a former security commander in the Gaza Strip and an elected member of the Palestinian Legislative Council (PLC), ended several years ago.
Abbas woke up one morning and discovered that his erstwhile ally and friend, Dahlan, was an in fact a bitter enemy. On instructions from Abbas, Palestinian security officers raided Dahlan's residence in Ramallah and confiscated documents and personal belongings. Dahlan fled the West Bank and has not set foot since in Ramallah or any other Palestinian city.
Next, Abbas had Dahlan dismissed from Fatah on charges of murder and financial corruption. Since then, Dahlan, who has become an "advisor" to the rulers of the United Arab Emirates, has been waging a fierce smear campaign against Abbas and his Fatah loyalists.
Now, the sources in the Gaza Strip are claiming that Dahlan was behind a plot to eliminate those loyalists.
The claim came after clashes erupted between Dahlan and Abbas supporters in parts of the Gaza Strip in recent weeks.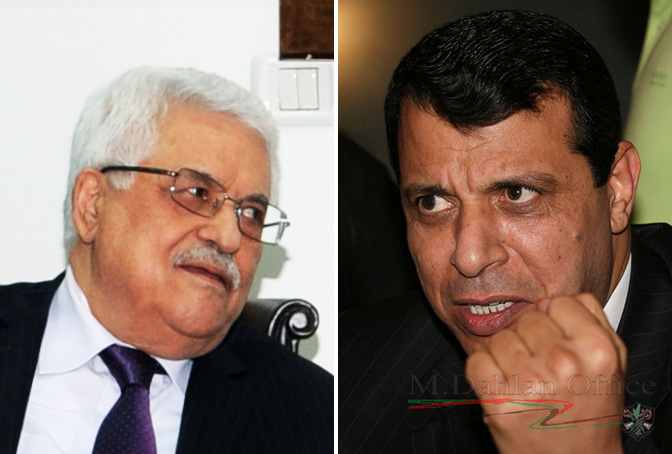 Palestinian Authority President Mahmoud Abbas (left) and Mohamed Dahlan (right), a former Fatah commander and minister, have, for the past five years, been at each other's throats. The two were once close allies and had worked together to undermine the former PA president, Yasser Arafat. (Image sources: U.S. State Dept., M. Dahlan Office)
Last week, the Fatah leadership expelled from its ranks nine Dahlan supporters. They were accused of attacking the home of Abdullah Abu Samhadanah, a senior Fatah official and Abbas loyalist.
Earlier, loyalists to Abbas and Dahlan were busy hurling chairs and stones at each other. The incident took place at a rally to commemorate slain PLO leader Khalil al-Wazir (Abu Jihad), assassinated by Israeli commandos in Tunisia in 1988. On May 1, another scuffle broke out between the two sides, this time in the Gaza Strip's Jebalya refugee camp. That incident occurred during a rally held on the occasion of International Workers' Day.
This internecine Fatah strife no longer appears restricted to the loyalists of Dahlan and Abbas. It is threatening to erupt into an all-out war between contesting camps. Some Palestinians see the internal strife as the most serious challenge to Abbas's rule over Fatah and the Palestinian Authority, especially in wake of growing criticism among Palestinians against Abbas's policies and autocratic regime.
The criticism has escalated following last week's humiliating defeat of Fatah to Hamas at the student council election of Bir Zeit University, near Ramallah. Many in Fatah hold Abbas and his veteran old guard leaders personally responsible for the defeat.
In a move that shows that the plot inside Fatah is thickening, sources close to Hamas claimed this week that another senior Fatah official in the West Bank was behind a plan to liquidate top members of the faction in the Gaza Strip.
According to reports published on a number of Hamas-affiliated websites, the former head of the General Intelligence Force in the West Bank, Tawfik Tirawi, was the mastermind behind the alleged scheme. The reports claimed that Hamas summoned Ahmed Nasr, a top Fatah official, and informed him of Tirawi's purported plan to kill other Fatah leaders as well as Nasr himself. Nasr has confirmed that he was asked by Hamas to take precautionary measures to avoid any attempt on his life.
Hamas claims that Tirawi's alleged plot was uncovered during the interrogation of Marwa al-Masri, a senior Fatah member. Hamas security forces arrested her as she was about to leave the Gaza Strip for Ramallah.
Dahlan and Tirawi, who were once viewed by many Palestinians as potential successors to Abbas and promising new leaders representing the "young guard," apparently had different motives behind their alleged schemes.
While Dahlan may have sought revenge against Abbas and his loyalists, Tirawi apparently wanted to create instability in the Gaza Strip by blaming Hamas for the assassination of top Fatah officials.
Dahlan sought revenge against Abbas for expelling him from Fatah and making him into a "refugee" in the United Arab Emirates. Tirawi, for his part, wished to undermine Hamas's rule in the Gaza Strip by killing some of his own colleagues in Fatah.
Tirawi and al-Masri, who has since been released from dentition by Hamas, have vehemently denied that they were plotting to eliminate senior Fatah officials in the Gaza Strip.
Whether true or not, Fatah's credibility is crumbling, not only among the Palestinian public, but also among its own supporters. Hamas is thriving on the mayhem among the top brass of Fatah and disgust with Abbas and the Palestinian leadership in the West Bank. Rather than striving to improve the lives of Palestinians, Fatah leaders spend their time playing at being gangsters, settling scores. Meanwhile, Abbas continues his charade of lies with the international community that he and his Fatah faction are ready for a sovereign state.
Khaled Abu Toameh, an award-winning journalist, is based in Jerusalem.