The sport of murdering Jews does not stop. On June 30, at dawn, in Kiryat Arba, a young Arab broke through a window, and stabbed a 13-year-old American-Israeli girl, Hallel Yaffa Ariel, to death.
The young Arab who stabbed Hallel Yaffa Ariel was shot dead just after the assault. His mother said she was proud of her son. The Palestinian Authority (PA) said he was a hero and a "martyr."
This year alone, 24 Israeli Jews were murdered, many gruesomely. Every time one of the murderers was shot, his family declared how proud they were, and the Palestinian Authority celebrated him. New murderers are preparing new attacks.
What sort of society is it where parents say they how proud they are that their children are murderers? And what sort of leadership is it that celebrates killers?
Further, what sort of Western journalists and "human rights" groups are those that fail to voice their outrage at the murder of a sleeping 13-year-old girl?
These journalists and human rights groups voice their outrage at people killed in European soccer stadiums, musical theaters and editorial rooms, but never, it seems, for Israeli Jews killed over so many years.
Why also is it that they never speak of the moral depravity of the Palestinian Authority?
Most remain silent; many do worse. They blame the victims, accuse them of being the guilty party. Some even justify the murders and find excuses for the terrorists. Sometimes, when the murders take place in disputed areas such as Judea and Samaria, these self-appointed judges call the victims "settlers," and claim that they deserved their death for being where they should not have been. They comfortably overlook that to many Palestinians, all the Jews are "settlers," even the ones they kill in Tel Aviv. Just look at any map of "Palestine" -- on every one, the whole of Israel is a "settlement.". If there were no "settlements" until after 1967, but the Palestine Liberation Organization (PLO) was created in 1964, what was it planning to "liberate"?
Most Western journalists instead explain that "violence" is the fatal result of the "hopelessness" created by the Israeli government. Did they ever say that about the murders in Paris's theaters, London's Underground, New York's office buildings, Madrid's train system or Dakha's restaurant -- that they were the result of "hopelessness"?
None of these journalists ever reports the reactions of those murderers' families.
And almost none of them ever reports what the Palestinian Authority does after each Palestinian bombing, stabbing, car-rammming or other murderous attacks -- how it rewards the terrorists and urges more attacks.
Most Western politicians, Europeans in particular, are no different. They half-heartedly condemn the murderers and then blame Israel's government. On June 30th, the French Ministry of Foreign Affairs published a press release saying that "France condemns the horrific murder of a young Israeli girl in the settlement of Kiryat Arba in the West Bank," and asking "all the parties to do everything possible to calm the situation."
The same day, Lars Faaborg-Andersen, the head of the European Union's delegation in Israel, wrote, "Strongly condemn terror murder of Hallel Yaffa Ariel in Kiryat Arba this morning." Four days later, the French Ministry of Foreign Affairs published another press release:
"France condemns the Israeli authorities' approval of plans to build several hundred homes in settlements... each new announcement of settlement activity, which is illegal under international law, fuels tensions."
On July 5th, a spokesperson for the EU said:
"Despite repeated calls by the international community Israel is continuing its settlement policy, which is illegal under international law. The decision calls into question Israel's commitment to a negotiated agreement with the Palestinians."
None of them ever mentions the reactions of the murderers' families either, or the behavior of the Palestinian Authority. That way, they can express sympathy for the "Palestinian cause" without having to grapple publicly with tough questions or embarrassing facts.
For instance, the Palestinian Authority not only celebrates murderers: it produces new ones every day -- and does so knowingly and voluntarily. For this it uses textbooks, television and radio programs, and articles in newspapers, all paid for with money from Western governments.
The Palestinian Authority also financially rewards the murderers' families and the murderers themselves, if they survive and end up in jail. These financial rewards are also paid for with money from Western governments.
How can Western politicians explain that they condemn the murders and still fund the incitement to kill? How come they keep giving money that rewards murdering Jews "by all available means"?
How can they say, as they so often do, that they fight anti-Semitism, and at the same time support an organization that incites people to kill Jews?
How can they define as "moderate" an organization such as the Palestinian Authority that admits sending terrorists to kill Israelis and that teaches children, on its Facebook page, how to stab Jews to death?
And how can they consider it urgent to give such an organization its own State?
Facts get set aside. Questions do not get asked. Financial rewards continue to be paid by the West.
As Leon Uris states through the protagonist in his novel, Exodus: "To most Gentiles, Jewish meat is cheaper than beef, cheaper than herring." And that was in 1958. It seems that to most Gentiles, Jewish meat still is cheap.
When the State of Israel was established in 1948, no Western government helped Israeli Jews to resist the five Arab armies that tried to wipe it out at its birth. Today, most Western governments pretend to be friends of Israel. Most are at best fair-weather friends; at worst, not friends in the slightest. Israeli Jews know they can only rely on themselves. They know that others, such as France, are holding knives that are sharpened.
On June 23, Mahmoud Abbas, head of the Palestinian Authority, delivered an anti-Semitic speech from the rostrum of the European Parliament. dishonestly accusing rabbis of urging Israel to poison the water used by Palestinian Arabs. He received an enthusiastic standing ovation from virtually all present. On June 24, he admitted his claim had been false.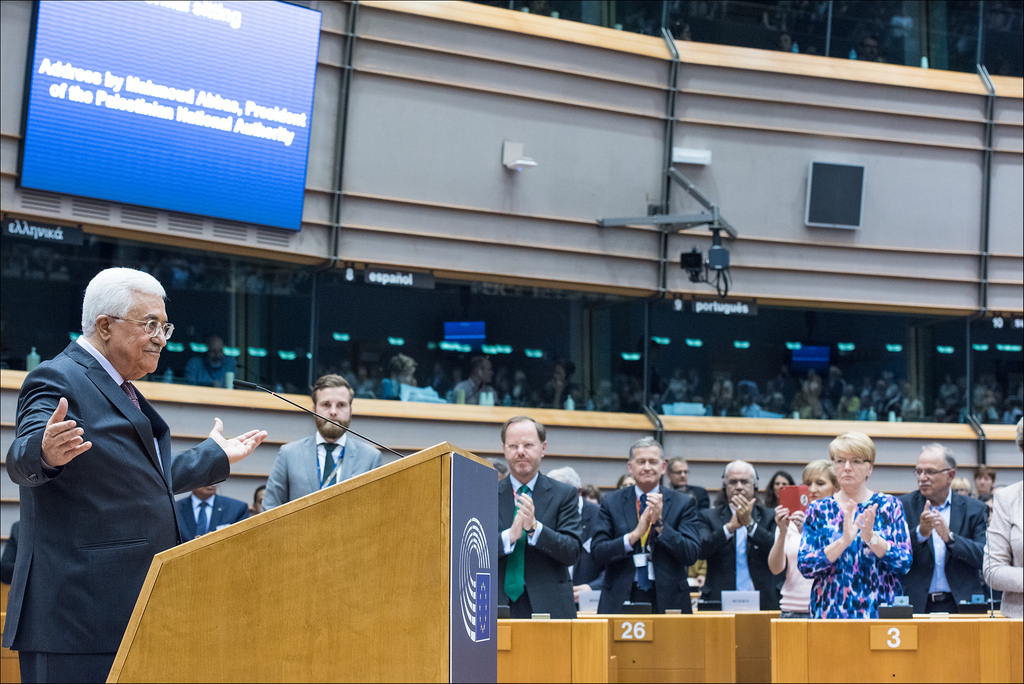 Palestinian Authority President Mahmoud Abbas receives a standing ovation at the European Parliament in Brussels on June 23, after falsely claiming in his speech that Israeli rabbis were calling to poison Palestinian water. Abbas later recanted and admitted that his claim had been false. (Image source: European Parliament)
A few days after that, on July 1, the "Quartet for the Middle East" (EU, USA, Russia, UN) presented a report condemning "Palestinian violence," and describing the Israeli "colonization" of "Palestinian territories" as a major cause of all problems. The report omits that "Palestinian violence" kills innocents -- 13-year-old girls sleeping in bed; families having dinner at a mall in Tel Aviv; fathers driving their families whose only "fault" is that they are Jews -- and most of all, that this Palestinian violence is engineered and financed by the West. The report omits is that it is the report's authors themselves who are instigating this genocide, transforming millions of Arabs into their genocidal hired guns.
Dr. Guy Millière, a professor at the University of Paris, is the author of 27 books on France and Europe.