Palestinian Authority (PA) President Mahmoud Abbas is facing a barrage of criticism for attending the funeral of former Israeli President Shimon Peres in Jerusalem. The fury directed towards Abbas comes as no surprise to those who are familiar with the unrelenting campaign of anti-Israel incitement that has been taking place for many years in Palestinian society.
If attending the funeral of an Israeli leader, especially one who devoted the past two decades of his life to peace between Israel and the Palestinians, draws such condemnation, it is easy to imagine the result of a Palestinian leader making a peace overture to Israel.
President Abbas is now receiving a dose of his own medicine. This is what happens when you unleash a tidal wave of hate against Israel and its leaders in the media, mosques and public rhetoric. This is what happens when you inform your people that Israeli leaders are "war criminals" who ought to be prosecuted before the International Criminal Court. This is what happens when you drive into your people that Jews are desecrating with their "filthy feet" Islamic holy sites in Jerusalem. This is what happens when you accuse Israel of "ethnic cleansing", "extra-judicial executions" and "poisoning" Yasser Arafat.
In light of this brainwashing, how do you expect your people to respond when you, in any way, associate with an Israeli leader?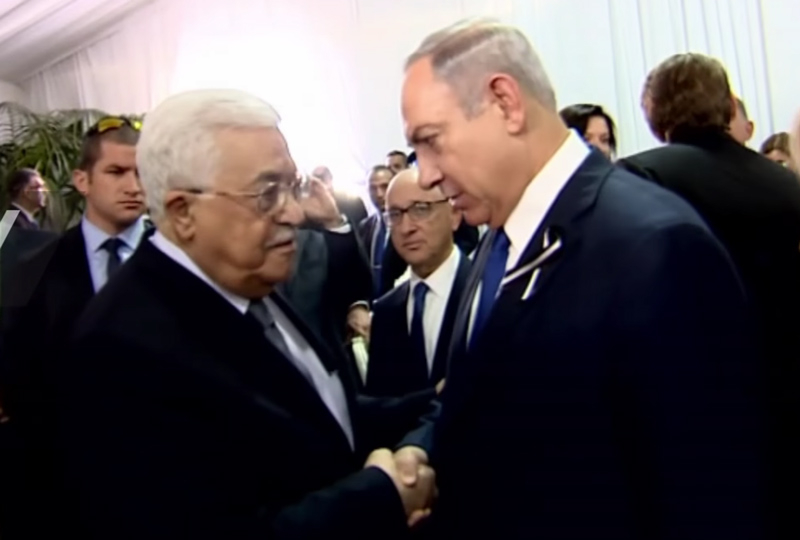 Palestinian Authority President Mahmoud Abbas shakes hands with Israeli Prime Minister Binyamin Netanyahu at the funeral of Shimon Peres, a former president of Israel, on September 30. Abbas is facing a barrage of criticism for attending the funeral, with members of his own party calling it "treason." (Image source: Ruptly video screenshot)
It is hard to believe that Abbas and his cronies were surprised by the current wave of reprobation. But the degree of vitriol was perhaps not predicted.
Abbas is now getting it from all quarters. The denunciations are coming not only from his political foes in Hamas, Islamic Jihad and the Popular Front for the Liberation of Palestine (PFLP), but also from groups and figures belonging to his ruling Fatah faction.
Palestinians say that the 81-year-old Abbas, who is now in his 11th year of his four-year term in office, is facing his most serious challenge to leadership. And there are no signs that the recriminations are subsiding. On the contrary, each day brings with it yet another flood of reproof, prompting Palestinian Authority officials in Ramallah to issue a stiff warning to those who are exploiting the situation to "incite" against Abbas. However, the threats have failed to deter his critics from proceeding with their attacks on him and calling on him to step down.
One of those who have already paid a price for criticizing Abbas's attendance of the Peres funeral is Lieutenant Colonel Osama Mansour, who holds a senior position in the PA's Military Liaison Apparatus. In a post on Facebook, the PA officer strongly condemned Abbas's move:
"If you alone decided to participate in the funeral of the killer of our sons, then you erred. And if you took the decision on the basis of what you were told by your advisors, then they have misled you."
Hours after the post appeared on Facebook, Mansour was suspended from his job. Later, he was arrested by PA Military Intelligence Service officers who raided his house and conducted a search, during which they destroyed furniture, according to his family. A PA court has since ordered Mansour remanded into custody for fifteen days.
The suspension and subsequent arrest of the officer sparked a new wave of rage against Abbas and his security forces. Palestinians took to social media to protest the crackdown on the officer, hailing him as a hero and denouncing Abbas as a "dog" and Israeli "collaborator." Some suggested that the officer was worthy of being appointed as a minister in the PA Cabinet for his courageous remarks.
But the move against the senior officer did not deter many Abbas loyalists from coming out against him for going to the funeral of Peres.
Fatah's "Youth Movement," known in Arabic as Al-Shabiba, issued a statement calling on Abbas to "apologize" to the Palestinians for committing a "grave mistake." Abbas's participation in the funeral was "humiliating and degrading" for the Palestinians and a form of "treason," according to the statement. The group pointed out that Abbas's move was in violation of Fatah's regulations, which envisage the "full liberation of Palestine and eliminating Israeli occupation economically, politically, militarily and culturally." Addressing Abbas, the group stated:
"Mr. President of the State of Palestine, Mahmoud Abbas. You have committed a crime against our people by equating the executioner with the victim. We will not allow treason to become a viewpoint."
Several senior Fatah officials sought to distance themselves from Abbas's decision to attend the funeral of Peres by claiming that they had not been consulted beforehand.
One of them, Tawfik Tirawi, who previously served as commander of the Palestinian Authority's General Intelligence Service in the West Bank, announced that he was personally opposed to Abbas's gesture. He clarified that Abbas did not seek the opinion of the Fatah leadership before he went to the funeral:
"Had I been personally consulted as a member of the Fatah Central Committee, I would have made it clear that I am against participation in principle, because this is a funeral of a Zionist who wallowed, from head to toe, in the blood of our people and other Arabs."
Tirawi went on to describe Peres as the "engineer of the Israeli nuclear project which is designed to foil any plan to retrieve our land."
The widespread protests against Abbas's decision to participate in Peres's funeral took a violent turn on October 3, when PA policemen used force to break up a peaceful demonstration in Ramallah. Organized by the PFLP, the protest was yet another sign of the strong sentiments many Palestinians harbor not only against Abbas, but also Israel.
Palestinian lawyer Muhanad Karajeh, who works for a Ramallah-based human rights organization, reported that he was asked by the organizers to be present in order to document the event. The lawyer stated he was severely beaten by PA security officers during the protest. "I was repeatedly beaten in the face and different parts of the body," he recounted. "I know some of the officers personally. They tore my suit although I told them I am a lawyer. They humiliated me and cursed me and my profession."
In a desperate act to counter the spreading protests, Abbas's aides organized impromptu marches in support of the Palestinian Authority president. The PA leadership summons Fatah activist-thugs to take to the streets whenever it feels the heat. Carrying photos of Abbas and the yellow Fatah flags, scores of Fatah members marched in the streets of Ramallah in a show of force and as a message of warning to those who would censure Abbas. "We stand behind our historic leadership and President Abbas," declared top Fatah activist Osama Qawassmeh. "Fatah is a red line and it is facing a conspiracy."
On social media, the attacks on Abbas were quite ruthless. Palestinian activists circulated cartoons ridiculing Abbas. One of them depicted Abbas as a rabbi in Israeli military uniform and a Jewish skullcap weeping next to Peres's grave. Another cartoon featured an Arab laying a wreath on a boot next to Peres's photo.
On Twitter, activists launched hashtags called, "Offering Condolences On the Death of Peres is Treason" and "Normalization is Treason."
Hamas was not silent about Abbas's "treason." Mahmoud Zahar, one of the leaders of the Islamist movement in the Gaza Strip, opined that according to Islamic teachings, Abbas qualifies as a Jew. "We hope that he will join Peres in Hell," Zahar said. "Abbas is an Israeli product. The man who claims to represent all the Palestinian people has stood up against all Palestinians and Arabs."
A large group of Palestinian and Arab academics, journalists and political activists signed a petition calling on Abbas to apologize for attending the Peres funeral, characterizing the move as an "historic and political mistake." At least 150 Palestinians and Arabs signed the petition, which stressed that Abbas's decision came as a "shock" to Palestinians.
The protests have, meanwhile, spread to Palestinian refugee camps in the West Bank, Gaza Strip and neighboring Arab countries. At the Balata refugee camp near the West Bank city of Nablus, thousands of Palestinians chanted slogans calling for the removal of Abbas from power. The protest came during a funeral of a Palestinian man who had been shot dead a week earlier by Palestinian Authority policemen.
The unprecedented outcry over Abbas's participation in the funeral of an Israeli leader is further proof of the degree to which Palestinians have been radicalized. Frustration with Abbas and his policies is not new. More and more Palestinians have in recent years expressed rage over his "lenient" policies towards Israel. A particular bone in their throat is the continued security coordination between PA security forces and Israel. They perceive this cooperation with the Israelis as "treasonous". Many Palestinians are also angry with Abbas for his refusal to share power and pave the way for the emergence of new leaders.
The blame for the radicalization of the Palestinian people lies squarely at the feet of Abbas and the rest of the PA. If you promote boycotts of Israel, expect to be attacked when you break that boycott by associating with any Israeli, alive or dead. Protests tend to subside, but even if the current condemnation eventually does die down, it will have sent a message to future Palestinian leaders. The message is: "No peace with Israel, not in our time, and not in any time."
Khaled Abu Toameh, an award-winning journalist, is based in Jerusalem.