Hungarian Prime Minister Viktor Orbán has proposed amending the Constitution to prevent the European Union from settling migrants in Hungary without the approval of Parliament.
In a speech on October 4, Orbán said the amendment would be presented to Parliament on October 10, and, if approved, it would come into effect on November 8.
Hungarian voters overwhelmingly rejected the European Union's mandatory migrant relocation plan in a referendum on October 2, but failed to turn out in sufficient numbers to make the referendum legally binding.
More than 97% of those who voted in the referendum answered 'no' to the question: "Do you want the European Union to be entitled to prescribe the mandatory settlement of non-Hungarian citizens in Hungary without the consent of the National Assembly?"
Voter turnout was only 40%, however, far short of the 50% participation required to make the referendum valid under Hungarian law.
Orbán has been a vocal opponent of the EU's plan to relocate 160,000 "asylum seekers" from Greece and Italy. Under the scheme, 1,294 migrants would be moved to Hungary. The Czech Republic, Poland and Slovakia, all former Communist countries, are also opposed to the EU plan, which they say is an "EU diktat" that infringes on national sovereignty.
Although the referendum has been invalidated, Orbán — whose eurosceptic Fidesz party has more support than all opposition parties combined — said he would not be deterred. Speaking to supporters after the polls closed, he said:
"The European Union's proposal is to let the migrants in and distribute them in mandatory fashion among the member states and for Brussels to decide about this distribution. Hungarians today considered this proposal and they rejected it. Hungarians decided that only we Hungarians can decide with whom we want to live. The question was 'Brussels or Budapest' and we decided this issue is exclusively the competence of Budapest."
In an address to Parliament on October 3, Orbán hailed the vote as a "great victory" and reiterated his plan to amend the Hungarian Constitution to ensure that the EU cannot settle migrants in Hungary. He said:
"No party or party alliance in the history of Hungarian democracy has ever received such a large mandate. I'm telling you with sufficient gentleness, we will not let the opinion of the 3.3 million people who voted 'no' to be ignored.

"... with sufficient modesty and restraint I must say that Hungarians made history yesterday. If it is true that history is written by the victors then with a resounding victory of the 'no' votes Hungary won yesterday."
In Brussels, Margaritis Schinas, chief spokesperson for European Commission, the powerful administrative arm of the European Union, said that regardless of the referendum, EU law still takes precedence over Hungarian law. He said:
"On the referendum, if it had been legally valid, our comment would have been that we take note of it. Since it was declared legally void by the Hungarian electoral commission, we can now say that we also take note of it.... One of the principals underpinning the system is the primacy of EU law."
The EU's unrelenting stance, and Orbán's continued opposition to it, implies that the intra-European fight over what to do with hundreds of thousands of migrants from Africa, Asia and the Middle East is far from over.
Some 400,000 migrants passed through Hungary in 2015 on their way toward Western Europe. Since then, Hungary has built fences on its borders with Serbia and Croatia, effectively cutting off the so-called Western Balkan Route, which constitutes the main land route through Eastern Europe for migrants who enter the EU from Turkey via Greece and Bulgaria.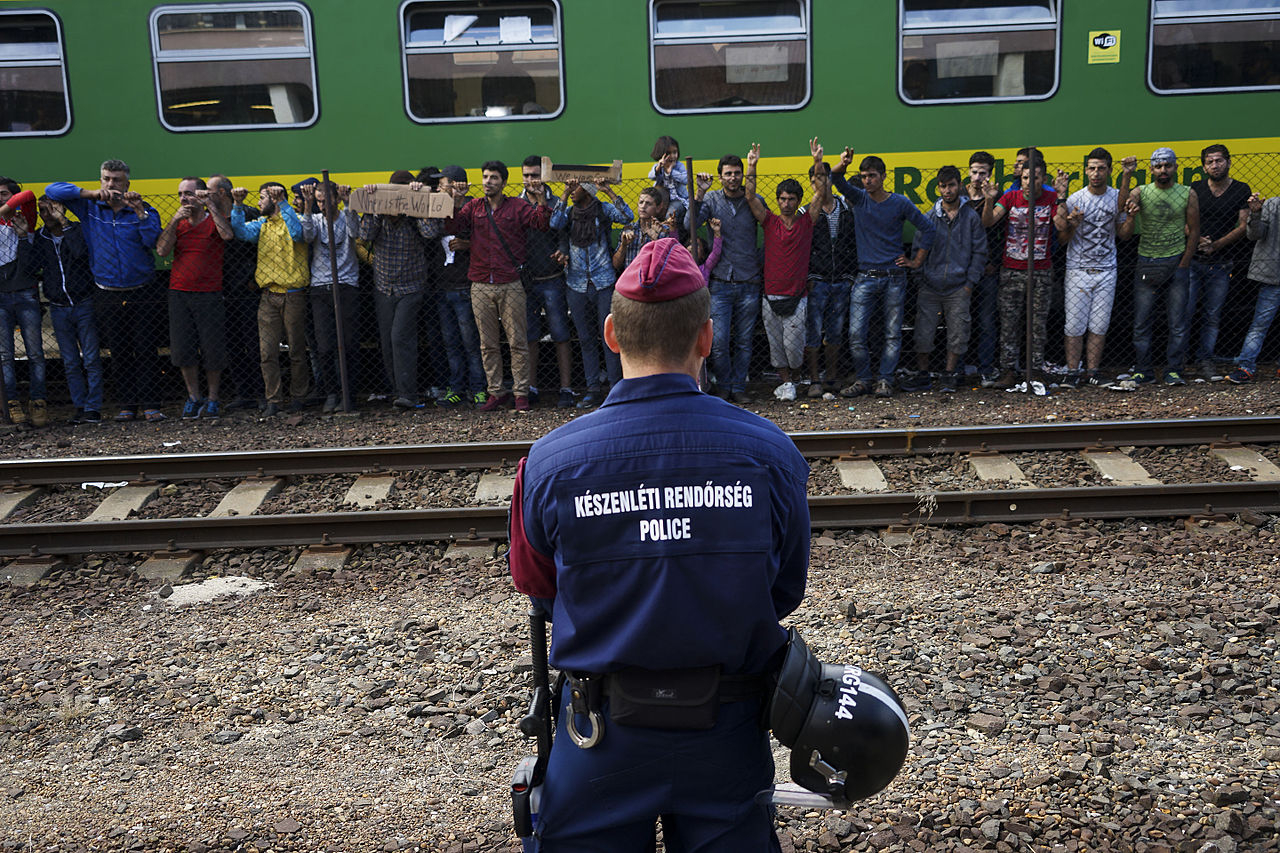 Migrants protest at Budapest Keleti railway station, September 4, 2015. (Image source: Mstyslav Chernov/Wikimedia Commons)
Orbán, who has emerged as the standard-bearer of European opposition to German Chancellor Angela Merkel's "open-door" migration policy, has rejected criticism of the fences. In a July 11, 2016 article in Frankfurter Allgemeine Zeitung, he wrote:
"In the summer of 2015, with complete disregard for European rules, more than ten thousand migrants a day were arriving at the Hungarian-Serbian border. These people had already been in the territory of another Member State: in the territory of both the EU and the Schengen Area. As it is the responsibility of a country on the Schengen Area's external border to ensure that the crossing of that external border is controlled, Hungary had no choice but to erect a physical barrier.

"Germany, and a considerable section of German public opinion, were unable to comprehend — and some people are still unable to do so — how Hungary, the country that tore down the iron curtain, could resort to such a measure.

"I understand how German society, which for decades was divided by walls and barbed wire, dislikes the fence. But if anyone has the moral standing to explain this to their German friends, surely the Hungarians do. After all, it was Hungary that cut through the Iron Curtain which divided Europe — and the German people — in the decades after the Second World War....

"In 1989 we dismantled a fence which divided the peoples of Europe. In the early autumn of 2015 we erected a fence on the external green border of the European Union and the Schengen Area. This was to protect the European Union's greatest achievement: free movement within the common area of the internal market. This free movement is protected by the Schengen Agreement, in accordance with jointly agreed European regulations ratified many years ago. As a result, we have been protecting the European people's way of life and economic model — at least on the section of Europe's external border for which we are responsible. And, no less crucially, we have been protecting their security....

"When some people hear comments such as these they automatically react with the accusation of populism. As Shakespeare would put it, however, populists are people who call a spade a spade. We Hungarians call things by their names. This is part of our nature. We do not want to distribute the migration burdens falling on Europe, but we want to eliminate them: to put an end to them."
Orbán has repeatedly warned that Muslim refugees are threatening Europe's Christian identity.
At a news conference after a meeting with other European leaders in Brussels, Orbán said:
"We don't want to, and I think we have a right to decide that we do not want a large number of Muslim people in our country. We do not like the consequences of having a large number of Muslim communities that we see in other countries and I do not see any reason for anyone else to force us to create ways of living together in Hungary that we do not want to see. That is a historical experience for us."
Orbán was referring to the 150-year Ottoman Turkish occupation of Hungary, which began with the Siege of Buda in 1541, and ended with the Treaty of Karlowitz in 1699, when the Ottomans ceded Hungary to the Habsburg Monarchy.
The Ottoman conquest of Hungary actually began at the Battle of Mohács in 1526, when Turkish forces led by Sultan Suleiman I destroyed the Hungarian army and partitioned the country. Some 15,000 Hungarian troops were killed in the battle and many of those who survived were beheaded by Turkish forces.
Over the next century and a half, the Ottoman forces occupying Hungary plundered and pillaged the land and took more than a million Hungarians as slaves, according to Paul Fregosi, the author of Jihad, a history of Muslim holy war against Christians.
In a September 3, 2015 essay published by Frankfurter Allgemeine Zeitung, Orbán wrote:
"Let us not forget that those arriving have been raised in another religion, and represent a radically different culture. Most of them are not Christians, but Muslims. This is an important question, because Europe and European identity is rooted in Christianity. Is it not worrying in itself that European Christianity is now barely able to keep Europe Christian? If we lose sight of this, the idea of Europe could become a minority interest in its own continent."
Speaking at a September 30, 2016 rally in support of the referendum, Orbán said:
"We lose our European values and identity the way frogs are cooked in slowly-heating water. Quite simply, slowly there will be more and more Muslims, and we will no longer recognize Europe. What we have seen so far from the people's migration have only been warm-up rounds. The real battle is yet to come."
When asked if he thought the EU could override Hungarian law, Orbán replied:
"I can't imagine that there is a state among the democratic community of Europe which says clearly that it doesn't want something, and then in another capital, they try to override it. Brussels, for example.

"I think this would be unprecedented in the history of the European Union, so I don't think there would be a decision like this, a decision raping democracy. I have a much better opinion of the European Union."
Soeren Kern is a Senior Fellow at the New York-based Gatestone Institute. He is also Senior Fellow for European Politics at the Madrid-based Grupo de Estudios Estratégicos / Strategic Studies Group. Follow him on Facebook and on Twitter.