While Western governments and NATO continue to congratulate themselves on the Iranian nuclear deal, in Tehran it is business as usual as the regime continues to plan for war.
In August 2016, on Iran's National Defense Industry Day, the mullahs unveiled a sophisticated, domestically-built air-defence system -- a surface-to-air long range missile system called the Bavar-373 ["Belief"]. Iran's system was commissioned in 2010, when UN sanctions suspended a deal for Iran to purchase additional S-300 air defence systems from Russia.
As Iranian President Hassan Rouhani bragged with complete accuracy, "The Islamic Republic is one of the eight countries in the world who have mastered the technology to build these engines." Brigadier General Hossein Dehqan claimed that Iran would begin mass production by the end of 2016. As the Bavar-373 is made entirely from domestic components, it can be manufactured and deployed even in the face of future sanctions.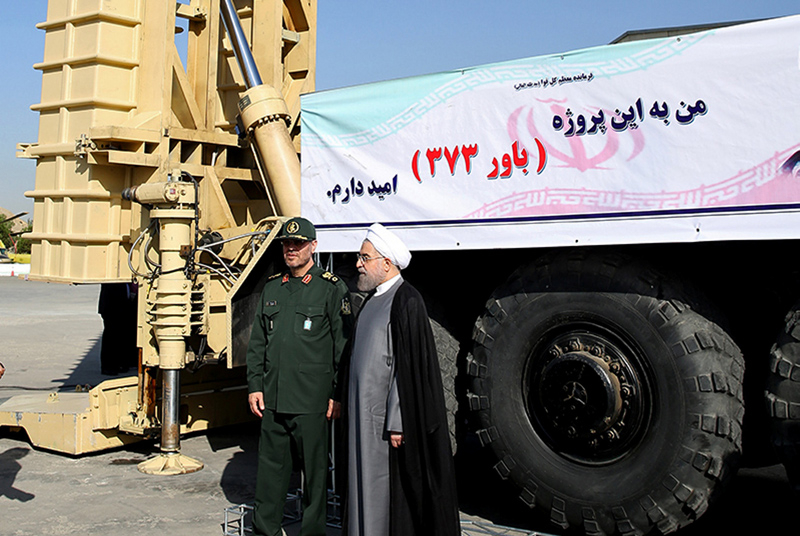 Iranian President Hassan Rouhani (right) poses with the Bavar-373 air-defense system, August 21, 2016. (Image source: Fars News/Wikimedia Commons)
Bavar-373 is a marked upgrade from previous Iranian air defence capabilities. It is reportedly mounted on a Zafar 8x8 special wheeled chassis, designed to operate both on and off roads, with an operational range of 800km. The system uses Sayyed-3 category canister-launched missiles along with target acquisition radar, target engagement radar, and phased-array radar. The Sayyed-3 missiles hit mid-altitude targets with greater destructive power and increased range and speed than previous generations of Iranian missiles.
The Iranians claim, probably accurately, that the Bavar will be capable of downing bombers and other combat aircraft including helicopters and drones. Many reports confirm that the Bavar is superior to the Russian S-300, as it has greater mobility, better targeting capability, and faster launch preparation.
The Bavar is just one of Iran's moves to develop military self-sufficiency in order to circumvent future sanctions. While still purchasing some components from Russia, Iran is clearly planning to go it alone in the future -- especially with ballistic and cruise missile technology. The rapid development of an advanced system such as the Bavar-3 demonstrates that the Iranians are capable of developing not only defensive but also offensive weapons systems, even as Iran remains prohibited under the present UNSC Resolution 2231 (2015) from developing surface-to-surface nuclear-capable ballistic missiles. Clearly, if Iran continues to develop long range launch capabilities it could choose to destabilize the entire Middle East region and directly threaten Israel and Europe.
Iran's intentions appear ominous. Tehran continues to deploy defensive systems at nuclear and military sites throughout the country, apparently concerned about a potential Israeli strike. Even more worrisome, the Bavar system could make any attack by Israel or NATO extremely difficult and costly.
If Iran continues to develop offensive nuclear and long-range ballistic missile capabilities, the international community may be in for an unpleasant surprise -- awakening to find a nuclear-armed Iran protected by sophisticated, hardened air defences. By then, the balance of power in the Middle East will be altered irreversibly.
Debalina Ghoshal is a Research Fellow at the Centre for Human Security Studies, Hyderabad, India.