U.S. Senator Ted Cruz last week submitted legislation to designated the Muslim Brotherhood as a Terrorist Organization.
Cruz (R-TX) earlier had a bill in the Senate which would not only ban the Muslim Brotherhood in the U.S. but also three of its front groups: Council for American Islamic Relations (CAIR) USA, Islamic Society of North America (ISNA) and the North American Islamic Trust (NAIT). These American-based front groups have corresponding chapters or organizations in Canada as well.
Muslim Brotherhood front organizations and their members have an ongoing problem with criminal activity, terrorism-funding activities and overall negative relations with legal authorities. These problems range from being listed as terrorist groups, being charged for weapons possession and an even an arrest for alleged sexual charges involving a 12-year-old girl. Several of the charges are consistent with the extremist nature of the Muslim Brotherhood itself, given its commitment to violent political change. Both criminal investigations and terrorism listings in North America, for instance, have been directly related to terrorism funding for Hamas, itself a branch of the Muslim Brotherhood.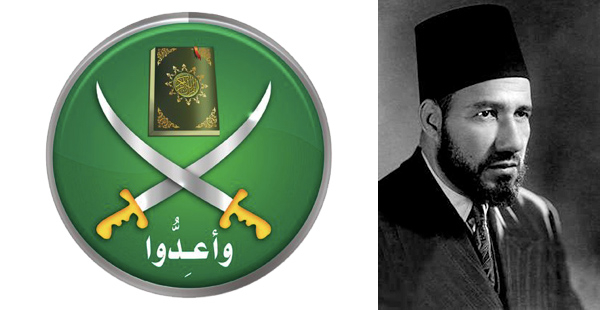 The emblem of the Muslim Brotherhood, and its founder, Hassan al-Banna.
The future is also uncertain for a variety of groups and individuals related to the criminal trials surrounding the Holy Land Foundation for Relief and Development, formerly known as the Occupied Land Fund. The 2008 criminal trial resulted in multiple convictions and was touted as the one of the largest terrorism financing trials in American history. Expectations were high that the 2008 trial would be followed by further trials involving the listed unindicted co-conspirators such as CAIR USA and the Islamic Society of North America. However, with the appointment of Eric Holder as the Attorney General of the United States in 2009, all further actions on this file appear to have been frozen. Holder would later speak at a conference supporting one of the unindicted co-conspirators. It is not yet clear if the next U.S. Attorney General will direct that the files be re-activated.
CAIR USA has been repeatedly identified as a Muslim Brotherhood front organization. It was listed as a Muslim Brotherhood front organization and as a terrorism entity by the United Arab Emirates in 2014. CAIR USA employees and former employees have a rather dubious history of criminal activity. Among those CAIR USA employees charged with criminal offences or deported have been Randall Ismail Royer (weapons and explosive charges), Bassam Khafagi (bank and visa fraud), Ghassan Elashi (terrorism financing of Hamas), and Nabil Sadoun (deported for ties to terrorist groups). Other members and fund-raisers for CAIR USA have also been charged.
In Canada, the Royal Canadian Mounted Police investigation (Project Sapphire) into the International Relief Fund for the Afflicted and Needy (IRFAN) continues. IRFAN was one of four Muslim Brotherhood front groups identified during testimony to the Canadian Senate in 2015. The others were Islamic Relief Canada, the Muslim Association of Canada and the National Council of Canadian Muslims, formerly known as CAIR CAN. CAIR CAN, according to the U.S. State Department and a multiplicity of other sources, is the Canadian chapter of CAIR USA.
IRFAN had its charitable status revoked for funding terrorism in 2011 and was subsequently listed as a terrorism entity by the Government of Canada in 2014. It is not clear if the ongoing criminal investigation focuses only on those individuals leading IRFAN at the time of its delisting as a charity and listing as a terrorism entity, or if the investigation also includes those who helped found IRFAN. This may be an important distinction, as the Canada Revenue Agency stated that IRFAN was deliberately created and designed to circumvent Canadian terrorism-funding rules.
Another of the four front groups, the Muslim Association of Canada (MAC), also made the news in 2015. At that point, it was alleged that IRFAN continued to received funding from the Muslim Association of Canada even after IRFAN had its charitable status revoked for funding terrorism in 2011. This information came from an RCMP search warrant that was used to raid IRFAN premises in Mississauga and Montreal. In addition to funding issues, the MAC and IRFAN are connected to each other through common board members and their association to Hamas. IRFAN was funding Hamas and the MAC is one of only two organizations outside of Egypt that openly states it is a Muslim Brotherhood adherent group.
The Islamic Society of North America (Canadian Chapter) has also had its problems. Along with a variety of internal fraud issues, the ISNA Development Fund had the charitable status of its "Development Fund" revoked for terrorism funding. The terrorism-funding money in question was sent to the Relief Organization for Kashmiri Muslims (ROKM) with the ultimate aim of supporting Jamaat-e-Islami, widely known as the Muslim Brotherhood's sister group in south Asia.
The Muslim Student Association
Another group, the Muslim Student Association (MSA) of the United States and Canada was established in January 1963 by members of the Muslim Brotherhood (MB) at the University of Illinois, Urbana-Champaign campus. Its creation was the result of Saudi-backed efforts to create a network of international Islamic organizations in order to spread its Wahhabist ideology. It was essentially "an arm of the Saudi-funded, Muslim Brotherhood-controlled Muslim World League."
The following individuals have all been identified as members of the MSA at a variety universities in Canada. They have all been either charged with terrorism offences or died as suicide bombers at the behest of ISIS:
Chiheb Battikh and the Muslim Association of Canada
In December 2012, Chiheb Battikh of Montreal attempted to kidnap the son of a billionaire and hold him for ransom. The Tunisian-Canadian was identified by the Tunis Tribune as being "close to Ennahda" or the Muslim Brotherhood. The French language Journal de Montréal did a five-page story on him following his conviction. Among the issues raised by the paper was Battikh's long time position on the board of directors for the Muslim Association of Canada as well as his position as the director of education for them. The issue of whether the kidnapping was intended to help fund the new Canadian Institute of Islamic Civilization was raised as well. Battikh had been in charge of that fundraising effort and the project had been in trouble.
The Trump Administration
Some of President-elect Donald J. Trump's advisors have strong views on the Muslim Brotherhood. Included among these are Walid Phares, who favors banning the Muslim Brotherhood in the U.S. Other advisors include Frank Gaffney, and Pieter "Pete" Hoekstra, both of whom are well acquainted with Muslim Brotherhood activities
Outlook
A variety of Muslim Brotherhood front groups have drawn attention to themselves through terrorism funding and other forms of alleged criminal behavior. CAIR USA (and others) have also been involved in lawfare -- suing critics to silence them. Altogether, this activity and their own allegedly criminal actions have drawn greater attention to them and increased, rather than decreased, the amount of research done on them. With the rising, often Islamist-inspired, violence in Europe, the Middle East and South East Asia, more attention will be drawn to the sources of the extremism that are producing and funding terrorism.
It appears possible that a Trump Administration will crack down on Islamist extremist groups in the USA. It also appears probable that this will have a spill-over effect into Canada and Europe though greater attention to border security and issues of funding terrorism. These groups, which have already drawn attention to themselves, may start feeling the heat sooner rather than later.