Would you want your vaccines produced by a Saudi company that supports jihad? Danes, it seems, may have no choice.
Denmark recently sold its state-owned vaccine manufacturing facility to a conglomerate owned by the Aljomaih Group, a Saudi family dynasty[1] led by Sheikh AbdulAziz Hamad Aljomaih. The sheikh is also the largest single stockholder and chairman of Arcapita Bank, (formerly First Islamic Investment Bank) headquartered in Bahrain. As an Islamic bank, it has a so-called Sharia Supervisory Board comprised of Islamic scholars, who ensure that the bank's activities comply with sharia (Islamic law).
Former Islamic judge and leading Islamic scholar Taqi Usmani, who sits on the bank's Sharia Board, in his book, "Islam and Modernism", writes ruminations such as: "Aggressive Jihad is lawful even today... Its justification cannot be veiled..."
Usami had also, after Danish newspapers reprinted the Mohammad cartoons in 2008, co-signed an appeal to the Organization of the Islamic Conference (OIC), urging it to boycott Denmark:
"If the Danish government does not declare the [publication of] shameful and blasphemous cartoons as a criminal act, the OIC [should] appeal to all Islamic nations for a trade boycott of that bigoted country".
Equally noteworthy is that the spiritual leader of the Muslim Brotherhood, Yussuf al-Qaradawi, used to sit on Arcapita's sharia board, until he eventually resigned. Qaradawi, already in 1995, told a Muslim Arab Youth Association convention in Toledo, Ohio, "We will conquer Europe, we will conquer America!" According to Qaradawi, sharia law should be introduced gradually, over a five-year period in a new country. Presumably, this gradually-introduced sharia legal system would include the end of free speech under "blasphemy laws", the denigration and oppression of women, such as women worth half as much as men in court, polygamy, the persecution of Jews (Qaradawi advocates killing all of them), beating wives as a way of "disciplining" them and so on. Only after this transition phase, sharia laws such as killing apostates and homosexuals, as well as chopping off hands for theft, would be introduced.
Given Qaradawi's former prominence in Arcapita, it hardly comes as a surprise that the bank has given financial support to the Muslim Brotherhood in Bahrain, known there as the Al Islah Society. According to a leaked report by former US Ambassador to Bahrain, Ambassador William T. Monroe:
"Arcapita reported giving a total $591,000 in 2003 and $583,000 in 2002 to a variety of charitable organizations... the Islamic Education Society (Al Tarbiya Al Islamiya - Sunni Salafi) and the Al Islah Society (Sunni Muslim Brotherhood) are the largest beneficiaries of Arcapita's charitable giving... We are aware of concerns linking Arcapita advisors and staff to questionable organizations."
In August 2016, the Danish government announced that it "...rejects any organization representing antidemocratic and radicalized environments" and considers the Muslim Brotherhood to be "deeply problematic" and something they "strongly reject".
Clearly not strongly enough.
"Selling the crucial manufacture of vaccines to an ideologically hostile country, which might -- for whatever reason -- suddenly decide to shut down production, does not sound like a good idea. Those who say that the Saudis are merely interested in profit, just like everybody else, should know better", Rachel Ehrenfeld, an expert on the financing of terrorism, told Ekstra Bladet.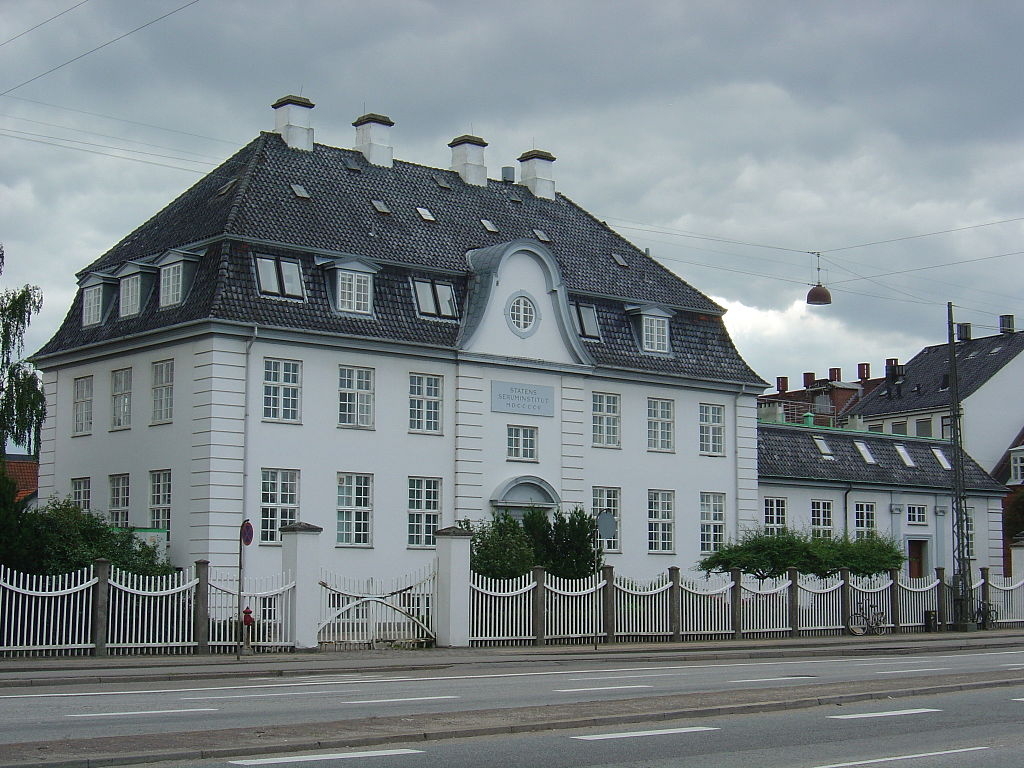 Denmark's Statens Serum Institut (State Serum Institute). Image source: Wikimedia Commons/Froztbyte.
Virtually all political parties supported the Danish government's sale of its vaccine manufacturing facility to the Saudi conglomerate. This is strange, given the recent history of Danish-Saudi relations.
After the publication of the Danish Mohammad cartoons in 2006, Saudis boycotted Danish goods. Saudi Arabia's religious leader, Grand Mufti Sheikh Abdul Aziz al-Sheik, demanded that the Danish government hold Jyllands-Posten, the newspaper that printed the Mohammad cartoons, to account and force the newspaper to give an apology: "The government should give [the newspaper] a fine as a deterrence. This is the least that Muslims should demand", he said.
Do Danish politicians really have such short memories?
Vaccines are not an easy commodity to come by. It takes minimum of six months for an order of vaccines to be delivered, but, according to the World Health Organization, delivery can also easily take up to two years. Astonishingly, the Danish state has given the Aljomaih group an incredible start by promising to buy all its children's vaccines from the sheikh for the first 30 months. Only after that will Danish authorities be able to buy their children's vaccines elsewhere. The Danish government has also promised the Aljomaih group not to create new Danish state vaccine production for the first three years.
Should consumers not be able to trust a producer of something as critical as vaccines? How much trust are Danish consumers supposed to have in a Saudi owned conglomerate, which employs jihadists such as Usmani, which donates heavily to jihadist organizations such as the Muslim Brotherhood, which in turn wants to bring about a caliphate? The potential for political exploitation is too evident to reject. Ekstra Bladet ran a poll on its website asking whether Danes were in favor or against the sale: 95% were against it.
Even more remarkable is that the government claims not to have known about the connection between the Muslim Brotherhood and Aljomaih; all the information is easily accessible on the internet.
Health Minister Ellen Trane Nørby has defended the sale: "We did not have several buyers to choose from. We have the buyer we have and it has saved 600 Danish jobs, which would otherwise have been lost".
Is she saying that the safety of Danish citizens is worth 600 jobs?
The sale of the Danish vaccine production facility to the Saudi conglomerate captures perfectly everything that is wrong with European politicians today: their apparent gullibility, their carelessness and their desire to sell out to places such as Saudi Arabia, seemingly without giving much thought to the long-term consequences.
---
[1] The Group has been active in healthcare through its investment arm AJ Pharma Holding, and it is its Malaysian subsidiary, AJ Biologics, which will take over the vaccine production in the Danish facility in Copenhagen with its 100-year-old history and approximately 500 Danish employees. The deal was a steal for the Aljomaih group, which acquired the vaccine production company for what is believed to be a tenth of its actual value, a mere 15 million DKK.
John Richardson is a researcher based in the United States.