Britain: "A World Capital for Islamic Finance"
"I want London to stand alongside Dubai and Kuala Lumpur as one of the great capitals of Islamic finance anywhere in the world." — David Cameron, Prime Minister, Great Britain.

But critics say that British ambitions to attract investments from Muslim countries, companies and individuals are spurring the gradual establishment of a parallel financial system based on Islamic Sharia law. The Treasury also said some sukuk Islamic bond issues may require the government to restrict its dealings with Israeli-owned companies in order to attract Muslim money.
The London Stock Exchange will be launching a new Islamic bond index in an effort to establish the City of London as one of the world's leading centers of Islamic finance.
Britain also plans to become the first non-Muslim country to issue sovereign Islamic bonds, known as sukuk, beginning as early as 2014.
The plans are all part of the British government's strategy to acquire as big a slice as possible of the fast-growing global market of Islamic finance, which operates according to Islamic Sharia law and is growing 50% faster than the conventional banking sector.
Although it is still a fraction of the global investment market -- Sharia-compliant assets are estimated to make up only around 1% of the world's financial assets -- Islamic finance is expected to be worth £1.3 trillion (€1.5 trillion; $2 trillion) by 2014, a 150% increase from its value in 2006, according to the World Islamic Banking Competitiveness Report 2012-2013, published in May 2013 by the consultancy Ernst & Young.
But critics say that Britain's ambitions to attract investments from Muslim countries, companies and individuals are spurring the gradual establishment of a parallel global financial system based on Islamic Sharia law.
British Prime Minister David Cameron announced the plans during a keynote speech at the ninth World Islamic Economic Forum, which was held in London from October 29-31, the first time the event has ever been held outside the Muslim world.
"Already London is the biggest center for Islamic finance outside the Islamic world," Cameron told the audience of more than 1,800 international political and business leaders from over 115 countries.
"And today our ambition is to go further still. Because I don't just want London to be a great capital of Islamic finance in the Western world, I want London to stand alongside Dubai and Kuala Lumpur as one of the great capitals of Islamic finance anywhere in the world."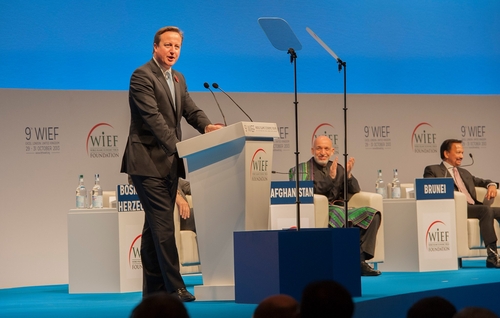 UK Prime Minister David Cameron addresses the World Islamic Economic Forum in London on October 29, 2013. (Image source: 10 Downing St. Facebook page)
Cameron said the new Islamic bond index on the London Stock Exchange (LSE) would help stimulate fixed-income investments from Muslim investors -- especially investors from oil-rich Persian Gulf countries -- by helping them identify which listed companies adhere to Islamic principles.
Investors who practice Islamic finance -- which is said to be structured to conform to a strict code of ethics based on the Koran and Sharia law -- refuse to invest in companies that are linked to alcohol, gambling, pornography, tobacco, weapons or pork. Islamic finance also forbids collecting or paying interest and requires that deals be based on tangible assets.
Unlike conventional bonds, sukuk are described as investments rather than loans, with the initial payment made from an Islamic investor in the form of a tangible asset such as land. The lender of a sukuk earns money as profit from rent, as in real estate, rather than traditional interest.
Cameron says the British Treasury will issue £200 million (€235 million; $320 million) worth of sukuk as early as 2014. The objective is to enable the government to borrow from Muslim investors. The Treasury plans to issue fixed returns based on the profit made by a given asset, thereby allowing Muslims to invest without breaking Islamic laws forbidding interest-bearing bonds.
The Treasury also said some sukuk bond issues may require the British government to restrict its dealings with Israeli-owned companies in order to attract Muslim money.
Although Britain has already established itself as the leading secondary market for sukuk -- the LSE has listed 49 sukuk bonds worth $34 billion during the past five years -- such bonds have rarely been issued from local firms and never from the government.
"For years people have been talking about creating an Islamic bond, or sukuk, outside the Islamic world. But it's never quite happened," Cameron said. "Changing that is a question of pragmatism and political will. And here in Britain we've got both."
According to Cameron, this "pragmatism and political will" is being influenced by the fact that Islamic finance is "already fundamental" to the success of the British economy. Indeed, it is.
Britain is already the leading Western center for Islamic financial and related professional services. It is a leading provider of Sharia-compliant finance, with reported assets of $19 billion, according to Islamic Finance 2013, a new report published by The City UK, a financial sector lobby group.
Britain is home to 22 Islamic banks, of which six are fully Sharia-compliant. This is substantially more than in any other Western country or offshore center and is more than double the number in the United States.
In addition, 25 law firms are now supplying services in Islamic finance, which is increasingly being used for major infrastructure projects in London.
Islamic investment has financed London's Shard skyscraper -- the tallest building in the European Union -- and the 2012 Olympic Village. Middle Eastern investors own Harrods, London's most famous luxury department store, and the Manchester City football team.
Muslims also invested in projects such as the massive London Gateway port, the redevelopment of Battersea Power Station and Arsenal Football Club's Emirates Stadium.
Qualifications in Islamic finance are being offered by four professional institutes and at least 16 universities and business schools.
London is also a leader in Islamic retail banking services, with institutions offering a range of Islamic banking products, such as mortgages and car loans.
The growing demand for Islamic retail banking services is being propelled by the demographic transformation taking place in Britain. The Muslim population of Britain will top 3.3 million sometime before the end of 2013 to reach around 5.2% of the overall population of 63 million, according to figures extrapolated from a recent study on the growth of the Muslim population in Europe.
This demographic earthquake -- which is being attributed to large-scale immigration, coupled with high Muslim birth rates and growing numbers of British converts -- is transforming the country's business landscape.
More than one-third of all small- and medium-sized companies in London are believed to be Muslim-owned, and British Muslims contribute at least £30 billion to the economy, according to a new report published by the Muslim Council of Britain.
The demographic changes are also contributing to the establishment of parallel Islamic financial and legal systems in British public life.
In 2012, the British government began offering Muslim workers a Sharia-compliant pension fund in the public sector. A new government agency, the National Employment Savings Trust (NEST), will give Muslims who do not already have a company pension the option of investing in the HSBC Life Amanah Pension Fund, a Sharia-compliant pension scheme. The initial target market comprises some 200,000 Muslims in Britain.
In June 2011, Pointon York, an independent financial services company based in Leicestershire in central England, announced that it will begin offering four Sharia-compliant Self-Invested Personal Pensions (SIPP) products that comply with Islamic law.
Pointon York was the first specialist SIPP provider to receive Sharia-compliant accreditation by the Islamic Bank of Britain (IBB), which has pioneered Islamic retail banking in the United Kingdom. The IBB will supervise the entire life-cycle of Pointon York's pension funds to ensure full compliance with Sharia legal principles.
Muslim families in Britain can already acquire Sharia-compliant baby bonds under the British government's Child Trust Fund scheme. In 2008, Britain's Financial Services Authority (FSA) authorized the establishment of the country's first Islamic insurance company as well as the country's first Sharia MasterCard, called the Cordoba Gold MasterCard.
In addition, takaful, a type of Islamic insurance, reached a new high in 2012, with premiums estimated to have reached around $30 billion, according to The City UK, the financial services lobby group.
PM Cameron told the economic forum that Britain has also taken steps to ensure that Muslims are not discriminated against by implementing measures ending "double taxation" on Islamic mortgages and introducing alternative forms of student and start-up loans to comply with a ban on interest payments. "Never again should a Muslim in Britain feel unable to go to university because they cannot get a student loan simply because of their religion," he said.
But some are saying that Britain should go even farther in aligning its financial system with Sharia law. In an interview with the newspaper London24, Jodie Ginsberg of Demos Finance, a financial services research firm, said: "David Cameron is right to throw Britain's doors open to the Muslim world to showcase our trading wares. But we should also use this forum as an opportunity to consider how the principles of Islamic finance itself, not just the money generated in the Muslim world, might be applied in the UK. Islamic finance is one of the few models successfully to have weathered the 2008 credit crunch and its aftermath."
Speaking on a stage that included Jordanian King Abdullah and the Sultan of Brunei, Cameron dismissed criticism of increasing foreign ownership in Britain: "I know some people look at foreign companies investing in our businesses, financing our infrastructure or taking over our football clubs and ask, shouldn't we do something to stop it? Well, let me tell you, the answer is no."
Soeren Kern is a Senior Fellow at the New York-based Gatestone Institute. He is also Senior Fellow for European Politics at the Madrid-based Grupo de Estudios Estratégicos / Strategic Studies Group. Follow him on Facebook.
Related Topics: United Kingdom | Soeren Kern receive the latest by email: subscribe to the free gatestone institute mailing list
Reader comments on this item
| | | |
| --- | --- | --- |
| Title | By | Date |
| When the Devils got you by the (old cliche') [20 words] | Robert | May 26, 2014 21:01 |
| "A World Capital for Islamic Finance" [128 words] | Mark M. | Oct 31, 2013 21:16 |
| Muslim Investments in London [12 words] | SB Steeler | Oct 31, 2013 20:51 |
| Interesting Conundrum [272 words] | The Empress | Oct 31, 2013 19:45 |
| Re: Britain: "A world capital for Islamic finance" [102 words] | Jen Schiller | Oct 31, 2013 13:39 |
| Britain: The New Insane Asylum [51 words] | A.T. Halmay | Oct 31, 2013 09:00 |
| ↔ Sold! To the man on the camel.... [137 words] | Ephesian | Nov 1, 2013 04:49 |
| ↔ US should outlaw any business that discriminates against Israel, even if based in the UK [123 words] | Eric Levine | Nov 1, 2013 22:48 |
| ↔ Bonds are gambling [54 words] | Shoshana Rubin | Nov 2, 2013 20:38 |
| ↔ I'm with you, Ephesian [48 words] | Shoshana Rubin | Nov 3, 2013 13:54 |
| ↔ The decline of morals [125 words] | Ephesian | Nov 4, 2013 10:10 |
| ↔ Views [230 words] | Alan | Dec 11, 2013 03:15 |
| ↔ Pieces of silver [70 words] | Ephesian | Dec 12, 2013 02:09 |
| Sharia domination [82 words] | Jana | Oct 31, 2013 08:00 |
| Sad [52 words] | Craig | Oct 31, 2013 07:10 |
| Farewell, Britain [43 words] | Edward Cline | Oct 31, 2013 06:03 |
Comment on this item
Subscribe To Mailing List
Tweets by @GatestoneInst
Latest Articles
by Burak Bekdil
Where Turkey stands today is a perfect example of how, when Islamists -- mild or otherwise -- rule a county, even the most basic liberties are systematically suppressed.
"A climate of fear has emerged in Turkey." — Hasam Kilic, President, Turkey's Constitutional Court.
The prosecutor demanded a heavier penalty for the victim than for her torturers.
The European Commission identified government interference in the judiciary and bans imposed on social media as the major sources of concern regarding Turkey's candidacy for full membership.
by Khaled Abu Toameh
To understand what drives a young Palestinian to carry out such a deadly attack, one needs to look at the statements of Palestinian Authority leaders during the past few weeks.
The anti-Israel campaign of incitement reached its peak with Abbas's speech at the UN a few weeks ago, when he accused Israel of waging a "war of genocide" in the Gaza Strip. Abbas made no reference to Hamas's crimes against both Israelis and Palestinians.
Whatever his motives, it is clear that the man who carried out the most recent attack, was influenced by the messages that Abbas and the Palestinian Authority leadership have been sending their people.
by Richard Kemp
Would General Allen -- or any other general today -- recommend contracting out his country's defenses if it were his country at stake? Of course not.
The Iranian regime remains dedicated to undermining and ultimately destroying the State of Israel. The Islamic State also has Israel in its sights and would certainly use the West Bank as a point from which to attack, if it were open to them.
There can be no two-state solution and no sovereign Palestinian Arab state west of the Jordan, however desirable those things might be. The stark military reality is that Israel cannot withdraw its forces from the West Bank.
Fatah leaders ally themselves with the terrorists of Hamas, and, like Hamas, they continue to reject the every existence of the State of Israel.
If Western leaders actually want to help, they should use all diplomatic and economic means to make it clear to the Palestinians that they will never achieve an independent and sovereign state while they remain set on the destruction of the State of Israel.
by Louis René Beres
The Palestine Liberation Organization [PLO], forerunner of today's Palestinian Authority, was founded in 1964, three years before Israel came into the unintended control of the West Bank and Gaza. What therefore was the PLO planning to "liberate"?
Why does no one expect the Palestinians to cease all deliberate and random violence against Israeli civilians before being considered for admission to statehood?
On June 30, 1922, a joint resolution of both Houses of Congress of the United States endorsed a "Mandate for Palestine," confirming the right of Jews to settle anywhere they chose between the Jordan River and the Mediterranean Sea. This is the core American legacy of support for a Jewish State that President Obama now somehow fails to recall.
A sovereign state of Palestine, as identified by the Arabs -- a Muslim land occupied by "Palestinian" Arabs -- has never existed; not before 1948, and not before 1967. From the start, it was, and continues to be, the Arab states -- not Israel -- that became the core impediment to Palestinian sovereignty.
by Timon Dias
It looks as if this new law is meant to serve as a severe roadblock to parties that would like to dismantle the EU in a democratic and peaceful way from within.
A rather dull semantic trick pro-EU figures usually apply, is calling their opponents "anti-Europe."
Most Shared
Most Viewed