UK: Trial Begins for "Soldiers of Allah" Accused of Murdering British Soldier
"When I thought about obeying Allah I thought maybe it is possible to kill a man by driving into him. ... May Allah forgive me if I acted in a way that is displeasing to him." — Michael Adebolajo, defendant in the murder trial of Drummer Lee Rigby

Adebolajo said there was an ongoing "war between Muslims and the British people" and he was a "soldier of Allah."
The trial of two radical Muslims accused of the "cowardly and callous murder" of British soldier Lee Rigby has begun at the Old Bailey court in central London.
Islamists Michael Adebolajo, 28, and Michael Adebowale, 22, are each accused of attacking the 25-year-old Rigby by running him over from behind with a car and then attempting to decapitate his motionless body with a meat cleaver and kitchen knives.
The killing of Rigby outside the Woolwich Barracks in southeast London on May 22, 2013 shocked the country and has drawn nationwide attention to the rise of radical Islam in Britain.
Although both men deny they are guilty of murder, government prosecutors have presented the jury with a trove of incriminating evidence, including videos that provide chilling insights into Islamic jihad (holy war) and the mindset of radical Muslims.
Both defendants are converts to Islam. Adebolajo, from Romford in Essex, asked the court to refer to him as Mujaahid Abu Hamza, and Adebowale, from Greenwich, asked to be called Ismail Ibn Abdullah. However, Mr. Justice Sweeney, the judge presiding over the case, has decided that both individuals should be referred to by their original Nigerian names.
On the first day of the trial, which began on November 29, prosecutor Richard Whittam told the 12-member jury that the suspects deliberately attacked an unarmed man in civilian clothes from behind using a vehicle as a weapon, "and then they murdered him and mutilated his body with a meat cleaver and knives."
Whittam showed the court cell phone footage filmed by a witness in which a man who prosecutors say is Adebolajo is holding a bloody cleaver in his hands. Looking directly into the camera, Adebolajo says:
The only reason we've killed this man today is because Muslims are dying daily by British soldiers. This British soldier is an eye for an eye, a tooth for a tooth. By Allah, we swear by the almighty Allah, that we will never stop fighting you until you leave us alone. We are forced by many, many verses in the Koran to fight them as they fight us. An eye for an eye and a tooth for a tooth. You people will never be safe. Remove your governments—they don't care about you. So get rid of them. Tell them to bring our troops back so you can all live in peace. Leave our lands and you will live in peace. Allah's peace and blessings to you.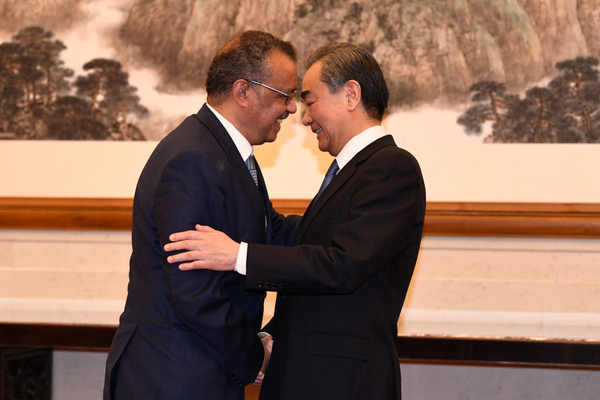 Michael Adebolajo, holding a knife in his bloody-covered hand, rants in front of a camera near where he murdered Lee Rigby, whose body can be seen lying in the road. (Image source: Screenshot of ITV News YouTube video)
Whittam also presented the court with surveillance video showing the two defendants driving at Rigby in a car travelling up to 40 miles per hour. After Rigby was knocked unconscious by the impact, footage from another surveillance camera shows the two men—who were armed with a meat cleaver, knives and a revolver—get out of the car and drag the soldier's limp body into the middle of the road.
According to Whittam: "They both attacked the motionless body of Lee Rigby. He was repeatedly stabbed, and Michael Adebolajo made a serious and almost successful attempt to decapitate him with multiple blows to his neck with the meat cleaver. Michael Adebowale was using a knife to stab and cut at Lee Rigby's body."
Whittam said the two men dragged the soldier into the road so members of the public could "see the consequences of their barbarous acts."
When police arrived at the scene (images here and video here), the two defendants ran toward them, with Adebolajo carrying the blood-drenched meat cleaver, and Adebowale aiming the firearm at police. Both men were shot and detained.
Jurors were also shown pictures of the bloodied weapons allegedly used by the two men, as well as surveillance videos of the movements of the defendants in the two days before they allegedly launched their attack (photo gallery here). One image shows Adebolajo visiting a store where he buys a five-piece set of kitchen knives and a knife sharpener. Another image shows the car allegedly used by the suspects maneuvering in the vicinity of the street where Rigby was attacked later that day.
On the second day of the trial, eyewitness Cheralee Armstrong, 38, told the court how she saw two men "huddled" over a third man on the ground after a traffic accident and thought they were trying to resuscitate him. But then she saw his body "jolting in rhythm" with the "rocking" motion of the two men and realized they were stabbing him. The Telegraph describes witness statements read out by the prosecutor:
"It was like they were mutilating the person's body. It seemed like they were trying to remove his organs from his torso," Armstrong said. When she shouted "they are stabbing him, they are killing him," one of the men turned. "The man in the hat stared at me, his expression was blank but pure evil and his eyes were bulging," she said. Of the second attacker she said: "He looked mad, like he'd escaped from a mental hospital." She said the pair "threw" Rigby's body into the road "like a rubbish bag."
Another eyewitness described what he saw like a "butcher attacking a joint of meat."
On the third day of the trial, the jury was shown video footage of the moment when police confronted Adebolajo and Adebowale. A paramedic who arrived at the scene told the jury that Adebolajo told him: "I did it for Allah."
On the fourth day of the trail, the jury heard three police interviews with the defendants that were conducted on June 1, ten days after Rigby's death.
In one such interview, Adebolajo delivered a 40-minute uninterrupted sermon during which he wore a light blue prison blanket over his head with a copy of the Koran in front of him.
When asked what happened to Rigby, Adebolajo said: "Lee Rigby was killed on 22 May. He was struck in the neck with a sharp implement and it was sawed until his head, you know, almost detached, and may Allah forgive me if I acted in a way that is displeasing to him." He added: "It brings me little joy to approach anyone and slay them."
Adebolajo said he was ashamed to be British. "The shame of being British is when that title British is associated with the murder, pillage and rape of innocent people. This disgusts me to the core," he said. "If this does not affect you, you are a wicked man and I pray Allah will reward you for your cruel inaction."
Adebolajo said there was an ongoing "war between the Muslims and the British people" and he was a "soldier of Allah."
In another interview, Adebolajo told officers the leaders of Britain were "wicked, corrupt, selfish and oppressive" and he was "particularly disgusted by David Cameron, the Miliband brothers and what's-his-name, Nick Clegg."
Adebolajo said: "They use the magic tongue to dodge very important questions, and one man, perhaps he continues to be the man most skilled at doing so, he goes by the name of Tony Blair. Unfortunately, not everybody realizes the wickedness and corruption of this man."
The court also heard how Adebolajo had texted Adebowale five hours before the alleged murder saying he wanted to "grab one." The message, sent at 8:53 am, said: "1 bruddas got d link for cheap throbes [Muslim robe]. Wana grab one wit man." Rigby was killed shortly after 2pm that same day.
The jury was shown an image of the car used to kill Rigby, and heard from a forensic psychiatrist that Adebolajo showed "no regret or remorse" and was not suffering from any mental illness. Jurors were also shown images of the knives found at the scene.
On the fifth day of the trial, jurors were shown a 45-minute interview in which Adebolajo told police in graphic detail how he killed Rigby in the most humane way possible by cutting his jugular vein. Adebolajo described the attack this way:
On 22 May me and my brother Ismael [Adebowale] set out determined that this day we will obey the command of Allah. We decided—and may Allah forgive me if my words cause Ismael any harm, he was a good man … we decided to wait in the vicinity of the barracks in Woolwich. By the command of Allah we waited to find a soldier because we decided that the soldier is the most fair target because he joins the army with the understanding that your life is at risk if you join the army.

We set out and it just so happened that he was the solider that was spotted first. Almost as if Allah had chosen him for some reason he chose to cross in front of our vehicle. Things happened so quickly you know. When I thought about obeying Allah I thought maybe is it possible to kill a man by driving into him.

When he crossed the road so casually in front of me it was almost as if I was not in control of myself. I accelerated. I hit him, and I think I also crashed into a signpost.

We exited the vehicle and I am not sure how I struck the first blow. I do not remember to be honest. But I concluded many, many years ago that the most humane way to kill any creature is to cut the jugular.

Why make it prolonged? He is a man. He may be my enemy but he is a man so I struck at the neck and attempted to remove his head. And that is how Lee Rigby died.
Adebolajo also said: "Lee Rigby. I see him like the non-Muslim version of myself and my brother Ismael. He is a man who is willing to give his life and travel the globe to fight for his country."
After 45 minutes, the video shows Adebolajo telling detectives he had been "generous" with his time in taking part in the interview and calling it to an end.
The trial is expected to conclude by the end of December or "at the very latest" in early January, according to Judge Sweeney.
Soeren Kern is a Senior Fellow at the New York-based Gatestone Institute. He is also Senior Fellow for European Politics at the Madrid-based Grupo de Estudios Estratégicos / Strategic Studies Group. Follow him on Facebook. Follow him on Twitter.
Related Topics: United Kingdom | Soeren Kern receive the latest by email: subscribe to the free gatestone institute mailing list
Reader comments on this item
| | | |
| --- | --- | --- |
| Title | By | Date |
| Trial of savages [114 words] | Ephesian | Dec 19, 2013 08:24 |
| Savages! [21 words] | Gnarlodious | Dec 9, 2013 13:50 |
| ↔ Savages or soldiers? [216 words] | Ephesian | Dec 10, 2013 12:17 |
| Trial of Muslims [76 words] | Jerry | Dec 9, 2013 11:52 |
| "Soldier of Allah" [62 words] | Docky Wocky | Dec 9, 2013 11:34 |
| ↔ matured [120 words] | Terence Curry | Dec 12, 2013 12:06 |
| ↔ Some of us grow up! [106 words] | Ephesian | Dec 15, 2013 08:04 |
| ↔ The perfect man [221 words] | Terence Curry | Dec 18, 2013 04:24 |
| Muslim Community [795 words] | inftikhar Ahmad | Dec 9, 2013 11:30 |
| ↔ Re: Muslim community [477 words] | Ephesian | Dec 11, 2013 03:30 |
| ↔ It's the new buzzword [159 words] | Terence Curry | Dec 12, 2013 11:56 |
| ↔ Sexual Grooming [739 words] | Iftikhar Ahmad | Dec 12, 2013 13:52 |
| ↔ Head in the sand.... [594 words] | Ephesian | Dec 15, 2013 03:12 |
| ↔ Refusal to see facts [365 words] | Terence Curry | Dec 19, 2013 05:27 |
| ↔ Child grooming [73 words] | Ephesian | Dec 20, 2013 02:03 |
| ↔ Twisted mind [59 words] | Terence Curry | Dec 21, 2013 16:14 |
| Forms of terrorism [160 words] | Terence Curry | Dec 9, 2013 08:39 |
| Trial for Soldiers of Allah [45 words] | A.T. Halmay | Dec 9, 2013 06:41 |
| ↔ Who is at war with Islam? [316 words] | Terence Curry | Dec 22, 2013 06:02 |
| ↔ The question should be "Who isn't Islam at war with?" [226 words] | Ephesian | Dec 23, 2013 10:23 |
| ↔ One problem [176 words] | Terence Curry | Dec 24, 2013 00:14 |
Comment on this item
Subscribe To Mailing List
Tweets by @GatestoneInst
Latest Articles
by Khaled Abu Toameh
To understand what drives a young Palestinian to carry out such a deadly attack, one needs to look at the statements of Palestinian Authority leaders during the past few weeks.
The anti-Israel campaign of incitement reached its peak with Abbas's speech at the UN a few weeks ago, when he accused Israel of waging a "war of genocide" in the Gaza Strip. Abbas made no reference to Hamas's crimes against both Israelis and Palestinians.
Whatever his motives, it is clear that the man who carried out the most recent attack, was influenced by the messages that Abbas and the Palestinian Authority leadership have been sending their people.
by Richard Kemp
Would General Allen -- or any other general today -- recommend contracting out his country's defenses if it were his country at stake? Of course not.
The Iranian regime remains dedicated to undermining and ultimately destroying the State of Israel. The Islamic State also has Israel in its sights and would certainly use the West Bank as a point from which to attack, if it were open to them.
There can be no two-state solution and no sovereign Palestinian Arab state west of the Jordan, however desirable those things might be. The stark military reality is that Israel cannot withdraw its forces from the West Bank.
Fatah leaders ally themselves with the terrorists of Hamas, and, like Hamas, they continue to reject the every existence of the State of Israel.
If Western leaders actually want to help, they should use all diplomatic and economic means to make it clear to the Palestinians that they will never achieve an independent and sovereign state while they remain set on the destruction of the State of Israel.
by Louis René Beres
The Palestine Liberation Organization [PLO], forerunner of today's Palestinian Authority, was founded in 1964, three years before Israel came into the unintended control of the West Bank and Gaza. What therefore was the PLO planning to "liberate"?
Why does no one expect the Palestinians to cease all deliberate and random violence against Israeli civilians before being considered for admission to statehood?
On June 30, 1922, a joint resolution of both Houses of Congress of the United States endorsed a "Mandate for Palestine," confirming the right of Jews to settle anywhere they chose between the Jordan River and the Mediterranean Sea. This is the core American legacy of support for a Jewish State that President Obama now somehow fails to recall.
A sovereign state of Palestine, as identified by the Arabs -- a Muslim land occupied by "Palestinian" Arabs -- has never existed; not before 1948, and not before 1967. From the start, it was, and continues to be, the Arab states -- not Israel -- that became the core impediment to Palestinian sovereignty.
by Timon Dias
It looks as if this new law is meant to serve as a severe roadblock to parties that would like to dismantle the EU in a democratic and peaceful way from within.
A rather dull semantic trick pro-EU figures usually apply, is calling their opponents "anti-Europe."
Most Shared
Most Viewed