Austria: Muslims Outnumber Catholics in Vienna Schools
Austria is also in the process of introducing new taxpayer-funded textbooks for the formal teaching if Islam in all public elementary schools across the country.... This is the first time Islam is being taught to Austrian students in the German language.

"What remains, then, is to conquer Rome. This means Islam will come back to Europe for a third time, after it was expelled from it twice. We will conquer Europe! We will conquer America! Not through the sword but through our Dawa [proselytizing]." — Yusuf al-Qaradawi, Muslim Brotherhood
Muslim students, according to new statistics, now outnumber Roman Catholic students at middle and secondary schools in Vienna, the capital and largest city of Austria.
The data—which show that Muslim students are also on the verge of overtaking Catholics in Viennese elementary schools—reflect an established trend and provide empirical evidence of a massive demographic and religious shift underway in Austria, traditionally a Roman Catholic country.
The Muslim population in Austria now exceeds 500,000 (or roughly 6% of the total population), up from an estimated 150,000 (or 2%) in 1990. The Muslim population is expected to reach 800,000 (or 9.5%) by 2030, according to recent estimates.
In the current school year, 10,734 Muslim students are enrolled in Viennese middle and secondary schools, compared to 8,632 Roman Catholic students, 4,259 Serbian Orthodox students and 3,219 students with "no religious persuasion," according to statistics compiled by the Vienna Board of Education (Stadtschulrat für Wien) and published by Radio Vatican website on March 21.
As far as elementary schools are concerned, there are 23,807 Roman Catholic students, followed by 17,913 Muslim students, 11,119 "non-religious" students, 6,083 Serbian Orthodox students and 2,322 Protestants.
The statistics show that the only Viennese schools where Muslims remain a distinct minority are in the gymnasium, advanced secondary schools that place a strong emphasis on academic learning rather than on vocational skills. Students graduating from a gymnasium are more likely than others to be admitted to attend university in Austria.
Austria is also in the process of introducing new taxpayer-funded textbooks for the formal teaching of Islam in all public elementary schools across the country.
The textbooks are called "Islam Hour" (Islamstunde) and have been prepared by the Islamic Religious Authority of Austria (Islamische Glaubensgemeinschaft in Österreich, IGGiÖ), a Muslim umbrella organization whose main responsibility is the state-funded supply of Islamic religious education at Austrian public and private schools.
According to the IGGiÖ, the new textbooks are based on "secure and recognized sources of Islam" aimed at "embedding Islam into the lives of students." Unlike previous versions of the books, which were criticized for being "overly martial in tone" and for not being "sufficiently oriented toward European values," the new books have been developed based a "completely new didactic model for competency-based education."
Previously, the main textbook used for Islam instruction in Austrian public schools was a vehemently anti-Western screed entitled "The Lawful and the Prohibited in Islam" (Erlaubtes und Verbotenes im Islam) and authored by none other than Yusuf al-Qaradawi, the spiritual leader of the Muslim Brotherhood.
Among other Islamic doctrines, the book taught students that Islamic Sharia law takes precedence over secular laws, that women have fewer rights than men, and that those who abandoned Islam are to be put to death.
The book was eventually banned from Austrian schools (although it is still being openly promoted on the website of the Vienna Islamic Centre, the largest mosque in Austria) after Al-Qaradawi[1] — a spiritual advisor for the Palestinian terrorist group Hamas — began publicly endorsing suicide attacks against Jews as "martyrdom in the name of Allah."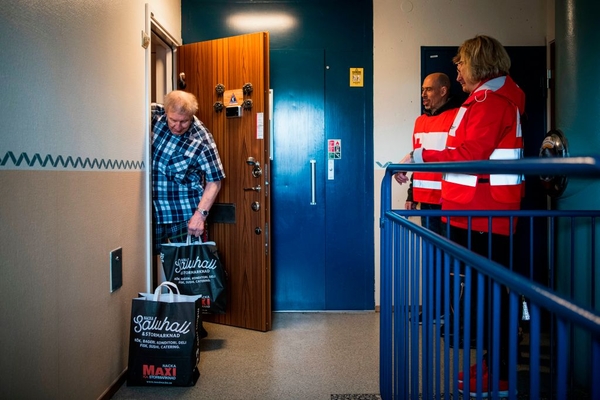 The Vienna Islamic Centre.
The new textbooks come in four volumes along with a companion CD that includes not only recitations of the Koran, but also a rap song which deals with the aspects of Ramadan.
In an interview with the Austrian newspaper Heute, an IGGiÖ project manager named Amena Shakir said the aim of the new textbooks is to "learn about how the Koranic suras [chapters] can be applied to everyday life." Shakir added that this is the first time Islam is being taught to Austrian students in the German language and that the textbooks contextualize Islam in the Austrian countryside rather than in Arabia.
"We want our young people in Austria have a sense of home," said the president of IGGiÖ, Fuat Sanac. "We have tried for years to bring these books into being."
Sanac also called on the Austrian government to approve and promulgate a new "Islam Law" that would provide Muslims with more legal rights and protections than they enjoy in the current law, which dates back to 1912.
The original law was adopted to help integrate Muslim soldiers from Bosnia-Herzegovina into the Austro-Hungarian army of the Habsburg monarchy. The law recognized Islam as a religious community in Austria, and allowed Muslims to practice their religion in accordance with the laws of the state.
In an interview with Austrian Public Radio Ö1-Morgenjournal on March 21, the Minister for Integration and Foreign Affairs, Sebastian Kurz, said he would honor a campaign pledge to update the law, which would more clearly stipulate the rights and responsibilities of Muslims living in the country.
Kurz said Muslims would be expected to adhere to Austrian values (as yet undefined) and to acknowledge the primacy of Austrian law over Islamic Sharia law. That is to say, Muslims would be prohibited from citing Islamic law as legal justification for ignoring or disobeying Austrian civil laws, he said.
The new law would also clearly stipulate that Islam classes may not contradict or override Austria's civil educational system. In addition, Kurz said Islamic religious institutions in Austria should be financed exclusively from within Austria and that there should be more government scrutiny of funding obtained from abroad, presumably from Saudi Arabia and other oil rich Muslim countries.
At the same time, Muslims would obtain the legal right to operate their own cemeteries according to Islamic law. The law would also regulate the activities of Muslim clergy in hospitals, prisons and the army.
Kurz did not address Muslim demands for the official recognition of Islamic holidays (Muslim students are already entitled to two such holidays each year but Muslim workers are not) in Austria.
In addition, the Austrian government would actively promote the training of Muslim clergy (imams) within the Austrian university system (modeled on the Institute for Islamic Studies at the University of Vienna), with the aim of promoting a "European" Islam.
Kurz said he did not expect significant resistance to the initiative from other political parties in Austria. "We need a new law that clearly defines that there are rights and obligations for every individual in Austria," Kurz said. "It makes sense to have an orderly legal framework regarding Islam, a topic that often raises emotions. Austria needs a clear framework for Islam."
Soeren Kern is a Senior Fellow at the New York-based Gatestone Institute. He is also Senior Fellow for European Politics at the Madrid-based Grupo de Estudios Estratégicos / Strategic Studies Group. Follow him on Facebook and on Twitter.
[1] Al-Qaradawi speaks openly about the goals of Islam: "What remains, then, is to conquer Rome. (...) This means that Islam will come back to Europe for the third time, after it was expelled from it twice. (...) Conquest through Dawa [proselytizing] that is what we hope for. We will conquer Europe! We will conquer America! Not through the sword but through our Dawa."
Related Topics: Soeren Kern receive the latest by email: subscribe to the free gatestone institute mailing list
Reader comments on this item
Comment on this item
Subscribe To Mailing List
Tweets by @GatestoneInst
Latest Articles
by Khaled Abu Toameh
To understand what drives a young Palestinian to carry out such a deadly attack, one needs to look at the statements of Palestinian Authority leaders during the past few weeks.
The anti-Israel campaign of incitement reached its peak with Abbas's speech at the UN a few weeks ago, when he accused Israel of waging a "war of genocide" in the Gaza Strip. Abbas made no reference to Hamas's crimes against both Israelis and Palestinians.
Whatever his motives, it is clear that the man who carried out the most recent attack, was influenced by the messages that Abbas and the Palestinian Authority leadership have been sending their people.
by Richard Kemp
Would General Allen -- or any other general today -- recommend contracting out his country's defenses if it were his country at stake? Of course not.
The Iranian regime remains dedicated to undermining and ultimately destroying the State of Israel. The Islamic State also has Israel in its sights and would certainly use the West Bank as a point from which to attack, if it were open to them.
There can be no two-state solution and no sovereign Palestinian Arab state west of the Jordan, however desirable those things might be. The stark military reality is that Israel cannot withdraw its forces from the West Bank.
Fatah leaders ally themselves with the terrorists of Hamas, and, like Hamas, they continue to reject the every existence of the State of Israel.
If Western leaders actually want to help, they should use all diplomatic and economic means to make it clear to the Palestinians that they will never achieve an independent and sovereign state while they remain set on the destruction of the State of Israel.
by Louis René Beres
The Palestine Liberation Organization [PLO], forerunner of today's Palestinian Authority, was founded in 1964, three years before Israel came into the unintended control of the West Bank and Gaza. What therefore was the PLO planning to "liberate"?
Why does no one expect the Palestinians to cease all deliberate and random violence against Israeli civilians before being considered for admission to statehood?
On June 30, 1922, a joint resolution of both Houses of Congress of the United States endorsed a "Mandate for Palestine," confirming the right of Jews to settle anywhere they chose between the Jordan River and the Mediterranean Sea. This is the core American legacy of support for a Jewish State that President Obama now somehow fails to recall.
A sovereign state of Palestine, as identified by the Arabs -- a Muslim land occupied by "Palestinian" Arabs -- has never existed; not before 1948, and not before 1967. From the start, it was, and continues to be, the Arab states -- not Israel -- that became the core impediment to Palestinian sovereignty.
by Timon Dias
It looks as if this new law is meant to serve as a severe roadblock to parties that would like to dismantle the EU in a democratic and peaceful way from within.
A rather dull semantic trick pro-EU figures usually apply, is calling their opponents "anti-Europe."
Most Shared
Most Viewed