Tarek Heggy
Tarek Heggy : Visiting Professor at several world-class universities; barrister-at-law before the Supreme Court of Egypt; Former Chairman & CEO of Shell Oil Companies in the Major-resource holders; 2008 winner of the Italian cultural prize Grinzane Cavour;Author of 19 books in Arabic (ten of which have been translated into English, French & Italian); Co-Founder of the Chair of Coptic Studies at The American University in Cairo and of "Tarek Heggy's Scholarship in Jewish Studies" at the University of Toronto.
Formerly : member of the advisory Board of the RAND Organization "Centre for Middle East Public Policy" of the initiative for Middle Eastern Youth (IMEY); member of the Advisory Board of Just Journalism (UK);Member of Egypt Supreme Culture Council (Management Sciences Committee); Board member of The Egyptian Society for Historic Studies; member of the board of trustees of the MSA University (Cairo, Egypt); Member of the board of The Faculty of Economics and Political Science of Cairo University; Member of the board of The Middle East Research Centre of Ain Shams University (Cairo); Vice President of The Arab Management Society; Member of Egypt Writers Association; Chairman of Heliopolis Library; From 1973 till 1979: Asst. Professor at Constantine University/Algeria and The University of Fes/Morocco.
---
Get Free Exclusive Gatestone Content:
KHALED AL-ASAAD, BEAHEADED BY THE ISLAMIC STATE
Khaled al-Asaad, 81, a renowned Syrian antiquities scholar, was publicly beheaded on August 18, 2015 by the Islamic State in the ancient city of Palmyra, apparently after he refused to reveal where valuable artifacts were hidden.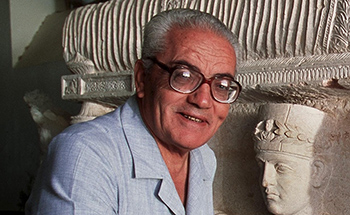 FIRST TRANSLATION OF AYATOLLAH KHAMENEI'S BOOK ON HOW TO DESTROY AMERICA