Israel will always be there
Reader comment on: UK Textbook Wipes Israel Off the Map
in response to reader comment: Israel has existed even before the Roman conquest, when they changed the name to PALESTINE
Submitted by Pat, Jan 7, 2013 13:16
You are so right! They have found documents in Afganistan relating to a lost tribe of the Jews dated way back! It does not belong to Palestine and should never be split. Israel belongs to the Jews, and Israel will always be there - God will see to that! Like he said, he will strike with an iron rod any nation that comes against Israel, so they'd better beware!
---
Note: Reader comments are screened, and in some cases edited, before posting. Gatestone Institute reserves the right to reject anything found to be objectionable. Reader comments, including the one above, represent solely the opinion or viewpoint of the readers that submitted them and do not represent the opinion or viewpoint of Gatestone Institute. Gatestone Institute takes no responsibility for the content of reader comments.
Submit a comment on this article
Other reader comments on this item
Comment on this item
Get Free Exclusive Gatestone Content:
FREE BAHAREH HEDAYAT!
Bahareh Hedayat is a human rights activist who has spent over six years in an Iranian prison for "insulting" Supreme Leader Ali Khamenei and then-President Mahmoud Ahmadinejad, and for "actions against national security, propagation of falsehoods, mutiny and illegal congregation." Hedayat is the longest serving female prisoner of conscience in Iran.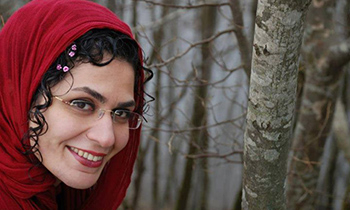 FIRST TRANSLATION OF AYATOLLAH KHAMENEI'S BOOK ON HOW TO DESTROY AMERICA