Taqiyya
Reader comment on: "Islam Needs a Fair Chance in Germany"
Submitted by Valhalla, Nov 16, 2012 08:20
Recognising Islam as a religion also means they accept the laws of Sharia which all Muslims adhere to. How can a nation which believes in democracy accept these cruel and archaic laws such as cutting off the hands for stealing, stoning for adultery, killing homosexuals, and of course honor killings, etc.? Teaching about Islam in public schools will be of course only one version: Islam's. Of course, this will not be reciprocated by allowing the children of Islam being taught about Christianity by Christian teachers. Pull the other leg.
They will respect fundamental rights and support equality between the sexes. Are they kidding? Sharia does not allow that: women are worth only half the value of a man and are on the same level as a donkey.
Mayor Olaf Scholz is kidding himself if he thinks he has reached some understanding with this culture, which is slowly and insidiously overtaking not just the German culture, but all of Europe's. 'Tolerance becomes a crime when applied to evil.'
---
Note: Reader comments are screened, and in some cases edited, before posting. Gatestone Institute reserves the right to reject anything found to be objectionable. Reader comments, including the one above, represent solely the opinion or viewpoint of the readers that submitted them and do not represent the opinion or viewpoint of Gatestone Institute. Gatestone Institute takes no responsibility for the content of reader comments.
Submit a comment on this article
Other reader comments on this item
Comment on this item
Get Free Exclusive Gatestone Content:
KHALED AL-ASAAD, BEAHEADED BY THE ISLAMIC STATE
Khaled al-Asaad, 81, a renowned Syrian antiquities scholar, was publicly beheaded on August 18, 2015 by the Islamic State in the ancient city of Palmyra, apparently after he refused to reveal where valuable artifacts were hidden.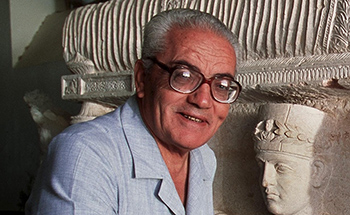 FIRST TRANSLATION OF AYATOLLAH KHAMENEI'S BOOK ON HOW TO DESTROY AMERICA