They were quiet family, not politically minded, and they did not get involved in community unrest or gossip. Fear of people knocking on the door, or of a stranger showing up in the neighborhood with unknown intentions, drove them to withdraw from society. They were careful, so careful, that they barely mingled with anyone. They were our neighbors in Iran and trusted us enough to visit with us, until one day, they no longer did.
We checked on them out of concern. Their house was empty. There was no note, no goodbyes to anyone; they were just gone. Despite being our friends, they had never mentioned their last name. We had no way to track them down, to make sure they were safe and unharmed.
Then someone mentioned that they were from the Baha'i religious minority. He explained that the government had finally come for them. All of their fear and seclusion now had a reason. You could see how protective and careful the father was, how fearful and silent the mother was, and how their daughter would never venture far from home. I had thought their problem was just paranoia. In that moment, you see that you, too, have reason to be afraid.
May 14 is the ninth anniversary of the arrest of Bahai's leadership which included the arrest of seven Baha'i leaders known as "Yaran" or "Friends in Iran".
The Baha'i faith is monotheistic, but a religious minority in Iran. The Baha'i community has been peaceful and apolitical for a long time.
What is important to know is that despite all those slogans by Islamists who claim acceptance and tolerance, if you are living under radical Islamist laws, you are at risk, particularly if you are not a Muslim. You are then viewed by the ruling Islamist imams and clerics as a national security and religious threat. There will be a dark undercurrent of harassment, cruelty, and attacks against any member of a religious minority.
How can a religion seize so much power in a country?
Before Islamists come to power, they make sham promises to every faith and political party. Using charm, manipulation, and community infiltration, they give the impression that they will be defenders of minorities and the poor. Once they are in power, when it is too late to stop them, anyone who does not comply with their narrow view of religion and politics will be eliminated under the name of God and Islam.
That is what happened to, and will continue to happen to, those in the Baha'i community.
Told to believe that it was an inclusive and democratic revolution, many Baha'is participated in Iran's 1979 revolution. Once the Islamist party of Ayatollah Ruhollah Khomeini took power, however, its members began eliminating anyone who did not share their religious or political views.
Since the establishment of the Islamic regime, the Baha'i communities have been systematically persecuted socially, economically, religiously and politically. Tens of thousands have been executed, tortured and imprisoned.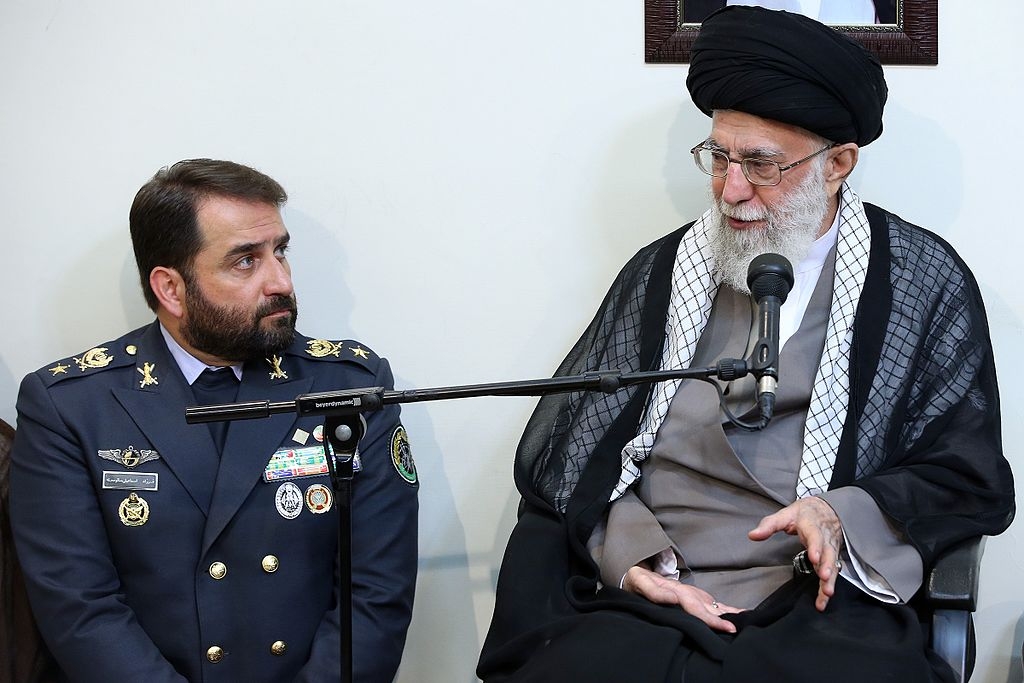 Since the establishment of Iran's Islamic regime, the minority Baha'i communities have been systematically persecuted socially, economically, religiously and politically. Pictured at right: Iran's Supreme Leader, Ayatollah Ali Khamenei. (Image source: Khamenei.ir via Wikimedia Commons)
Why are the Baha'is targeted? Because of their faith. The Baha'i community, with barely 300,000 members in Iran, became one of most persecuted religious minorities, along with Christians, in Iran.
Discrimination permeates every sector, and hate speech against the Baha'is is allowed under Iran's Islamist law. According to the 2016/2017 Iran report by Amnesty International, Baha'is face:
"discrimination in law and practice, including in education, employment and inheritance, and were persecuted for practising their faith.

"The authorities engaged in hate speech and allowed hate crimes to be committed with impunity against Baha'is, and imprisoned scores of Baha'is on trumped-up national security charges imposed for peacefully practising their religious beliefs. Allegations of torture of 24 Baha'is in Golestan Province were not investigated. The authorities forcibly closed down dozens of Baha'i-owned businesses and detained Baha'i students who publicly criticized the authorities for denying them access to higher education."
The situation of the Baha'is has recently undergone an extreme deterioration, under the so-called moderate government of Iran. According to the Human Rights Activist News Agency (HRANA), the businesses of 17 Baha'is in the province of Kerman, and 25 Baha'is in the city of Rafsanjan, were sealed shut by the Iranian regime since the April 29, 2015. Why? Because the stores had "one day closure for a religious holiday."
Last month, three Baha'i residents of Mashhad. Khashayar Taffazoli, Shayan Taffazoli, and Sina Aghdaszadeh were sentenced to one year of prison each, on charges of "acting against national security by teaching the Baha'i Faith." Their crime was their religion; there is no question that they will be tortured as they serve out their sentence.
In addition, according to Bahai News, 18 Baha'i-owned businesses in Shaheen-Shahr, Isfahan Province, were sealed by Iranian officials on May 1, 2017. Although the owners complied with the law, their businesses were closed down without notice. According to a source for Bahai News:
"the officers only targeted the Baha'i businesses and accused them of not complying with the labour law of their trade; but they have sealed the shops because of the Baha'i Holy Day festivities, a time when Baha'is close their businesses of their own volition. This sealing of the Baha'i shops happens systematically every year."
To persecute further those of the Baha'i faith, many of their sacred places have been demolished. This act was carried out by men who are reportedly affiliated with the Iranian regime and its intelligence forces.
The objectives of the Islamist law of the Iranian regime appear to be to eliminate the culture, history, faith, and community of the Baha'is. These oppressive acts of hostility go unchecked due to the stranglehold Iran's regime has on its people, created by fear. Families, like our neighbors, simply vanish.
There are currently two resolutions in the U.S. House of Representatives, House Resolution 274, and in the Senate, Senate Resolution 139. According to the Office of Public Affairs of the Baha'is of the United States:
"These resolutions shine a light on the actions of the Iranian authorities, and they contribute to an international outcry that has helped to mitigate the severity of the persecution."

...

"These resolutions detail the systematic and brutal persecution of the Baha'i community in Iran, and condemn the actions of the Iranian government toward its Baha'i citizens. They call for the release of all Baha'i prisoners – including the Baha'i leaders – and all other religious prisoners in Iran. They also express the desire of the Congress that the President and Secretary of State demand the release of these individuals. Finally, they call on the President and Secretary of State to impose sanctions on individual officials within the Iranian government who are responsible for serious human rights abuses."
Anyone who advocates peace and human rights, anyone who stands for victims of radical Islamist laws, should come to the aid of this religious minority. It will take the action and influence of outside forces to save this community from having its own government destroy it. It is not an "Iran problem", it is an epidemic of hatred and violence that will continue to spread if something is not done to stop it.
I hope that that nice Baha'i family that lived next to us are now living in peace somewhere and practicing their faith without fear of who might knock on the door. There are still entire families, hiding from the threat of persecution, torture, and death that hangs over them in their own country. They deserve to practice their faith, not in the shadows and with fear of imprisonment and torture, but with the ability to rejoice. This should be a basic right for all of us.
Dr. Majid Rafizadeh is president of the International American Council on the Middle East. He is a Harvard-educated and world-renowned Iranian-American political scientist, business advisor, and author of "Peaceful Reformation in Iran's Islam". He can be reached at Dr.Rafizadeh@Post.Harvard.Edu.