A mere two weeks after U.S. President Donald Trump delivered his first major foreign policy speech in Riyadh to delegates from dozens Muslim/Arab countries, Bahrain announced on June 5 that it was halting all flights to Qatar for being a sponsor of radical Islamist terrorists. Immediately, Saudi Arabia joined the boycott, as did the United Arab Emirates (UAE), Egypt and Yemen, all of which also shut off access to Al Jazeera, the anti-American, anti-Semitic Qatari television network established in 1996 and operating since then to foment unrest across the Middle East and bolster the terrorist organization the Muslim Brotherhood and its offshoot, Hamas.
The emir of Qatar, Sheikh Tamim bin Hamad Al Thani, and other officials in Doha fiercely denied the charge that their government has been backing terrorism, blaming a "fake news" report on the website of the state-controlled Qatar News Agency for the eruption of the Gulf crisis.
The report, which the FBI and other U.S. security agencies believe was the result of a Russian hacking attack, quoted Al Thani calling Iran an "Islamic power," referring to Hamas as "the legitimate representative of the Palestinian people" and saying Qatar's relations with Israel were "good."
Although the report did turn out to be a hoax, Qatar's extensive ties to terrorism and abetting of financiers to bolster it are well-documented. A Foundation for Defense of Democracies (FDD) study, titled "Qatar and Terror Finance: Private Funders of al-Qaeda in Syria," shows that while Doha has pretended for more than a decade to be partnering with the United States to defeat Al Qaeda, the monarchy, in fact, has taken no action whatsoever against the Qatari financiers of the terrorist organization's Syrian branch, the Nusra Front, which continues to plot attacks against the West. One of the reasons that this group eluded U.S. strikes operating in Syria was that it, like America, has been fighting ISIS. Another was that it changed its name to Jabhat Fateh al-Sham (JFS or the Front for the Conquest of Syria), in an effort to distance itself from Al Qaeda. This effort was led by Qatar.
According to the FDD study, the second of a three-part document written by David Andrew Weinberg:
"...[I]ntelligence officials from Qatar and other Gulf states met several times with Nusra's leader [in 2015] to suggest that his group could receive money, arms, and supplies after stepping away from al-Qaeda."
While the first part of the study, released in 2014, revealed "Doha's dismal record" during the reign of Emir Hamad Al Thani (the current monarch's father), this one
"evaluates the publicly available evidence on Qatar's record since then, focusing primarily on individuals sanctioned by the U.S. Treasury Department in 2014 and 2015. All of these sanctions were imposed after Qatar agreed in September 2014, as part of a U.S.-led initiative called the Jeddah Communiqué, to bring terror financiers to justice."
Weinberg concluded that Qatar has done little or nothing to comply. On the contrary, he wrote, "The funders of certain terrorist groups still enjoy legal impunity there. Nusra/JFS appears to be foremost among them."
It is just as unlikely that a single news item was responsible for the banding together of several Arab states to impose a blockade on Qatar as it is implausible that these states, particularly Saudi Arabia -- which itself has backed and spread radical Islamist ideology -- are holding Qatar accountable for its ties to global jihad. Equally simplistic is the view, expressed by Trump on Twitter, that the embargo indicated the seriousness with which the above states took his call to "drive out the terrorists and extremists" from their midst.
"During my recent trip to the Middle East I stated that there can no longer be funding of Radical Ideology. Leaders pointed to Qatar -- look!" Trump tweeted on June 7.
"So good to see the Saudi Arabia visit with the King and 50 countries already paying off. They said they would take a hard line on funding extremism, and all reference was pointing to Qatar. Perhaps this will be the beginning of the end to the horror of terrorism!"
This prompted pundits on both sides of the political spectrum to question whether Trump was simply being reckless in his response, or actually announcing a shift in decades of U.S. policy regarding Qatar, home of the Al Udeid Air Base southwest of Doha. Al Udeid is not only America's largest military base in the Middle East -- with some 10,000 troops, but since 2003, it has served as forward headquarters for CENTCOM (the U.S. Central Command), and has been crucial in America's operations in Afghanistan, Iraq and Syria.
The following day, Trump was accused of backtracking, when he phoned Al Thani and offered to "help the parties resolve their differences, including through a meeting at the White House if necessary."
Jerusalem Post columnist Caroline Glick pointed out that this was not a case of Trump reversing his position, but rather of proposing the most reasonable course of action available:
"With the Pentagon dependent on the Qatari base, and with no clear path for unseating the emir through war or coup without risking a much larger and more dangerous conflict, the only clear option is a negotiated resolution.

"Under the circumstances, the best option for the US to openly work towards is to diminish Qatar's regional profile and financial support for Iran and its terrorist allies and proxies."
Nevertheless, mixed messages appeared to be emerging from the Trump administration. On June 9, Secretary of State Rex Tillerson said that the blockade was hindering U.S. operations against ISIS. On the same day, Pentagon spokesman Navy Capt. Jeff Davis asserted that the isolation of Qatar so far has had no negative impact on U.S. operations in and out of Al Udeid. "All of our supplies are getting in just fine," he told reporters. "The Defense Logistics Agency is certainly always looking at contingency plans if they're needed, but for right now they're OK."
On the day that these conflicting claims began to circulate, Saudi Arabia, the UAE, Egypt and Bahrain issued a statement designating 59 individuals and 12 organizations as having terror ties to Qatar. According to the statement, Doha "announces fighting terrorism on one hand and finances and supports and hosts different terrorist organizations on the other hand," and harbors "terrorist and sectarian groups that aim to destabilize the region, including the Muslim Brotherhood, Daesh [ISIS] and Al Qaeda."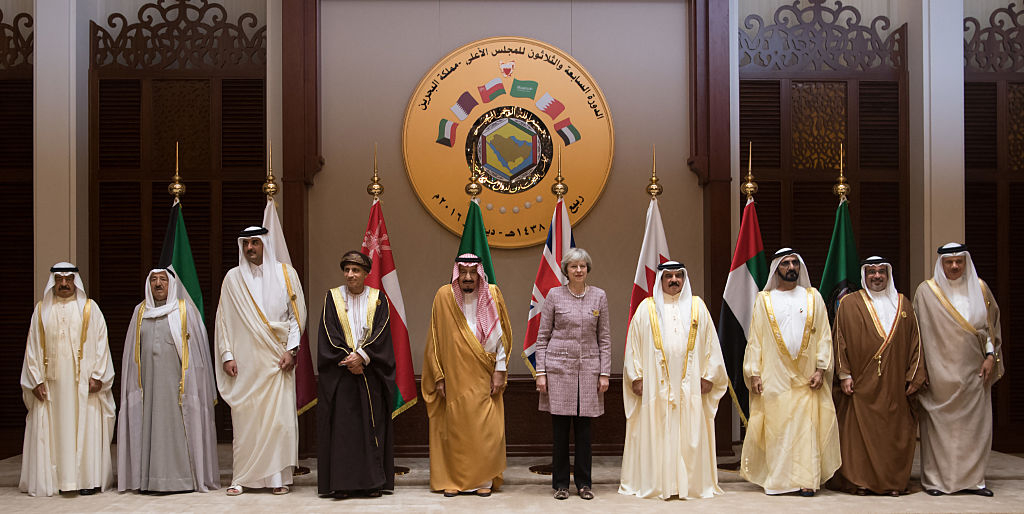 Bygone days of unity. The leaders of the Gulf states pose with British PM Theresa May at the Gulf Cooperation Council summit, on December 7, 2016 in Manama, Bahrain. (Photo by Carl Court/Getty Images)
On June 7 -- the day of Trump's phone call and two days before the release of the Saudi statement -- Qatar hired of the law firm of John Ashcroft, former attorney general under President George W. Bush, to help counter terror accusations. This clearly was a calculated move, as Ashcroft had been instrumental in pushing through the post-9/11 "Uniting and Strengthening America by Providing Appropriate Tools Required to Intercept and Obstruct Terrorism Act of 2001," more commonly known as the Patriot Act.
According to the "Scope of Engagement" of the Ashcroft retainer, its "broad purpose," for a "flat fee" of $250,000, is to:
"provid[e] the Client with comprehensive strategic advice, legal counsel, support, and representation related to confirming, educating, assessing and reporting the Client's efforts to combat global terrorism and its support of and compliance with international financial regulations, including compliance with United States Treasury rules and regulations.

...

"The firm understands the urgency of this matter and need to communicate accurate information to both a broad constituency and certain domestic agencies and leaders...will advance, advocate, represent, and protect the Client's interests as necessary, including but not limited to the development of comprehensive legal and government affairs strategy, coordination as necessary and in the interest of the Client, assessment of the pending news and certain nations' claims that adversely impact the Client's reputation and pose serious risk and consequences."
Hiring Ashcroft is not the only indication that Qatar is running scared. Another is its leaders' simultaneous attempt to assuage fears among its populace – reported to have begun "panic-shopping" at supermarkets -- and threaten fellow Gulf Cooperation Council countries that they will suffer severe financial consequences as a result of their boycott.
"If we're going to lose a dollar, they will lose a dollar also," warned Qatari Finance minister Ali Shareef Al Emadi. Emadi added, "Our reserves and investment funds are more than 250 percent of gross domestic product, so I don't think there is any reason that people need to be concerned about what's happening or any speculation on the Qatari riyal."
In spite of Emadi's posturing and Doha's assertion that it is not in cahoots with Iran, Tehran announced that it has begun sending hundreds of tons of food products to Qatar. Oman, too, is transferring goods to Doha. Turkey went a step further, authorizing the dispatch of 3,000-5,000 troops to its military base in Qatar, to assist Al Thani's regime, should it be jeopardized by the Saudi-led initiative and internal power struggles.
This unfolding of events is creating what Middle East expert Jonathan Speyer called a "clear drawing" of the "lines of confrontation between the two central power blocs in the region..."
As Speyer wrote on June 10:
"The shunting aside of little Qatar... is ultimately only a detail in the larger picture. What is more significant is the re-emergence of an overt alliance of Sunni Arab states under US leadership, following the development of military capabilities in relevant areas, and with the stated intention of challenging the Iranian regional advance and Sunni political Islam."
Ironically, pressure from this new anti-Iran Muslim bloc in the Middle East has done more to call the world's attention to Qatar's key role in the spread of Islamist terrorism than years of cajoling on the part of previous administrations in Washington to get Doha to live up to its signed commitments.
Ruthie Blum is a journalist and author of "To Hell in a Handbasket: Carter, Obama and the 'Arab Spring.'"