Since 2007, Hamas and the Palestinian Authority (PA) have announced at least four "reconciliation" agreements to end their rivalry, which began a year earlier when Hamas won the Palestinian legislative elections. This week, under the auspices of the Egyptian authorities, the two rival Palestinian parties announced yet another deal to patch up their differences and achieve "national unity."
The latest agreement between Hamas and the PA requires the Islamist movement to dismantle its shadow government in the Gaza Strip -- known as the Administrative Committee. It was this shadow government that prompted PA President Mahmoud Abbas to impose a number of punitive measures against the Palestinians in the Gaza Strip, including cutting off salaries to civil servants, forcing thousands of employees into early retirement, halting payments for electricity supplied by Israel and reducing medicine supplies to hospitals in the Gaza Strip.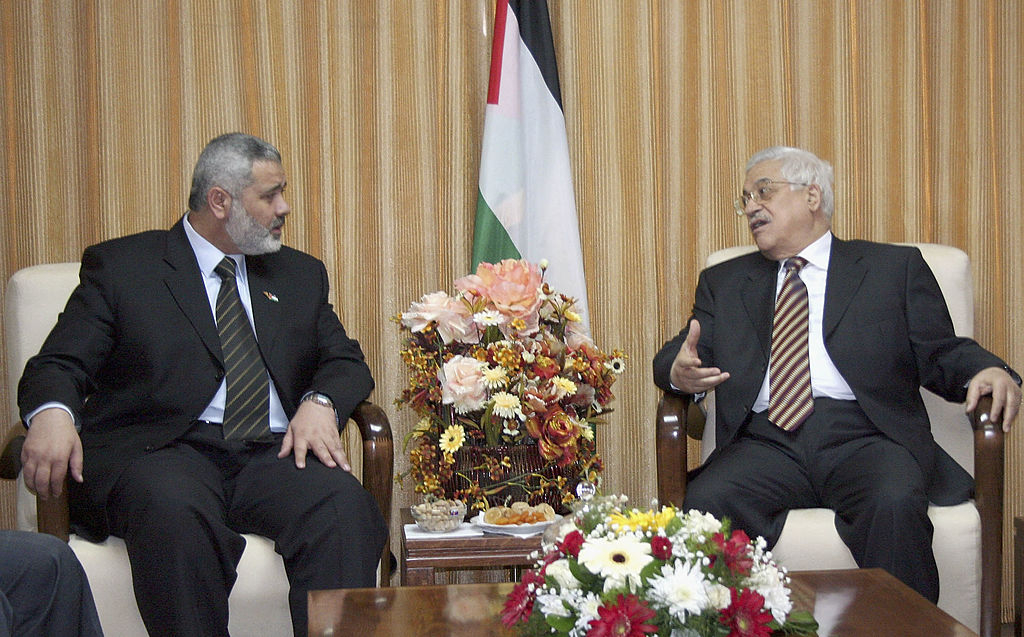 Pictured: Palestinian Authority President Mahmoud Abbas talks with then Hamas leader Ismail Haniyeh on April 5, 2007 in Gaza City. Since 2007, Hamas and the Palestinian Authority have announced at least four "reconciliation" agreements to end their rivalry. (Photo by Mohamed Alostaz/PPM via Getty Images)
The Egyptian-engineered "reconciliation" agreement is being described by some Palestinians as a "historic" deal and a "positive development" toward ending the schisms and discord among the Palestinians. But judging from the reactions of Palestinians, the agreement holds little promise. Only the non-skeptical few think that the agreement will differ from all the previous, non-implemented ones.
Abbas's sanctions appear to have hit Hamas where it hurts. With electricity supplies for 3-4 hours a day and thousands of civil servants who lost salaries or were forced into early retirement, Hamas has been feeling the heat and feels forced to seek a solution.
A beleaguered and isolated Hamas turned to Abbas's number one enemy, former Fatah strongman Mohamed Dahlan. In the past few weeks, reports surfaced that Hamas was close to reaching a deal with Dahlan that would see him return to the Gaza Strip as the "savior." Dahlan is based in the United Arab Emirates and enjoys the political backing of a number of key Arab countries such as Egypt and Saudi Arabia. Hamas was hoping that the return of Dahlan to the Gaza Strip would bring with it funds from the United Arab Emirates and a lifting of the Egyptian blockade -- by reopening the Rafah border crossing between the Gaza Strip and Egypt.
Alarmed by the apparent rapprochement between Hamas and Dahlan, Abbas has recently been urging the Egyptians to resume their efforts as mediators between his Palestinian Authority and Hamas. He has also appealed to the Americans and other Western and Arab counties to put pressure on Egypt to refrain from backing any deal between Hamas and Dahlan. Dahlan is Abbas' nemesis, a mortal threat to his rule.
For the past six years, Abbas has been waging a relentless campaign against Dahlan, whom he suspects of conspiring to overthrow his regime and succeed him as PA president.
Abbas is not only trying to save himself and his regime, but he has also provided Hamas with another and badly needed lifeline. Hamas has good reason to be satisfied with the latest agreement.
According to Palestinian political analyst Hasan Salim:
"Since 2006, when Hamas agreed to participate in the Palestinian legislative elections, President Abu Mazen (Abbas) has not ceased to provide it with a lifeline so that it could become a major player in the Palestinian political arena. He even fought to make Hamas like the other Palestinian political parties and to rid Hamas of the label of terrorism. Now the president is throwing Hamas another lifeline by allowing it to dismantle its Administrative Committee."
Salim, a political analyst affiliated with the Palestinian Authority, is attempting to market Abbas to the Palestinians as a leader who considers Hamas a legitimate Palestinian political "party" that can be an integral part of the Palestinian political landscape. Thus, we see that Abbas is prepared to deal with the devil -- in other words, join forces with and legitimize Hamas -- to keep his arch-rival, Dahlan, away from the Gaza Strip.
While it remains to be seen whether Abbas and Hamas will agree on a mechanism to translate their agreement into facts on the ground, what is certain is that Hamas alone stands to benefit from the Egyptian-sponsored deal. Nearly no Palestinian takes seriously the claim that Abbas's chief goal is to turn Hamas into a legitimate Palestinian political party. Abbas continues to view Hamas a major threat to himself and his regime. That explains why his security forces are continuing to arrest and harass Hamas members in the West Bank. He knows very well that Hamas will never give up its dream of removing him from power and extending its control to the West Bank.
Below are some facts concerning the new "reconciliation" agreement between Abbas and Hamas:
Hamas's decision to dismantle its shadow government does not mean that it will relinquish control over the Gaza Strip. The move is merely aimed at allowing the Palestinian Authority government in Ramallah to restore its control over some ministries. In other words, Hamas wants Abbas's PA to resume funding of education and health services in the Gaza Strip, as was the case until a few months ago.

The agreement makes no reference to Hamas's security control over the Gaza Strip. This means that Hamas and its armed wing, Ezaddin Al-Qassam, will remain the main "law-enforcers" in the Gaza Strip. The idea that Hamas would allow Abbas's security forces to return to the Gaza Strip is pure illusion.

There is no mention in the agreement of Hamas's political and ideological agenda. The agreement does not require Hamas to abandon its charter, which calls for the elimination of Israel. Nor does it require Hamas to lay down its arms and accept Israel's right to exist.

The agreement absolves Hamas of its financial responsibilities towards its constituents in the Gaza Strip. The resumption of PA funds to the Palestinians in the Gaza Strip will allow Hamas to redirect its resources and energies to building up its military capabilities in preparation for war with Israel. Hamas will no longer have to worry about salaries and electricity and medical supplies to the Palestinians in the Gaza Strip because Abbas will be taking care of that.

The agreement facilitates Hamas's effort to project itself as a legitimate player in the Palestinian arena and win international recognition and sympathy. Hamas will now be able to market itself as a legitimate partner in Abbas's Western-funded PA governments.
Abbas had been hoping that his recent draconian sanctions against the Gaza Strip would drive Palestinians there to revolt against their Hamas rulers. But when he realized that he was not even close to achieving his goal and that Hamas was about to form a partnership with Dahlan, he chose to play the "reconciliation" card once again, as he has done no fewer than four times in the past.
Instead of removing Hamas from power, Abbas appears to be moving towards emboldening his Islamist enemies, who continue to denounce him as a "traitor" and "puppet" in the hands of Israel and the US. Even if the new agreement is implemented, Hamas and Abbas's Palestinian Authority will continue to be at each other's throats. Yet the two do have something in common: both are true enemies of the Palestinians, who continue to pay a heavy price for corrupt leaders who only care only for their jobs and bank accounts.
Bassam Tawil is a Muslim based in the Middle East.