Violent crime, including murder, rape and physical assault, is running rampant in German asylum shelters, according to a leaked intelligence report. German authorities, who appear powerless to stem the rising tide of violence, have justified their failure to inform the public about the scale of the problem by citing the privacy rights of the criminal offenders.
The report, leaked to the newspaper Bild, was prepared for Markus Ulbig, the interior minister of Saxony, where more than 40,000 migrants are being housed in refugee shelters. According to the report, there were ten murders or attempted murders at Saxon migrant shelters in 2016, as well as 960 physical assaults, 671 cases of grievous bodily injury, seven rapes, 10 sexual assaults of children and 268 cases of drug trafficking. The report also cited hundreds of incidents of theft, coercion, arson, brawls and attacks on police officers.
The violence at Saxon migrant shelters continued during the first six months of 2017: there were more than 500 physical assaults, several homicides and hundreds of reported thefts.
Experts have long warned that the practice of housing migrants from different ethnic and religious backgrounds in tight accommodations is the ideal breeding ground for violence.
In Germany as a whole, around 40,000 crimes — nearly 150 each day — were reported in refugee shelters during the first nine months of 2016, according to another leaked report by the Federal Criminal Police (Bundeskriminalamt, BKA). These crimes included 17,200 physical assaults, 6,500 thefts, 510 sexual assaults and 139 murders or attempted murders.
Observers say this is just the tip of the iceberg, as most crimes go unreported out of a fear of revenge. The BKA does not make public its data about migrant shelter criminality and there have been no additional leaks of such information. Anecdotal evidence, however, suggests that migrant-on-migrant crime is endemic across Germany.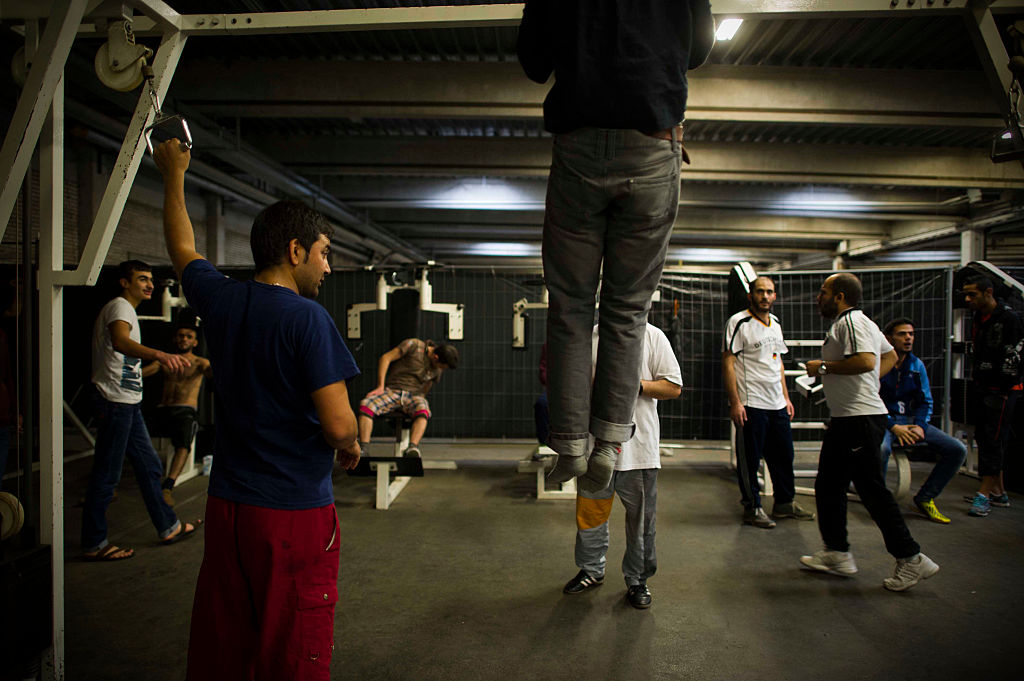 Migrant men exercise at the shelter where they live in Sarstedt, Germany, on November 17, 2015. (Photo by Alexander Koerner/Getty Images)
In Saxony-Anhalt, for instance, a parliamentary inquiry into a stabbing between Afghans at an asylum shelter in Bernburg revealed that migrants have assaulted other migrants at shelters across the state, including in Aschersleben, Ballenstedet, Bitterfeld-Wolfen, Burg, Dessau-Rosslau, Eckartsberg, Genthin, Haldensleben, Halle, Harbke, Kemberg, Leuna, Lutherstadt Eisleben, Magdeburg, Naumburg, Oranienbaum, Oschersleben, Salzwedel, Sangerhausen, Seegebiet Mansfelder Land, Stassfurt, Wanzleben, Weissenfels, Wolmirstedt, Zeitz and Zerbst. The stabbings involved migrants from Afghanistan, Albania, Algeria, Azerbaijan, Benin, Bosnia, Burkina Faso, Eritrea, Gambia, Guinea-Bissau, India, Iran, Iraq, Kosovo, Macedonia, Mali, Niger, Nigeria, Pakistan, Russia, Serbia, Somalia, Syria, Turkey and Ukraine.
In Baden-Württemberg, 87% of all migrants who were victims of crimes in 2016 were attacked by other migrants, according to official statistics.
In Berlin, police recorded more than 2,000 physical assaults at migrant shelters during 2016, in addition to 800 thefts, 86 rapes and three homicides. Der Tagesspiegel reported:
"The fact that there is an accumulation of criminal offenses in refugee shelters is not surprising. Cramped spaces, wearisome waiting, constant noise and unrest and an uncertain future generates aggression. There are also ethnic and religious conflicts. Many Syrians cannot deal with Afghans, many Serbs do not deal with Iraqis, many Muslims reject Christians, many Sunnis do not want to deal with Shiites. A maintenance man who worked in a refugee shelter reported 'mafia-like' conditions. Refugees were required to pay for access to the electrical sockets there."
In Hamburg, 219 sexual assaults against women and children at migrant shelters were reported there during the first six months of 2017, compared to 200 such assaults reported during the same period in 2016.
In Schleswig-Holstein, rival gangs of migrants competing for the drug trade at migrant shelters in Lübeck and other cities have attacked each other in more than a dozen mass brawls. The gangs are said to involve migrants from Afghanistan, Iraq and Syria, as well as from North Africa.
In Bavaria, a 41-year-old Afghan migrant at a refugee shelter in Arnschwang stabbed to death an eight-year-old boy from Russia, apparently because the boy was too noisy. It later emerged that a Bavarian court had warned that the Afghan, who had previously been arrested for arson, posed a threat to others. Bavarian officials had ignored that warning and placed him at the refugee shelter where the boy was staying with his mother. The murder prompted calls for the 6,500 single mothers at migrant shelters in Bavaria to be housed in separate units.
Also in Bavaria, a 47-year-old migrant from Kazakhstan at a refugee shelter in Eggenfelden castrated a 28-year-old Ukrainian migrant, who subsequently bled to death. It later emerged that the Kazakh man had been raped by the Ukrainian man, who was aided and abetted by a group of migrants from Chechnya.
In Lower Saxony, a 26-year-old migrant from Sudan sexually assaulted a 12-year-old girl from Serbia at a refugee shelter in Braunschweig. More than a hundred Serbians attempted to deliver street justice before police intervened with pepper spray.
In North Rhine-Westphalia, a mass brawl at a migrant shelter in Dortmund resulted in the stabbing of a 28-year-old migrant. When police attempted to arrest the 19-year-old perpetrator, they were attacked by a mob of more than 40 migrants. Police used dogs to restore order. In Cologne, a mass brawl between groups of African migrants resulted in the stabbing death of a 22-year-old man. At an asylum shelter in Espelkamp, a 32-year-old migrant from Lebanon stabbed another migrant, who bled to death at the scene. The Lebanese man was arrested and then released; the public prosecutor said there was insufficient evidence to prosecute the man.
In Hesse, migrants have stabbed other migrants at shelters in Bad Salzschlirf, Dillenburg, Ehrenberg, Fulda, Giessen, Helsa, Hilchenbach, Kassel and Wetzlar.
Elsewhere in Germany, migrants have stabbed other migrants at shelters in Albbruck, Alsterdorf, Asperg, Bad Aibling, Beelitz, Bonn, Dorfen, Gelsenkirchen, Gera, Görlitz, Helmstedt, Hilchenbach, Iserlohn, Kirchheim, Leipzig, Neugablonz, Neustadt, Peine, Prenzlau, Schaidt, Simmozheim, Tröstau, Ulm, Usedom, Waffenbrunn, Wardenburg, Weißenbrunn, Weißkeißel, and Wernau — among others.
Back in Saxony, when Bild asked why such crimes, which are rarely reported by the police or media, are being kept secret, an interior ministry spokesperson replied that publishing such information was not in the public interest: "The facts which the investigative authorities deem appropriate for public knowledge depend on the circumstances of the individual case."
The interior ministry said that the high levels of violence were not surprising:
"In general, long-term accommodation of many people in small spaces, such as first-time reception facilities, can lead to temporary, exceptional mental states which can lead to physical disputes in individual cases. Such an effect is further enhanced by heterogeneous ethnic and cultural backgrounds."
The interior ministry added that some of the violence could be prevented by providing migrants with "a sufficient supply of leisure activities."
Soeren Kern is a Senior Fellow at the New York-based Gatestone Institute.