In Bagneux, France, on November 1, 2017, a plaque placed in memory of Ilan Halimi, a young Jew murdered in 2006 by a "gang of barbarians", was destroyed and covered with graffiti. When a few days later, another plaque replaced it, the French government issued a statement that "hate will not win".
There are many signs, however, that hate has already won and that France is sick. If these signs were already obvious a decade ago, they are even more obvious today. Voluntary blindness prevented them from being addressed.
Ilan Halimi was taken hostage in January 2006, then viciously tortured for three weeks. He was eventually abandoned, dying, on the edge of a road and died a few hours later.
Most of kidnappers, who were arrested a few days after the murder, were Muslims. They immediately confessed. They said they had chosen Halimi because he was a Jew and they thought that "all Jews have money". Some added that Jews "deserve to suffer".
They were tried behind closed doors. The leader, Youssouf Fofana, spat his bile against Jews and vehemently shouted the name of Allah during the whole trial, so the court could not hide that he was an Islamic anti-Semite. He was sentenced to "life" in prison -- which in France means 18 to 20 years. If he had not assaulted his guards in the prison, he would already have be released. The other members of the gang, described by the prosecutor in a watered down way as "thugs looking for easy money", were quieter and were handed down relatively light sentences. Today, almost all "the barbarians" are free.
Even books, accentuating the whitewash, describe the crime as just an ugly "sign of greed" among "poorly educated young people".
In 2014, director Alexandre Arcady made a movie -- 24 Days: The True Story of the Ilan Halimi Affair -- to draw attention to what he perceived as a growing danger for Jews and for the French in general. The movie was a flop; almost no one paid attention to it, despite some murders just as sickening.
On March 19, 2012, in Toulouse, a 23-year-old Muslim, Mohammed Merah, entered the yard of a Jewish school and murdered three children and the father of two of them. He had already shot French soldiers, but shattering the heads of children at point blank range was an act of total horror. Three days later, besieged in his apartment, after having explained for hours to a negotiator why he had chosen Jewish children, he launched a last attack but was riddled with bullets by the police. He instantly became a hero in all the Muslim French suburbs; the anti-Semitic dimension of his act just contributed to his fame.
For many months, his name, Mohammed Merah, was a rallying cry for Muslim youths. The press, meanwhile, described him as a "lone wolf" and "lost child".
When evidence accumulated showing that his brother, Abdelkader, an Islamist, had trained Mohammed and helped him prepare his butchery, he was arrested.
Abdelkader Merah's trial last month was as ugly as that of the "gang of barbarians", maybe even uglier. Abdelkader did not lose his temper. He expressed no regret. He calmly explained that jihad is a sacred duty for every Muslim; that he thought that his brother was "in paradise" and what the status of Jews is in the Koran. Mohammed and Abdelkader's mother, Zoulikha Aziri, testified that they were "good sons". Later, out of court, she said that "Allah orders Muslims to kill Jews". (Abdelkader's lawyer said that Abdelkader was not guilty of anything; that he was just a devout Muslim "practicing his religion", and that he himself considered it an "honor" to defend Abdelkader.
Abdelkader was sentenced to twenty years in prison. If there is no appeal, and if he is no longer violent, he will be released in eight years. Abdelkader, while in jail, may still do what he was doing before: proselytize and repeat what he said in court about jihad. When he is released, he may well not stop. He will most likely not be arrested again.
His mother may well repeat that Allah orders Muslims to kill Jews: the command is, she thinks, an integral part of her faith. She will not be accused of incitement to murder. Hundreds of thousands of men and women openly say what she says.
There are thousands of Abdelkader Merahs. Some are in prison, some are not. Not only are 70% of prisoners in France Muslims, but prisons are now the main recruiting centers for jihadists in France.
Calls to jihad can be heard from countless mosques throughout the country each week. A recent book, Partition, lists the addresses of 150 of them.
Incitement to kill Jews is frequent in the almost 600 no-go zones that exist in France. Leaflets stipulating "if you meet a Jew, kill him", were recently distributed in the Paris suburbs, near places where street prayers occur. "Death to Jews" and "Slit Jews' Throats" can increasingly be heard in organized street protests. Synagogues have been attacked in Paris, Sarcelles and Marseilles.
In the five years since Mohammed Merah's murders, French Muslims have attacked more Jews.
On May 24, 2014, Medhi Nemmouche, a gunman who had recently returned from Syria, opened fire in the Jewish Museum in Brussels and shot four people. On January 9, 2015, Amedy Coulibaly, a man who had pledged allegiance to the Islamic State, entered a kosher grocery store, took 19 people hostage, and shot four of them.
Recently, on April 4, 2017, a retired Jewish physician, Sarah Halimi, was viciously brutalized for an hour, then thrown off the balcony of her apartment. Her murderer, Kada Traore, who shouted "Allahu Akbar", was deemed "mentally ill" and sent to an asylum.
Two attacks had a large number of casualties: one on November 13, 2015 in Paris and Saint-Denis (130 killed), and the other on July 14, 2016 on the Promenade des Anglais in Nice (86 killed). A priest, Fr. Jacques Hamel, was knifed to death while saying Mass. A businessman was beheaded by one of his employees. A police officer was shot on the Champs-Élysées. It does not stop.
On October 1, 2017, two women were slain in front of the Marseille central railway station. The murder of most off the journalists and editors at the satirical magazine Charlie Hebdo on January 7, 2015 (12 killed) led, three days later, to a huge demonstration in Paris, but indifference quickly returned.
In France, since 2012, more than 250 people were killed by Islamic terrorism, more than in all other European countries combined. In addition, no other country in Europe has experienced so many attacks against Jews. France is a country where Jews are murdered because they are Jews.
Every year, Jews flee France by the thousands. Those who do not emigrate move to cities and neighborhoods where they hope they will be able survive without risking aggression.
Many non-Jews live in fear and remain silent.
The government does almost nothing. A few times a year, its members ritually denounce "anti-Semitism", but never forget to mention that it comes from the "far right". They only denounce "radical Islam" when the facts are so blinding obvious that it is impossible to do otherwise. If they can, they prefer to talk about people who were "radicalized", without giving any details or explanation.
In August 2017, the Ministry of the Interior issued a statement that almost 300 jihadists were back from Syria and represent a risk. All of them could come back to France with French passports. None of them has been arrested.
In March 2015, the French intelligence services created a Report Card for the Prevention of Terrorist Radicalization (FSPRT); there are 15,000 names on it. Monitoring everyone would require nearly 160,000 police officers. Therefore, only a few dozen suspects, are under surveillance.
After France's November 2015 attacks, a state of emergency was declared. It consisted mainly of sending soldiers and police officers to railway stations and airports, and placing guards and sandbags in front of synagogues and Jewish schools.
The state of emergency expired on November 1, 2017. It was replaced by a weak "anti-terrorism" law. Fewer soldiers and police officers will be deployed. "Security zones" will be created around events that appear "exposed to a terrorist risk", and police controls will stand near such events. These controls, however, already exist. "Places of worship" will be "visited" if it "seems" they disseminate "ideas that could lead to terrorism"; then they could be closed for six months. Many "places of worship" already disseminate "ideas that lead to terrorism"; they are still open. Legal texts omit words such as "radical Islam", "jihad" or "anti-Semitism". They also do not include words such as "mosque" or "search"; instead, they speak of "places of worship" and "visit". They also never define which "ideas" could "lead to terrorism".
Yaffa Monsonego, the mother of one of Mohammed Merah's victims, did not go to Abdelkader Merah's trial. Her daughter, Myriam, was eight-years-old when she was shot. Monsonego said in a mainstream television interview that attending the trial would have been of no use; that French justice will never live up to what she and other families of victims feel every day, and that she is certain more murders will happen.
A journalist said on radio that, by not naming and not fighting evil, France betrays all those who want to live safely, and abandons the country to those who are crushing it. He reminded his listeners that the presence of Islamic anti-Semitism in France is older than they could imagine, and mentioned a young disc jockey, Sebastien Sellam, murdered in Paris by his Muslim neighbor in 2003, just because he was a Jew. The journalist said the destruction of the plaque placed in memory of Ilan Halimi was a way of killing him a second time.
A few weeks ago, Luc Ravel, Archbishop of Strasbourg, said that those who run the country bury their heads in the sand; and that while Islamists are tried, the trial of radical Islam in France is not even considered. He added that all French political leaders know a population replacement is in progress that will quickly have much more serious consequences than those already evident today: "Muslim believers know very well what is happening. Only a minority is violent. But as a whole, they do not ignore that their birthrate is such that one day, everything here will be theirs".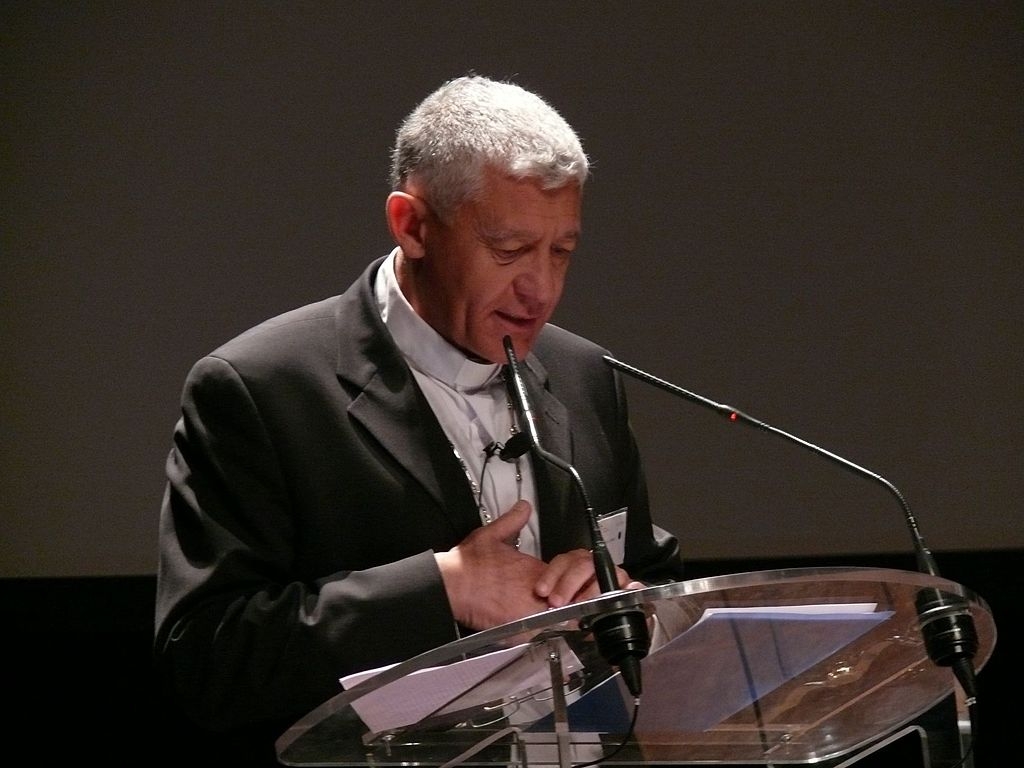 Luc Ravel, Archbishop of Strasbourg, recently said that French political leaders know a population replacement is in progress that will quickly have much more serious consequences than those already evident today. (Image source: Peter Potrowl/Wikimedia Commons)
Meanwhile, French President Emmanuel Macron, while in Abu Dhabi on November 8 to inaugurate a museum, said: "Those who want to make you believe that anywhere in the world, Islam is destroying other monotheisms and other cultures are liars who are betraying you".
On November 13, back in Paris to pay homage to the victims of the attacks two years earlier, Macron participated in a release of multicolored balloons, watched them float to the sky, then laid flowers where the victims were killed. The plaques state that they were "murdered", but not that they were victims of terrorism. Soon, the word "terrorism" could also disappear from France's vocabulary.
In Submission, a novel published on January 7, 2015, ironically the same day as the Charlie Hebdo murders, its author, Michel Houellebecq, foresaw that words would disappear, that Islamic terrorism would lead France toward submission, and that the Jews would leave the country. He was right.
Dr. Guy Millière, a professor at the University of Paris, is the author of 27 books on France and Europe.