On Saturday, December 9, masked men threw firebombs at a synagogue in Gothenburg, Sweden. The attack took place shortly after 10:00 pm, at a time when about thirty children and teenagers were attending a party at the Jewish Center adjoining the main building. When the assault began, the guards rushed them into the cellar, and finally allowed them to go home at about 11:30 pm. (Guards, of course, are a fixture at European synagogues these days.) A mother of one of the girls at the party received a text message from her daughter saying that she was scared and that there was a smell of gasoline.
Yes, in Western Europe, in 2017, a group of young Jews stood huddled in a basement, helpless, amid the gasoline fumes from firebombs. (It is not clear whether the people guarding them were armed, or why, facing the threat of a possible conflagration, they chose to send them into a cellar.)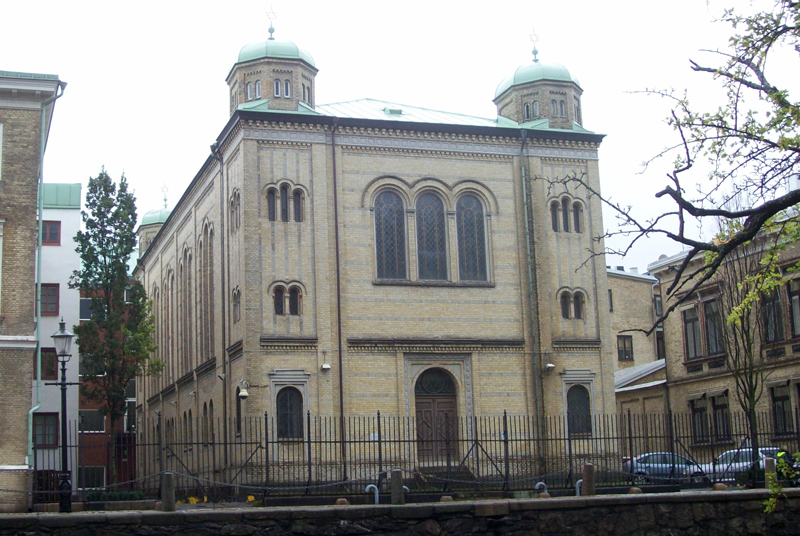 The synagogue in Gothenburg, Sweden, which was firebombed on December 9. (Image source: Lintoncat/Wikimedia Commons)
Gothenburg, by the way, is the same city in which, as we reported recently, the churches will be opening their doors every night this winter to provide shelter for homeless immigrants -- whether legal or illegal -- but not for homeless Swedes. There is probably no direct connection whatsoever here, but it is hard not to find a certain dark irony in this juxtaposition of events.
A small fire did indeed spread out at the synagogue, but was soon extinguished by firefighters. Fortunately, there were no injuries; alas, there were only three arrests. When asked by the daily Expressen to say something about the identity of the suspects, a police spokesperson would say only that the three persons taken into custody were about 20 years old. In the aftermath of the attack, Swedish police have intensified security arrangements around the handful of other synagogues in the country.
Perhaps surprisingly, given their distaste for stories that challenge the narrative of a harmonious multicultural Sweden, the mainstream Swedish media have given this episode extensive coverage. Politicians have rushed to condemn the synagogue attack. Several commentators have suggested that it was motivated by President Trump's decision to acknowledge Jerusalem as the capital of Israel. Dan Eliasson, head of the national police, said flat out that Trump's move had made the situation of Jews in Sweden more precarious. Should threats of violence, however, a form of extortion, really determine policy?
Svante Weyler, head of the Swedish Committee against Antisemitism, told the daily Aftonbladet that this probably will not be the last occurrence of its kind in Sweden. (That is a pretty good bet.) He further noted that anti-Semitism is, indeed, quite severe and on the rise in Europe -- especially in Sweden -- but, unless Aftonbladet cut something out, he was careful not to mention Islam. (That is par for the course.)
There was more from Weyler. In the wake of attacks on European Jewish targets, European Jewish leaders like him routinely distance themselves from Israel, underscoring that it is wrong for enemies of Israel to blame European Jews for Israeli actions. Weyler served up a version of this argument, pointing out that "those young people who were gathered together in the synagogue have no direct connection to what is happening in the Middle East or to what Trump does." Rarely does a European Jewish leader -- or anyone, for that matter -- simply stand up and defend Israel.
It is not just European Jewish leaders who, in such cases, feel driven to draw a sharp distinction between European Jews and the Jewish state. In an interview with Expressen, Jonas Ransgård, a member of the Gothenburg city council, lamented the fact that "Jews in Sweden are held responsible for what Israel thinks is right or wrong." Such remarks, of course, imply:
that Swedish Jews, being Swedes, are surely too sensible and humane to agree in any large numbers with Israeli (or pro-Israeli) policies or actions, and
that Israel, by virtue of its supposedly provocative behavior, is at least indirectly responsible for anti-Jewish attacks in Europe.
If the firebombing of the Gothenburg synagogue was motivated by Trump's decision on Jerusalem, it was not the only notable response to that decision in Sweden this weekend. On Friday night, an anti-Trump rally in Malmö drew about 200 people, many of whom shouted anti-Jewish remarks and threatened to "shoot the Jews." On Saturday, anti-Trump protesters marched in Stockholm and set fire to the Israeli flag. A search through the major Swedish online media did not yield any details about the ethnic or religious backgrounds of the participants in any of these incidents.
What, sadly, is hardly ever acknowledged by Europe's establishment media is that Jews -- and Israel, the only openly pluralistic country in the Middle East -- are under constant assault by Western European leaders, citizens, and (especially) so-called "new Europeans," as well as by the governments of no fewer than 21 Arab and Muslim countries in the Middle East.
The attack on the Gothenburg synagogue may have been immediately triggered by Trump's recognition of Israel's capital, but it is part of a pattern of persecution and savagery that has been in place, and that has been systematically ignored, denied or played down by the news media and public officials, ever since the Islamization of Western Europe began.
Bruce Bawer is the author of the new novel The Alhambra (Swamp Fox Editions). His book While Europe Slept (2006) was a New York Times bestseller and National Book Critics Circle Award finalist.