The European Commissioner for Migration, Home Affairs and Citizenship, Dimitris Avramopoulos, should resign. Claiming recently that there is no way to protect Europe's borders, which is his job, he openly admitted to powerlessness in the face of the massive influx of migrants. He said that neither "erect[ing] fences" nor "harsh language" will curb or stop the flow; yet had the gall to accuse European Council President Donald Tusk -- one of the few European bureaucrats who opposes the quota mechanism -- of lacking a sense of European solidarity.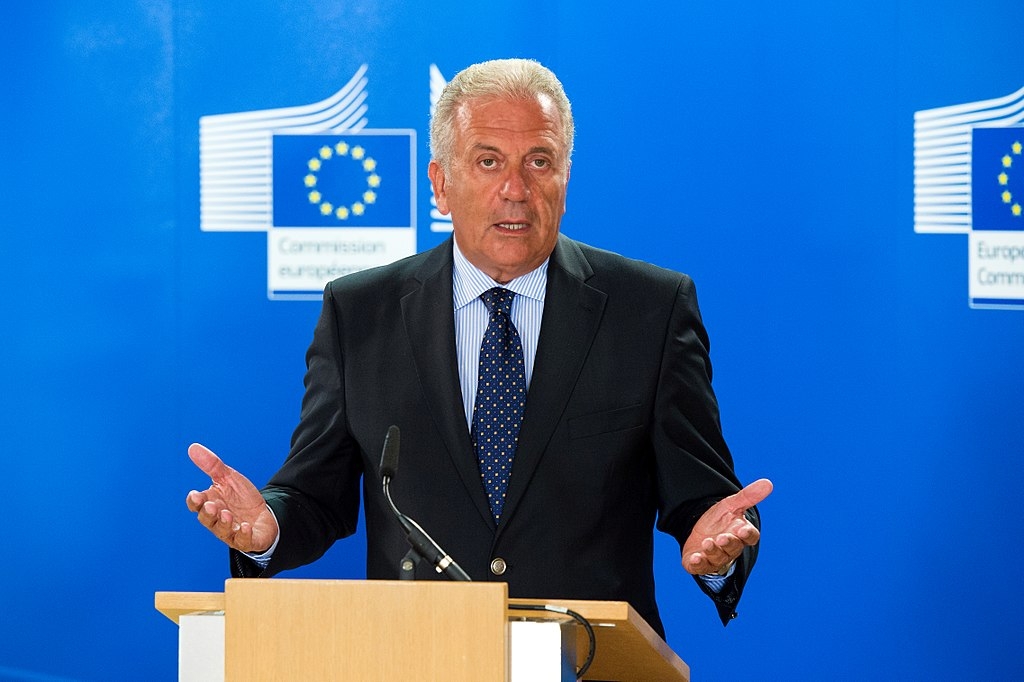 We owe it to Europe to replace multiculturalism-gone-wild with rational thought and sensible action. Dimitris Avramopoulos, the European Commissioner for Migration, Home Affairs and Citizenship, is the wrong person to lead this task. (Image source: European Commission/Wikimedia Commons)
Tusk was behind the closing of the migrants' Balkan route the Macedonia, a policy that Avramopoulos attempted to torpedo; it ultimately worked to decrease immigration to Greece. This is not surprising, as having the route open was a "pull factor" for migration. Another such factor was German Chancellor Angela Merkel's mantra about absorbing refugees -- "Wir schaffen das" ("We can do it.")
So, too, were the welcoming and colorful advertisements of the asylum process presented by Germany's Federal Office for Migration and Refugees (BAMF), with translations into Urdu, Arabic, Turkish and other languages. Germany's campaign to portray itself as a paradise for migrants has been so successful over the past three years that BAMF is now in the uncomfortable position of having to dispel its own myth.
The myth that Avramopoulos not only refuses to dispel, but continues to perpetuate, is that European societies are not accepting of diversity in general and of migrants in particular. Even opponents to the obligatory quota system, such as Poland and the Czech Republic, have vibrant immigrant communities from Vietnam and Ukraine, which do not complain of prejudice. Nor does one tend to hear gripes about their absorption from Chinese, Hindus and South Americans. It only migration from Muslim-majority countries that 55% of Europeans say they wish now to ban.
Rather than acknowledging the reasons for this sentiment among Europeans, Avramopoulos blames "the recent discourse on migration" for it, which he attributes to "rising nationalism, populism and xenophobia." This discourse, he argues, "has limited our opportunities to put in place smart, forward-looking migration policies, at both the national and European levels." His solution is for Europeans to be "better, smarter and more proactive at managing [migration]." His conclusion is that Europeans will not be able to achieve this goal, "if we don't accept a change in attitude and a change in our narrative."
He claims that it is a "moral, economic and social imperative for our aging continent" to make sure that the more than 700,000 asylum-seekers granted protection by the EU in the last year not only to find "safety," but to "find a home."
What Avramopoulos fails to consider, however, is that Europe, like the rest of the world, is on the threshold of a technological revolution that will leave the under-qualified with poor prospects for employment. Has he not noticed that China opened its first unmanned factory, or that transport giants are preparing to deploy self-driving cars and trucks? Is he unaware of the huge shifts in the the economies of developed countries over the decades in all realms, from industry and agriculture to services, which makes unskilled labor the opposite of a solution to the "aging continent?"
The economic burden that migrants have imposed is evident in Sweden, for example, which raised retirement age to cover the cost of welfare for migrants. This is aside from the huge amount of government funds spent in 2016 on living accommodations and training.
This is not to deny that population mobility is a characteristic of the 21st century. However, its negative repercussions can and must be minimized by limiting migration. No options should be excluded, including turning boats of migrants away. A genuinely honest discussion -- not the kind Avramopoulos claims to be engaging in -- needs to take place on what measures are feasible, which risks are worth taking and which migration movements are welcome. We owe it to Europe to replace multiculturalism-gone-wild with rational thought and sensible action. Avramopoulos is the wrong person to lead this task.
Jan Wojcik, a journalist, is regularly published in one of Poland's biggest news outlets, wp.pl, and is Editor-in-Chief of euroislam.pl.