New information has emerged about a Moroccan national arrested in Poland two years ago for ties to the ISIS terrorist, Abdelhamid Abbaoud. Abbaoud was responsible for the November 2015 terrorist attacks in Paris, which left 130 people dead and another 300 wounded.
Polish prosecutors recently revealed that Mourad T. attended a meeting with Abbaoud and other high-profile terrorists in 2014 in Edirne, Turkey. Polish security officials maintain that Mourad was assigned the role of "scout," to identify venues for attacks in Europe. Photos of potential targets and an improvised explosive device (IED) were found in his apartment, in the town of Rybnik. Investigators claim that Poland was not among his targets; he was heading for Germany.
Mourad was apprehended through a cooperative effort on the part of Poland's domestic counterintelligence agency ABW, the CIA and other Western security agencies.
This is not what makes the case particularly worthy of note, however. What does is that Mourad entered Europe with the refugee influx in 2014 by pretending to be a Syrian asylum-seeker, falsifying his date of birth -- portraying himself as much younger, to increase his chances to be granted asylum -- and travelling through Greece, the Balkan states, Hungary, Austria, the Czech Republic, and finally to Poland. In 2015, he received a residence permit in Vienna from the Federal Office for Foreigners and Asylum, who were fooled by his false identity and registered him as a Syrian refugee.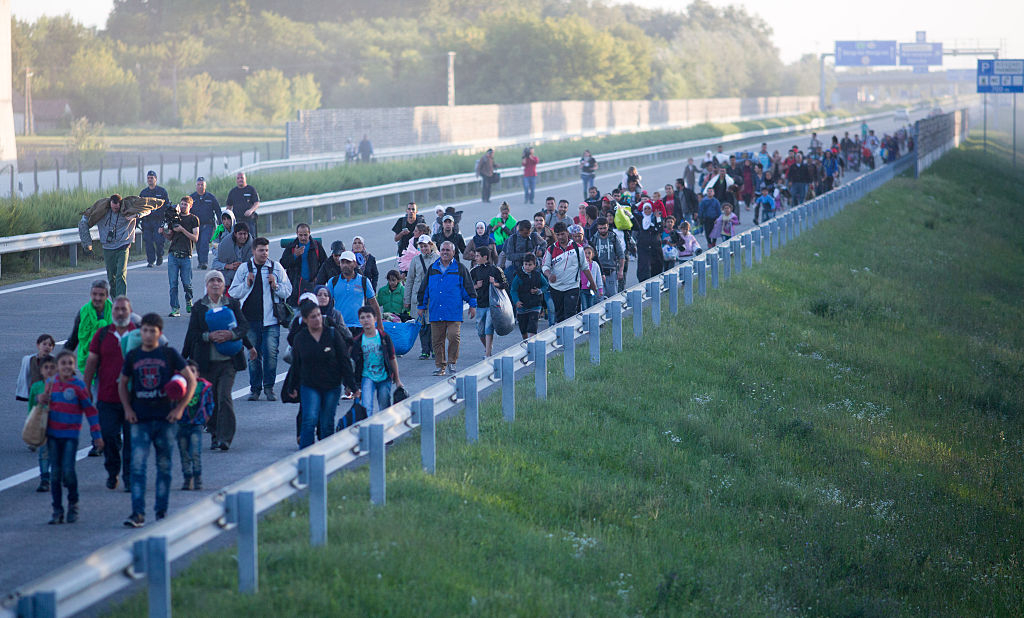 The case of suspected terrorist Mourad T. in Poland highlights a crucial concern: the ability of jihadists to pose as refugees, operating freely around Europe. Pictured: Migrants traveling along the "Balkan route" toward Germany walk on a highway in Roszke, Hungary on September 7, 2015. (Photo by Matt Cardy/Getty Images)
By receiving official European documents, Mourad was able to enter Poland, one of the countries that has refused to accept more than a few thousand of the migrants that the European Commission demands they take in, under the EU's mandatory quota system.
Warsaw's resistance to the influx of migrants from the Middle East and Africa was explained by Poland's ruling party leader Jarosław Kaczyński in a May 2017 interview with the Gazeta Polska Codziennie newspaper. Kaczyński said that taking in immigrants from those areas would force Poland "to completely change our culture and radically lower the level of safety in our country." He added that if Poland were to succumb to EU pressure to accept refugees, it would be "a direct road to a social catastrophe, with the result that in a few years Warsaw could look like Brussels." Kaczyński also referred to the abuse of women that has increased across Europe with the influx of immigrants from Muslim countries.
Given the situation across Europe -- in Germany, France, Britain, Sweden, Norway, Belgium, Spain and elsewhere -- Kaczyński's fears are justified. The case of Mourad T. highlights a crucial concern: the ability of jihadists to pose as refugees, operating freely around Europe to bring about its downfall.
Jan Wójcik, a journalist, is regularly published in one of Poland's biggest news outlets, wp.pl, and is Editor-in-Chief of euroislam.pl.