Spain is on track to overtake Greece as the second-biggest gateway for migrants entering Europe by sea. The sudden surge in migration to Spain comes amid a crackdown on human smuggling along the Libya-Italy sea route, currently the main migrant point of entry to Europe.
The westward shift in migration routes from Greece and Italy implies that Spain, situated only ten miles from Africa by sea, may soon find itself at the center of Europe's migration crisis.
More than 8,300 illegal migrants have reached Spanish shores during the first seven months of 2017 — three times as many as in all of 2016, according to the International Organization for Migration (IOM).
Thousands more migrants have entered Spain by land, primarily at the Spanish enclaves of Ceuta and Melilla on the north coast of Morocco, the European Union's only land borders with Africa. Once there, migrants are housed in temporary shelters and then moved to the Spanish mainland, from where many continue on to other parts of Europe.
In all, some 12,000 migrants have arrived in Spain so far this year, compared to 13,246 for all of 2016. By comparison, 14,156 migrants have arrived in Greece so far in 2017.
Italy remains the main migrant gateway to Europe, with around 97,000 arrivals so far this year, compared to 181,436 for all of 2016. Italy has been the main point of entry to Europe since the EU-Turkey migrant deal, signed in March 2016, shut off the route from Turkey to Greece, at one time the preferred point of entry to Europe for migrants from Asia and the Middle East. Almost 600,000 migrants have arrived in Italy during the past four years.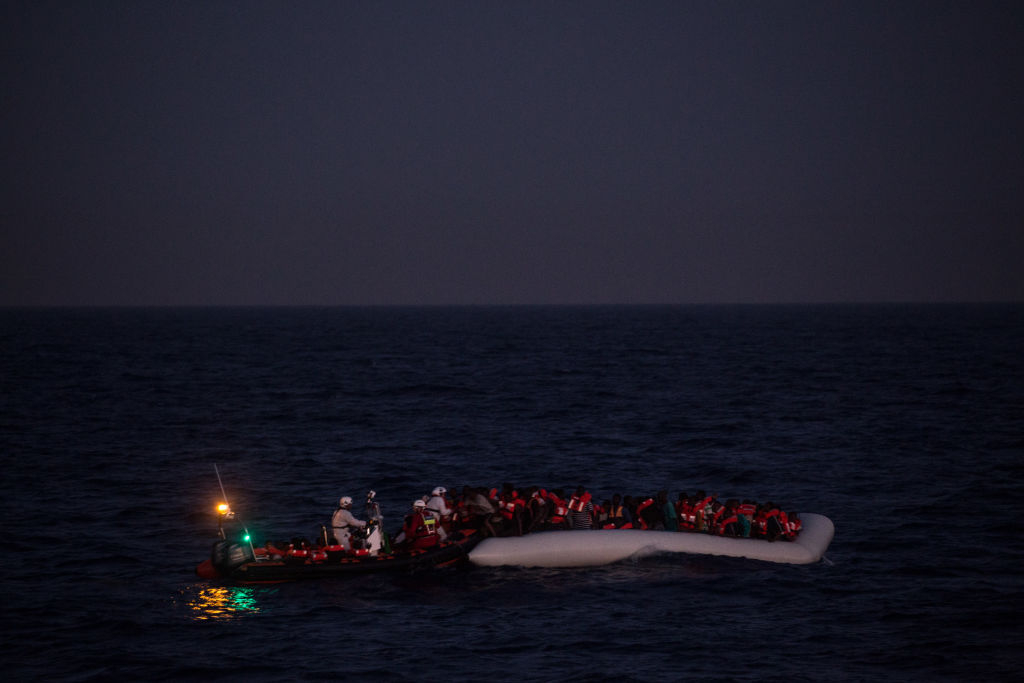 Migrants wait to be rescued by crewmembers from the Migrant Offshore Aid Station (MOAS) Phoenix vessel on June 10, 2017 off Lampedusa, Italy. (Photo by Chris McGrath/Getty Images)
In May, Italy signed a deal with Libya, Chad and Niger to stem the flow of migrants across the Mediterranean through improved border controls. In July, Italy also reached a deal with France and Germany to tighten the regulation of charities operating boats in the Mediterranean and to increase funds to the Libyan coast guard.
Since then, the Libyan coast guard has prevented thousands of migrants from leaving the Libyan coast for Italy. The crackdown, however, has sent would-be migrants scrambling for an alternative route to cross the Mediterranean. This appears to explain the increase in migrants arriving in Spain.
On August 14, Frontex, the European Union's border agency, reported that the number of African migrants arriving in Italy from Libya had dropped by more than half in July compared to the month before. During this period, the number of migrants arriving in Spain rose sharply.
Frontex said that 10,160 migrants had arrived in Italy by sea in July — 57% fewer than in June and the lowest level of arrivals for a July since 2014. According to Frontex, 2,300 migrants made it to Spain in July, more than four times as many as the year before. Most of the migrants arriving in Italy and Spain are believed to be economic migrants seeking a better life in Europe, not refugees fleeing war zones.
"The vast majority of migrants crossing to Italy from Libya come from Senegal, Gambia, Guinea and other west African countries," said Joel Millman, an IOM spokesman, in an interview with the Financial Times. "Given the crackdown on migration from Libya, it seems natural that many would forsake the dangerous dessert [sic] crossing to Libya and choose to cross from Morocco."
Julio Andrade, a city councilor in Málaga, a port city in southern Spain, called it "the balloon effect." In an interview with the Irish Times, he said: "If you squeeze one area, the air goes elsewhere. If there is a lot of police pressure and arrests of mafias around the Mediterranean routes via Greece and Italy, for example, then the mafias will look for other routes."
Spanish authorities have reported that there is a surge in African migrants attempting to cross the land border at Ceuta by scaling fences that are up to six meters (20 feet) tall and topped by razor wire. Spanish Interior Minister Juan Ignacio Zoido said there were 2,266 attempts to jump the perimeter at Ceuta during the first seven months of 2017, compared to a total of 3,472 attempts in all of 2016.
On August 7, more than 300 mostly sub-Saharan Africans ambushed Spanish and Moroccan security forces and stormed the border crossing at El Tarajal; 186 migrants made it onto Spanish territory. On August 8, more than a thousand migrants armed with spears and rocks attempted to breach the same crossing. On August 9, Spanish authorities closed the border for a week. On August 10, around 700 migrants stormed the border; 200 migrants were arrested.
Meanwhile, on August 9, a video showed a rubber boat carrying dozens of migrants arrive at a beach full of sunbathers in Cádiz. José Maraver, the head of a rescue center in nearby Tarifa, told the Telegraph that a second boat had landed on another beach in the area and that this scene was now a regular occurrence. "Every day there are boats, every day there is migration," he said. "The situation is getting very complicated."
Migrants are also using other means to reach Spain. On August 6, for example, four Moroccans reached the coast of Málaga on jet skis. During July and August, police intercepted at least two dozen migrants using jet skis to cross over to Spain. On August 10, police using motion detectors and thermal imaging sensors found 56 migrants, including 14 children, hiding inside trucks en route from Ceuta to the mainland ferry port in Algeciras.
In an August 9 editorial, Spain's El País newspaper said that it was "obvious that migratory pressure has moved to the western Mediterranean and there is no indication that this situation will change in the near future." It added:
"The migratory pressure Spain has experienced during the past several weeks is an increase of such dimensions that it exceeds all measures of surveillance and control. The massive entry of sub-Saharan people across the border of Ceuta, whether by jumping the fence or crossing the El Tarajal border, reveals the enormous difficulties in stopping the entry of those fleeing war, famine or economic hardship....

"The management of migratory flows requires a strong European policy and sufficient economic resources. Spain cannot stand alone as the guardian of southern Europe."
German Development Minister Gerd Müller recently warned that Europe must prepare for the arrival of millions more migrants from Africa:
"The biggest migration movements are still ahead: Africa's population will double in the next decades. A country like Egypt will grow to 100 million people, Nigeria to 400 million. In our digital age with the internet and mobile phones, everyone knows about our prosperity and lifestyle."
The director of the United Nations Office in Geneva, Michael Møller, has echoed those concerns:
"What we have been seeing is one of the biggest human migrations in history. And it's just going to accelerate. Young people all have cellphones and they can see what's happening in other parts of the world, and that acts as a magnet."
The President of the European Parliament, Antonio Tajani, said that in order to staunch the flow of migrants from Africa, the European Union would need to invest billions and develop a long-term strategy to stabilize the continent: "If we do not manage to solve the central problems in African countries, ten, 20 or even 30 million immigrants will arrive in the European Union within the next ten years."
Soeren Kern is a Senior Fellow at the New York-based Gatestone Institute.