A week before International Women's Day on March 8, thirty-five women and girls dressed as men were arrested in Iran while attempting to sneak into a popular annual soccer match. The women, the youngest of whom was 13, were forcibly removed from the premises of the Tehran Derby and "transferred to a proper place."
The ban on women attending any sports event in Iran, other than all-female matches in which the players are required to wear full Islamic dress, is but one of many issues at the root of the current mass protests across the country against the oppressive and repressive ayatollah-led regime, which came to power nearly four decades ago. Over the years, sports have been used by both male and female anti-regime activists as a symbol of freedom, as it was one of the first areas after Iran's 1979 Islamic Revolution, which ousted the Shah and ushered in the reign of Ayatollah Ruhollah Khomeini, to be considered by the ruling mullahs as a dangerous expression of secularism.
The reason that this year's Tehran Derby was of particular interest – and not only to sports fans -- was the attendance of world soccer's top official, Gianni Infantino. As Infantino is the president of FIFA (Fédération Internationale de Football Association), his arrival at the match was seen by freedom-seeking Iranians as an opportunity to force their government to lift the ban on women spectators.
Rather than demand that Iran allow women to watch soccer in stadiums or be ousted from FIFA for violating its rules, Infantino not only presided over the game between Esteghlal and Persepolis at the 100,000-seat Azadi Stadium, but he did so after meeting with Iranian President Hassan Rouhani. During halftime, when a female journalist tried to ask Infantino a question about the ban and the meeting, he was whisked away and the live broadcast was shut down.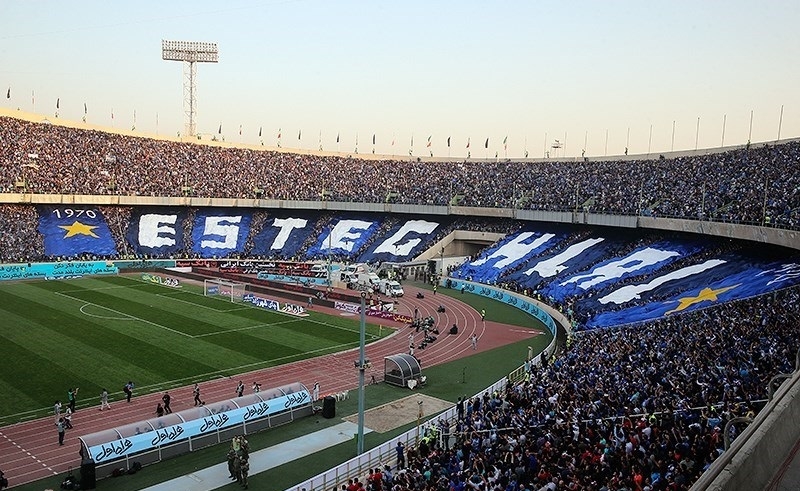 Azadi Stadium in Tehran, Iran, October 26, 2017. (Image source: Tasnim/Wikimedia Commons)
Upon his return to FIFA headquarters in Zurich the next day, Infantino told reporters he had been promised by Rouhani that "women in Iran will have access to football stadiums soon," but that "in countries such as Iran, these things take a bit of time." Explaining why he accepted Rouhani's assurances, Infantino said:
"There are two ways to deal with this matter. Either we criticize, we sanction, we condemn, we don't speak and we cut relations. Or we go there and have a discussion and try to convince the leaders of the country that they should give [women] access to stadiums. I went for the second option."
According to the grassroots Iranian women's organization OpenStadiums, Infantino is the second FIFA president to visit the Islamic Republic, but neither of them "pushed for letting women inside the stadiums."
"Iran is the only country in the World Cup that bans women from their stadiums and any attempt to watch the games means risk of getting arrested. Why is watching football like crime here and the responsible people do nothing?"
It is a very good question, considering that preparations are under way for this summer's 2018 FIFA World Cup Russia, in which Iran's national soccer team will feature prominently. Infantino has both the power and the duty to hold Tehran accountable in this literal and figurative arena. That he exercised neither, choosing instead to appease Rouhani, is outrageous. In spite of his being touted falsely in the West as a "moderate," Rouhani is a key part of the problem in Iran, not a solution to it.
Iranian women have been risking their lives by removing their hijabs in public, to protest the Islamist abuse of their human rights. They are being arrested and imprisoned by the regime for their bravery. They should be hailed and helped by anyone and any means possible. International Women's Day -- which the UN describes as "a time to reflect on progress made, to call for change and to celebrate acts of courage and determination by ordinary women who have played an extraordinary role in the history of their countries and communities" -- provided the perfect opportunity for FIFA to take a stand on behalf of the women of Iran. Infantino chose, however, to drop the ball. For this alone, he deserves a swift penalty kick out of his job.
Ruthie Blum is the author of To Hell in a Handbasket: Carter, Obama, and the 'Arab Spring.'"