February 1. Foreign Office officials invited 1,800 female staff members to wear Islamic headscarves to mark World Hijab Day. The department gave away taxpayer-funded headscarves, claiming they symbolized "liberation, respect and security." Critics, citing the compulsory veiling of women in Islamic countries such as Iran and Saudi Arabia, said the garment is a symbol of male oppression. Tory MP Andrew Bridgen said, "I'd like to know whose bright idea this was. It is ridiculous, a complete waste of taxpayers' money and not the business of a government department. I can't see the Foreign Office promoting Christianity or the handing out of crosses."
February 1. Max Hill QC, the independent reviewer of terrorism legislation, declared that it is "fundamentally wrong" to use the phrase "Islamist terrorism" to describe attacks carried out in Britain and elsewhere. Hill said that the word terrorism should not be attached "to any of the world religions" and that the term "Daesh-inspired terrorism" should be used instead. Tory MP Philip Davies blasted Hill for "pandering" to political correctness: "It might not be acceptable in the trendy metropolitan circles he moves in, but all he's doing is showing how out of touch he is with the public at large. I suggest this politically-correct snowflake gets out more."
February 1. The Home Office published the report of an 18-month independent review into the application of Sharia law in Britain by so-called Sharia councils. The review, chaired by Professor Mona Siddiqui, a professor of Islam at the University of Edinburgh, proposed legislative changes that would require Muslim couples to undergo a civil marriage before or at the same time as their Islamic ceremony. Such a requirement would provide women with legal protection under British law. The review said that nearly all those using Sharia councils were females seeking an Islamic divorce. As a "significant number" of Muslim couples do not register their marriages under civil law, "some Muslim women have no option of obtaining a civil divorce." The report also recommended that Sharia councils be subject to regulation.
February 4. Paul Song, a 48-year-old pastor, was fired from his job as a chaplain at Brixton prison in south London after the managing chaplain, Imam Mohammed Yusuf Ahmed, accused Song of promoting "extreme" Christian views. Song, who said he was ousted on the basis of false claims by a Muslim prisoner, said the imam was intent on changing "the Christian domination" inside the prison.
February 4. A British intelligence agent warned that hundreds of Islamic State jihadists have returned to Britain and are intent on recruiting more jihadists to carry out attacks in the United Kingdom. He said that most of the returnees have taken cover in areas with large Muslim populations, including Birmingham, Leicester, London and Luton. "The best place to hide a tree is in a forest, and this is what those who have fought for ISIS are doing," he said. "They have basically relocated their HQ from Syria to the UK. The fear is they will begin recruiting and will wage terror on British soil."
February 8. The number of sheep slaughtered in Britain without first being stunned has doubled to more than three million, according to official statistics. The increase was attributed to the Muslim community eating more sheep meat and "an enhanced religious observance."
February 8. Mohammed Farooq, a 44-year-old man from Croydon who threatened to "blow up" the Crescent Primary School in Selhurst, walked free after his defense attorney persuaded the court that "he was not aware of what he was doing." She told the court that he had been drinking as a result of the break-up of his 18-year marriage, and was "stressed out" because he had not seen his children. Farooq received a four-month suspended prison sentence.
February 9. Ahmed Abdoule, a 33-year-old Somali living in East Hull, was sentenced to 11 years in prison for raping a teenage girl. Hull Crown Court heard how Abdoule threatened to kill the victim if she told anyone. Judge Mark Bury told Abdoule: "She told you she was a virgin to try and get you to stop. You said to her, 'You cannot be, you are white.'"
February 10. Mohamed Abdullahi Mohamud, a 31-year-old terror suspect with 17 aliases was found to be working at London's Heathrow Airport. An investigation found that Mohamud lied about his criminal past — he has multiple convictions for robbery, sexual assault and money laundering — and that no full background check was conducted before he was granted access to the airport's tarmac.
February 11. Brian Walker, a 63-year-old scout master from Bristol, was ousted for comparing a Muslim scout leader who wore a face-covering niqab to the Star Wars villain Darth Vader. Walker complained to Scouting magazine, the Scout Association's official publication, after it featured the woman who it said "cut a striking figure" "in her full Islamic veil" "when she takes the girls out canoeing." Walker emailed: "Canoeists don't dress like this; they need all-round unobstructed vision so they protect the group. They will most likely drown wearing that Darth Vader tent!" Walker also accused the association of increasingly promoting political correctness and interfaith issues above Christian values.
February 13. The British government unveiled a tool it says can accurately detect jihadist content and block it from being viewed. Home Secretary Amber Rudd told the BBC she would not rule out using the law to force technology companies to use it.
February 13. Maajid Nawaz, a counter-extremism activist, blamed Britain, not Islam, for creating the "Jihadi Beatles," four Britons who tortured and executed foreign aid workers and journalists in Syria. On LBC radio, he said:
"We, the United Kingdom, produced Jihadi John. We, the United Kingdom, produced his other acolytes around him in the so-called Jihadi Beatles. Something in our cities and towns, something in the atmosphere within our communities in this country have produced the most infamous terrorists, at least in my lifetime. We need to start asking that question: what is it in our culture, in our cities, in our towns that is producing these sorts of monsters."
February 14. Sir Michael Wilshaw, the former head of the Ofsted education regulator, said that there are 150 schools in Britain which require children to wear hijabs, and that the government was too politically correct to crack down on the problem.
February 16. Education Secretary Damian Hinds said it was "utterly wrong" for the head teacher of a leading primary school to have suffered abuse after banning the hijab for girls under the age of eight. His intervention came after Neena Lall, head of St Stephen's primary in Newham, came under fierce personal criticism — which likened her to Adolf Hitler — after banning young pupils from wearing the Islamic headscarf in school. The decision was reversed following a backlash from parents. "Schools are in charge of what is okay to wear to school and nobody should be subject to abuse and harassment — no school leader or school governor — as a result of that," Hinds said.
February 18. More than 200 mosques in Britain opened their doors to non-Muslims to mark Visit My Mosque Day, an "interfaith initiative" of the Muslim Council of Britain, an umbrella group linked to the Muslim Brotherhood.
February 18. London Modest Fashion Week showcased the latest styles in hijabs, abayas and long hemlines. The event was aimed at "breaking down stereotypes" in the fashion industry.
February 19. Blackburn Cathedral announced that would host a seminar called "Jihad of Jesus" which aims to "create a safe space to explore common ground and discuss the differences between the Muslim and Christian faiths." The announcement of the seminar came after the BBC aired a documentary questioning the relationships between religious communities in Blackburn. Senior Anglican clergy said that the BBC Panorama program "White Fright" did not paint an accurate picture of Blackburn.
February 20. Aweys Shikhey, a 38-year-old Dutch national originally from Somalia, was found guilty of trying to join the Islamic State. The court heard how Shikhey, a London delivery driver who has two wives, one in Holland and one in Kenya, was planning to elope with his Somali-Norwegian jihadi fiancée and travel from London to Turkey, and then on to Syria. The court also heard how he talked to other jihadists about attacking Queen Elizabeth, shooting Jews in Stamford Hill, north London, and football fans as they left Tottenham Hotspur's stadium. Shikhey awaits sentencing.
February 22. Zana Abbas Sulieman, a 27-year-old asylum seeker living in north-west London, was sentenced to nine years in prison for various terrorism offenses, including possessing and sharing a bomb-making video. Police said they found 32 Facebook accounts linked to Sulieman that contained terrorist-related material.
February 23. Archbishop of Canterbury Justin Welby said in a new book, Reimagining Britain, that Sharia law should never become part of the British legal system. He said the Islamic rules are incompatible with Britain's laws, which have developed over 500 years on the principles of a different culture. Welby also said that the arrival of large numbers of Muslims in Britain has led many to challenge the values of the majority population:
"Sharia, which has a powerful and ancient cultural narrative of its own, deeply embedded in a system of faith and understanding of God, and thus especially powerful in forming identity, cannot become part of another narrative.

"Accepting it in part implies accepting its values around the nature of the human person, attitudes to outsiders, the revelation of God, and a basis for life in law, rather than grace, the formative word of Christian culture."
Welby's position reverses the one taken by his predecessor Lord Williams, who backed incorporating Sharia into the British legal system.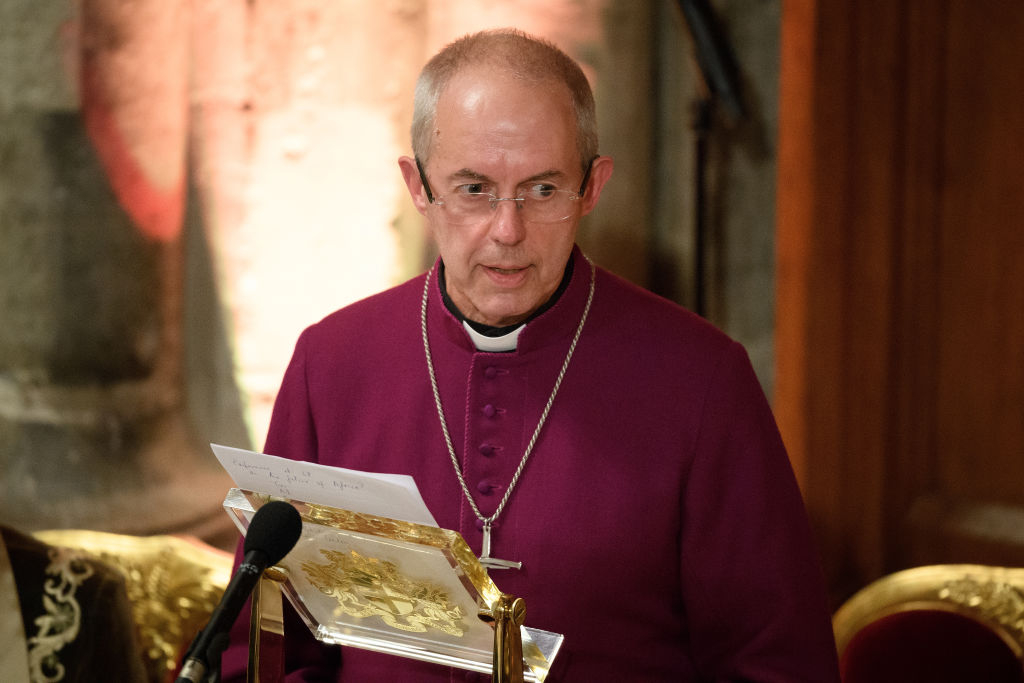 Archbishop of Canterbury Justin Welby said in a new book, Reimagining Britain, that Sharia law should never become part of the British legal system. He said the Islamic rules are incompatible with Britain's laws, which have developed over 500 years on the principles of a different culture. (Photo by Leon Neal/Getty Images)
February 23. Ruzykhan Sayadi, a 23-year-old Afghan asylum seeker, was sentenced to 20 days in a rehabilitation program for threatening to carry out a terrorist attack by plowing a car into a group of white people and going on a knife rampage. Sayadi's lawyer successfully persuaded the judge that his client was frustrated at the slow pace of Britain's asylum process and had not intended to follow through with his threat. "He is in a pretty low state at the moment," Peter Du Feu said. "He is really at a low point because of his determination to achieve asylum status in this country." During sentencing, Judge Ian Pringle said, "You do need some assistance and some change if you are going to establish yourself as a lawful citizen of this country in due course."
February 25. Islamic charities vulnerable to extremists receive £6 million ($8.3 million) a year from taxpayers in gift aid, according to a report by the Henry Jackson Society. The charities are accused of promoting hardline speakers by giving them platforms, spreading their literature, providing them with credibility and enabling access to beneficiaries and the general public. The report accused charities of supporting "the spread of harmful non-violent extremist views that are not illegal; by providing platforms, credibility and support to a network of extremists operating in the UK."
February 25. The National Crime Agency (NCA), which is investigating child sexual exploitation in Rotherham, needs 100 more officers to tackle the unprecedented scale of abuse, according to the Guardian. The NCA has identified more than 1,500 potential victims and 110 suspects. Paul Williamson, the senior investigating officer on Operation Stovewood, said his team of officers had been able to contact only 17% of the possible victims because of a shortage of specially trained detectives. The operation is believed to have cost about £10 million ($14 million) to date.
February 26. Ten members of a Muslim sexual grooming gang appeared at Bradford Crown Court on charges of raping a 16-year-old girl. The men were arrested after a friend of the girl called the BBC, which had just aired a report about Muslim sex gangs in Rotherham.
February 26. Aryan Rashidi was sentenced to 14 years in prison for raping a pregnant woman at knifepoint in her bed after climbing into her house through an open window. Rashidi, an Afghan national who had entered Britain illegally in a truck, said he did not know his birth date and claimed to be 15 or 16. A dental examination showed Rashidi to be at least 22 years old.
February 26. The number of anti-Muslim hate crimes in London increased by almost 40% in the past year, according to Scotland Yard. There were 1,678 anti-Muslim hate crimes reported in the capital in the year up to January 2018, up from 1,205 the year before. Mayor of London Sadiq Khan warned perpetrators they face arrest and prosecution under a "zero-tolerance" approach.
February 27. Gary Staples, a 50-year-old convert to Islam, was sentenced to three years in prison for posting homemade videos on YouTube glorifying the Islamic State. The father of four, who is unemployed and lives on welfare, was convicted of seven charges of encouraging acts of terrorism and one charge of disseminating terrorist material.
February 27. Radio Dawn, a Muslim radio station based in Nottingham, was fined £2,000 ($2,750) for broadcasting a nasheed (an Islamic chant) which stated that violent acts committed against non-Muslims would bring honor to Islam. The nasheed, which was in Urdu and recited by a young boy, also included pejorative references to non-Muslims, who were repeatedly referred to as "Kuffar," the Arabic word for disbeliever, and, "Kaafir I Murdaar," meaning filthy disbeliever in Urdu. Ofcom, the British communications regulator, said the nasheed constituted hate speech. Station manager Sana Tariq said he did not agree with the song: "I was in disbelief, I couldn't believe something like this had been played. It's not something Radio Dawn believes in. Islam gives the message of peace and that's what we try to present."
Soeren Kern is a Senior Fellow at the New York-based Gatestone Institute.