Yesterday, while many Europeans are still pilloried for viewing mass migration from Muslim-majority countries as a threat to Western culture -- and are still accused of "xenophobia," "Islamophobia" and "fear-mongering" -- the city of Afrin, in the Kurdish area of Syria, fell to Turkey.
At the same time, a prominent Turkish government official has been openly and proudly declaring that the demography of Europe is changing in favor of Muslims.
MP Alparslan Kavaklıoğlu, a member of the ruling Justice and Development Party (AKP) and the head of the parliament's Security and Intelligence Commission, recently stated:
"The fortune and wealth of the world is moving from the West to the East. Europe is going through a time that is out of the ordinary. Its population is declining and aging. It has a very old population. So, people coming from outside get the jobs there. But Europe has this problem. All of the newcomers are Muslim. From Morocco, Tunisia, Algeria, Afghanistan, Pakistan, Iraq, Iran, Syria, and Turkey. Those who come from these places are Muslim. It is now at such a level that the most popular name in Brussels, Belgium is Mohammed. The second most popular name is Melih [Malih] and the third one is Ayşe [Aisha]."
According to Kavaklıoğlu, if this trend continues,
"the Muslim population will outnumber the Christian population in Europe. This... has increased the nationalistic, xenophobic and anti-Islam rhetoric there. Hence, marginal, small parties have started to get large numbers of votes... But there is no remedy for it. Europe will be Muslim. We will be effective there, Allah willing. I am sure of that."
Kavaklıoğlu is not the first Turkish official to stress the importance of population growth. In 2009, President Recep Tayyip Erdoğan, who was prime minister at the time, called on the public to have at least three children per family. The greater our numbers, he said, "the stronger we will be." Since then, Erdoğan has been trying to encourage Turkish nationals to multiply. In 2013, he reiterated his plea:
"We need a young and dynamic population... Right now, the West is in trouble. But we do not want to put Turkey in the same trouble. I am calling on my country through mothers: Do not take this sensitivity of ours lightly. We need to make this widespread, in waves. We need to make this happen. The [value] of this cannot be measured with money or any other physical wealth."
In 2017, Erdoğan called on Turks residing in Europe to have even more children:
"The places where you work and live are your homelands and new countries now. Lay a tight claim to those places. Open more businesses and enroll your children in better schools. Live with your families in better neighborhoods. Drive the best cars. Live in the most beautiful houses. Make five children -- not just three. For you are the future of Europe."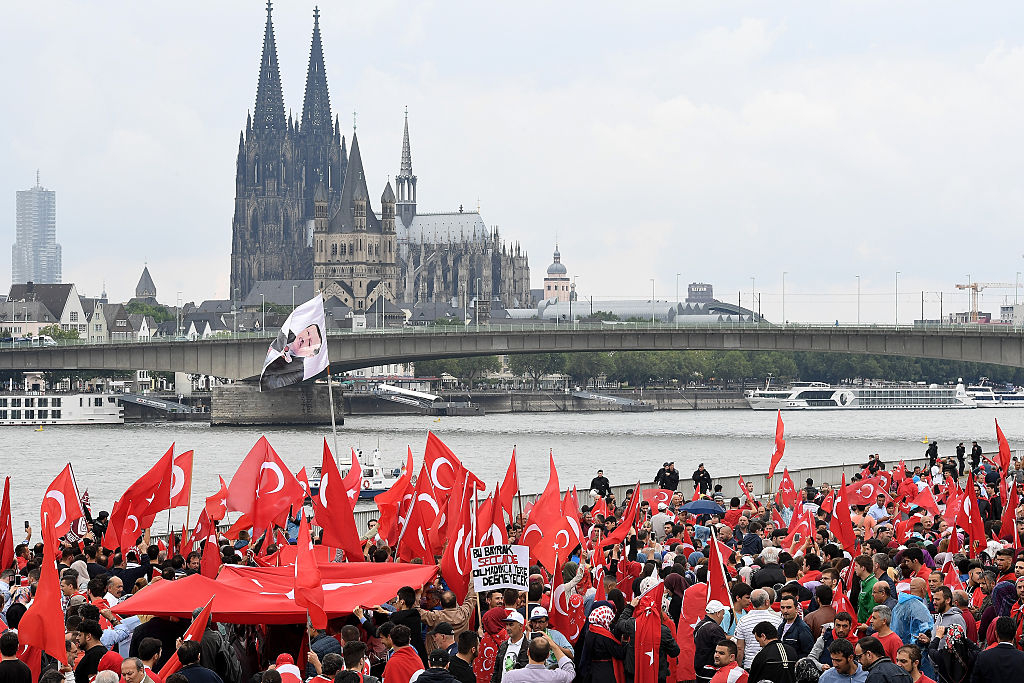 Pictured: Thousands of supporters of Turkish President Recep Tayyip Erdogan rally, waving Turkish flags, in Cologne, Germany, July 31, 2016. (Photo by Sascha Steinbach/Getty Images)
Erdoğan is now also saying the same thing to Turks in Cyprus. During a recent meeting with the prime minister and deputy prime minister of the "Turkish Republic of Northern Cyprus" (recognized only by Turkey), Erdoğan reportedly said, "Economic growth happens in parallel with population growth. The population of Greek Cypriots is more than one million. Just make your own population grow."
Turkey already largely Islamized and Turkified northern Cyprus through a military invasion in 1974. The Turkish military terrorized the indigenous Greek Cypriots, causing them to flee to the south. The Turkish government then imported thousands of illegal settlers from Turkey to northern Cyprus, to change the demographic structure of the illegally occupied territories. To Islamize the much more powerful European continent, however, Turkey has been promoting demographic, rather than military, jihad. This attempt by Ankara to guarantee that Muslims outnumber Christians globally has been accompanied by the erection of mosques – "from Europe to Africa, from the Balkans to the Central Asia" -- by Turkey's government-funded Diyanet (Religious Affairs General Directorate).
Whose assessments, then, are liberal Europeans to believe regarding unfettered immigration? Those who consider the mass influx from Muslim countries a threat to liberty and security, or the honest planners and perpetrators of demographic replacement and Islamization?
One only needs to look at Afrin, Cyprus and the appalling human rights record of Muslim-majority societies.
Uzay Bulut is a Turkish journalist born and raised in Turkey. She is presently based in Washington D.C.