If you had grown up, as I did, between two authoritarian governments -- the Islamic Republic of Iran and Syria -- under the leadership of people such as Hafez al Assad, Ayatollah Ali Khamenei, and Mahmoud Ahmadinejad, you would have seen your youth influenced by two major denominations of Islam in the Muslim world: the Shia and the Sunni. I studied both, and at one point was even a devout Muslim. My parents, who still live in Iran and Syria, come from two different ethnic Muslim groups: Arab and Persian.
You also would have seen how the religion of Islam intertwines with politics, and how radical Islam rules a society through its religious laws, sharia. You would have witnessed how radical Islam can dominate and scrutinize people's day-to-day choices: in eating, clothing, socializing, entertainment, everything.
You would have seen the tentacles of its control close over every aspect of your life. You would have seen the way, wielded by fundamentalists, radical Islam can be a powerful tool for unbridled violence. It is the fear of this violence, torture, and death, wielded by extremist Muslims, that keeps every person desperate to obey.
My father was brutally tortured -- justified by some of the fundamentalist Islamic laws of the ruling governments in both Iran and Syria. The punishment extended to my mother, my family, and other relatives, who were tormented on a regular basis.
What was even more painful was, upon coming to the West, seeing the attitude of many people who label themselves liberals and leftists, towards radical Islam.
These liberals seem to view themselves as open-minded, but they have a preconceived way of thinking about Islam: to them, it seems, there is no radical Islam, Islam is only a force for the good, Islam can do no evil.
How could they not see the way extremist Muslims exploit some aspects of the religion of Islam to legitimize its acts? How could they not even acknowledge that radical Islam, a force that threatens to destroy the planet, let alone my family, exists?
Instead, many liberals would criticize me or attempt to turn a blind eye, as if I were accidentally making some embarrassing mistake. They seemed instead to love being surrounded by Western Muslim "scholars", those who are apologetic towards radical Islam and -- notably -- have never actually lived in a Muslim country under the strangling grip of the official fundamentalist laws, sharia.
Why do many liberals, who criticize Christianity and religious conviction in general, appear to open their arms to radical Islam so affectionately? Why are so many liberals, who call themselves the robust defenders of peace, social justice, and freedoms, apologetic for all types of fundamentalist Islamist laws?
If, as liberals argue, they support women's and LGBT rights, why, by their silence, do they condone gays executed and women subjugated on a daily basis throughout most of the enormous Muslim world? If liberals are in favor of freedom of speech, why do they turn a blind eye to Islamist governments such as Iran that, based on the government's radical, theocratic laws, execute people for expressing their opinion? And why do they not let people in the West express their opinion without attacking them before even giving them the respect of hearing what they have to say?
Liberals argue that they are in favor of critical thinking, but they do not like anyone challenging their "comfort zone". They seem, in fact, to be just like the autocratic people from whom I was fleeing, who also did not want their simplistic, binary way of thinking to be threatened by logic or fact.
Even if a person is from a Muslim country, and has direct experience with extremist Islam, many liberals will strenuously avoid this information. They seem not to want their apologetic view of radical Islam to be questioned or contradicted. They apparently have no desire to open their closed minds on the subject. The thought of a question evidently wounds them, as if an answer would mean that they were turning their backs on the ongoing crimes against humanity. How come, then, that so many liberals appear resistant to seeing that the crimes of radical Islam are those crimes against humanity? And at present, the largest?
Second, these liberals -- indulging in faulty, sophisitic, logic -- seem to think that if they criticize Christianity and Islamists criticize Christianity, then Islamists will like them for hating the same thing. In the same vein, many liberals hate the U.S. Republican government and many radical Muslim groups hate the U.S. Republican government, so perhaps many liberals think that Muslims will like them for hating the same government? Sadly, as these liberals will soon find out, the enemy of my enemy is not always my friend.
Third, and more fundamentally, sympathizing with all kinds of Islamist practices and radical Islam seems to fit a wider narrative of bashing the West and white people for "imperialism, colonialism, and any sense of superiority". Unfortunately that view fails to take into account that there have been no greater imperialists the Muslim armies; they conquered Persia, the great Christian Byzantine Empire in Turkey, North Africa and the Middle East, virtually all of Eastern Europe, most of Spain, and Greece.
As, in Islam, one is not allowed to attack except to defend the prophet Muhammed or Islam, extremist Muslims need to keep either finding or creating supposed attacks to make themselves appear as victims.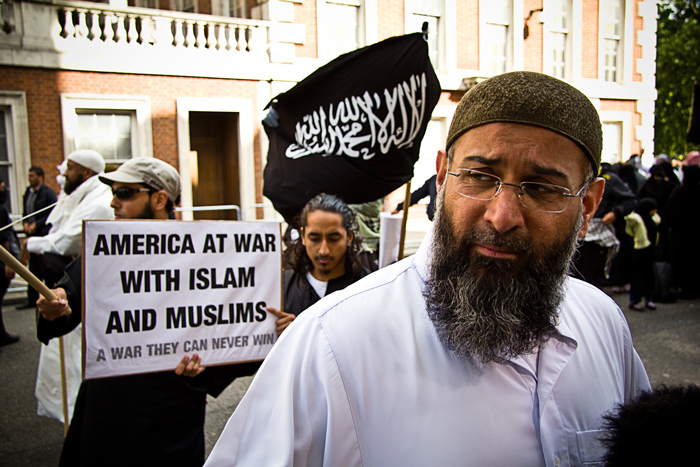 Anjem Choudary, a radical British Muslim cleric, was sentenced late last year by a British judge to five and a half years in prison for encouraging people to join the Islamic State. (Image source: Dan H/Flickr)
Many liberals, not knowing the background, buy into this claim. By siding with the "other", they probably feel a moral superiority: they are helping a cause, championing the "other" and rescuing a "victim"! But this moral superiority is both superficial and misplaced. It is more like that of the proverbial boy who murders his parents and then asks the judge for mercy because he is an orphan.
Maybe that is why, when many liberals hear criticism of radical Islam and the nuances of some aspects it, they refuse to hear it. For them, as radical Islam is not being depicted as a victim anymore, this view does not offer them the comfort of being morally superior defending victims. Ironically, that is the same motive for many radical Islamists: feeling morally superior defending Islam. The liberals then become confused, and do not know how to answer because I am a Muslim, have grown up there -- not a Western Muslim who has never lived in a Muslim society. I am not even a Western conservative, with whom the liberals are also at odds. Many liberals, like all people happily married to a fantasy, and despite towering evidence, will stick to the fantasy and to their binary way of thinking. It is like trying to tell your friend that the stripper he wants to marry might not want to stay home, make babies and cook. He is so emotionally addicted to his dream that he will do anything to protect it.
Finally, it goes without saying that, as with all of us, liberals too attempt to preserve their financial and political interests. These material and social investments are also threatened by hearing from Muslims who have endured oppression and torture under radical Islam. Those liberals seem to suspect, correctly, that this new information might create some kind of conflict of interest, so possibly decide it might be safer not to hear it in the first place. Instead, again to protect their investment, many liberals and leftists ignore or criticize Muslims such as these.
Finally, a short message to liberals might go: Dear Liberal, If you truly stand for values such as peace, social justice, liberty and freedoms, your apologetic view of radical Islam is in total contradiction with all of those values. Your view even hinders the efforts of many Muslims to make a peaceful reformation in Islam precisely to advance the those values. In addition, sadly, your view towards radical Islam actually contributes to the violence and the repression of millions of people -- women, children, slaves, and all those people whom you claim you want to protect. These are the true victims. They are subjugated, dehumanized, terrorized, tortured, raped and beaten on a daily basis by the practitioners of radical Islam and the religious laws of sharia, which are at the core of that fundamentalism. It is time to open your eyes and your minds and see what is staring at you.
Dr. Majid Rafizadeh, political scientist and Harvard University scholar is president of the International American Council on the Middle East. He is author of "Peaceful Reformation in Iran's Islam". He can be reached at Dr.rafizadeh@post.harvard.edu.