The behaviour of government departments in charge of immigration and asylum across Europe repeatedly demonstrate the truth of the late Robert Conquest's maxim -- his "third law of politics" -- that the simplest way to explain the behaviour of any bureaucratic organisation "is to assume that it is controlled by a cabal of its enemies".
Last week it was reported in the Catholic Herald that a nun who was driven out of the town of Qaraqosh, on the Nineveh plains in Iraq, has been forbidden to visit her ill sister in the United Kingdom. Sister Ban Madleen was among those Christians who were forced to flee the largest Christian town in the area when ISIS entered it in 2014. She was among the thousands of Christians who fled the approaching jihadists and found refuge in Iraqi Kurdistan. There, she set up kindergartens to look after the children of other refugees who had also sought sanctuary in the Kurdish areas. A letter, seen by the Catholic Herald, from the UK Visa and Immigration division at the UK Home Office, stated that Sister Ban had not given evidence of her earnings as a kindergarten principal or shown enough evidence that her order of nuns would fund her visit.
The UK Home Office noted that Sister Ban had previously travelled to the UK and had on those occasions always complied with the terms of her visa. However, the Home Office pointed out that her visa was issued seven years ago, in 2011, and noted her lack of recent travel to the UK. It shows no understanding of why her recent travel might have been limited. Such as the possibility that events such as the rise of ISIS, the attempted annihilation of Iraq's Christian community and that community's quasi-Biblical flight to safety in the Kurdish regions might explain the nun's otherwise inexplicable absence from the UK?
In any event, the letter claims that for these reasons, the UK authorities are not satisfied that Sister Ban's appeal to visit her sick sister is genuine. Therefore, she is denied entry, with "no right of appeal or right to administrative review."
Perhaps Sister Ban made an elementary mistake. Instead of the nun telling the UK authorities that she had fled ISIS and been looking after refugees since her last visit to Britain she should have told the UK authorities that she had spent the interim period joining ISIS, being trained by them to kill, and that she had also learned how to hate Britain. If she had done this, then perhaps she would now be settling into life in the UK.
After all that is what Ahmed Hassan told the UK authorities after he entered the country illegally in 2015. When the same Home Office that forbade Sister Ban even to enter the country discovered that the young male Iraqi was in the UK, he explained clearly that he had been trained by ISIS. He told the Home Office officials that the group had trained him to kill. The Home Office promptly found him a place to live and study, and treated him as the minor he said he was but most likely was not. He subsequently told a teacher that he had "a duty to hate Britain". Last September, he stepped onto the District line and planted a bomb that failed to detonate fully, but which -- if it had gone off -- would have killed many dozens of commuters (including children) on the London Underground.
How does the UK Home Office find it impossible to give a temporary visa for a nun who fled ISIS, yet give every possible provision to an illegal migrant who has been trained by ISIS to kill in Britain?
Christian charities who have monitored the decision-making processes of the UK Home Office have prior experience of this bizarre process. Sister Ban is just one of a number of Christians who have found the UK authorities reluctant to permit them entry to the UK. According to Father Benedict Kiely (the founder of Nasarean.org: an organisation which helps persecuted Christians in the Middle East), the UK authorities have twice refused to issue a visa to another Dominican nun who has a PhD in Biblical Theology. Last year the Institute of St Anselm (a Catholic training institute for priests and nuns, based in Kent) closed its doors because of problems it had getting the Home Office to grant visa applications for foreign students. One nun last year was apparently denied entry to the UK because she did not have a personal bank account. And a year earlier -- in December 2016 -- three archbishops from Iraq and Syria were denied entry into Britain. They had been invited to the UK for the consecration of London's first Syriac Orthodox Cathedral – an event that was attended by Prince Charles. So, those who flee ISIS are turned away, while those who are trained by ISIS are welcome.
It is not just that the British immigration system -- and immigration systems across Europe -- seem to be controlled by a cabal of their enemies. They seem to be controlled by a cabal of people who are opposed to European nations having any suitable compassion, common sense or even an instinct for survival.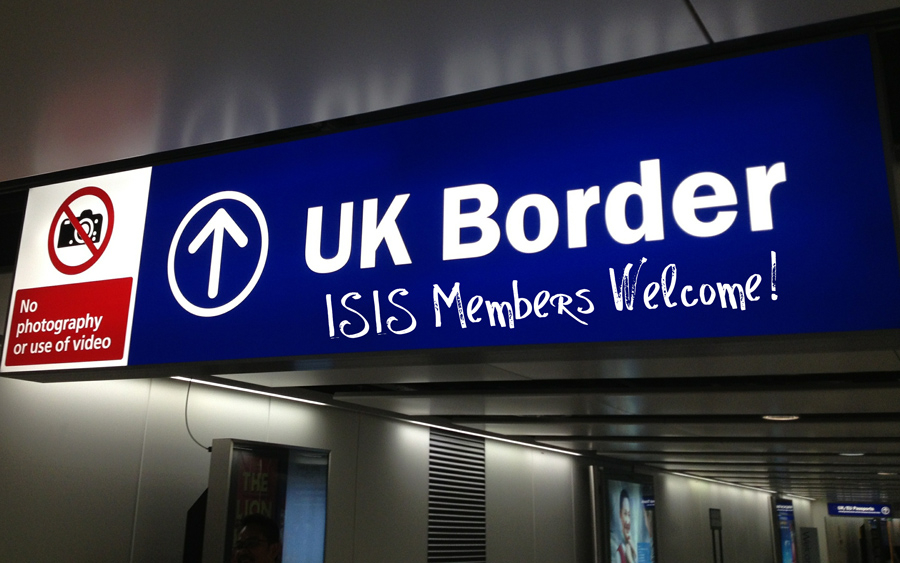 (Source of original Heathrow border image: dgmckelvey/Flickr)
Douglas Murray, British author, commentator and public affairs analyst, is based in London, England. His latest book, an international best-seller, is "The Strange Death of Europe: Immigration, Identity, Islam."