Many Middle East despots have historically accused the free world of being terrorists.
For Hamas and the Muslim Brotherhood, for instance, the entire Western civilization is a terrorist machine programmed to spill Muslim blood. Turkey's strongman, President Recep Tayyip Erdoğan, is no exception.
In an April speech Erdoğan, evidently overcome with amnesia regarding Turkey's invasions of Northern Cyprus and, a few weeks ago, Syria's Afrin, called Israeli Prime Minister Benjamin Netanyahu a "terrorist." Erdoğan told party loyalists:
"We don't have the shame of invading on us, Netanyahu. You are an invader and right now are present in those lands as an invader. At the same time, you are a terrorist."
In another speech, again apparently succumbing to amnesia regarding decades of Arab and Muslim wars against Israel, he said: "You [Israel] are a terrorist state. It is known what you have done in Gaza and what you have done in Jerusalem. You have no one that likes you in the world." -- as if the entire world were a fan of Erdoğan.
On April 7, Erdoğan accused France of abetting terrorists by "hosting them" at the Élysée Palace, amid a diplomatic row between NATO allies Turkey and France over Paris's support for the Syrian Democratic Forces (SDF), the main, Kurdish-dominated ground force that defeated Islamic State swathes of land in Syria. SDF also is an ally of the U.S. troops fighting in Syria. But Erdoğan said:
"You [France] will not be able to explain this. You will not be able to rid yourself of this terror burden... As long as the West nurtures these terrorists, you will sink".
Then, there is the United States that "works with the terrorists:" In February Turkey warned American soldiers in Syria of the possibility of being treated as terrorists if they keep backing Kurdish militants. Deputy Prime Minister Bekir Bozdağ threatened that U.S. soldiers risk being caught up in clashes and that Turkish troops would not make a distinction if Americans appear in Kurdish uniforms.
In the worldview of the Turkish government, almost the entire continent of Europe is made up of terrorist states. In an April 25 speech, Prime Minister Binali Yıldırım accused European nations, with the exception of Spain, of supporting terrorist organizations. A few weeks earlier, Yıldırım warned Bosnia-Herzegovina, a state friendly to Turkey, that it could be a target if it supported the "Gülenist terror organization," a reference to the Muslim cleric, Fethullah Gülen, who was once Erdoğan's staunch ally, but now is in self-imposed exile in Pennsylvania.
Anyone who freely thinks for himself regarding Erdoğan's one-man rule, at home or abroad, can get the label "terrorist." On March 24, Erdoğan criticized anti-war students at one of Turkey's best universities, Boğaziçi, calling some of the people there terrorists after a fight that erupted on campus over Turkey's military incursion into a Kurdish enclave in neighboring Syria. He called the protesting students "communist, traitor youth" protesting a "religious, nationalist, local youth." The "communist, traitor youth" were immediately detained.
On April 25, a Turkish court sentenced 14 staff members of the opposition newspaper Cumhuriyet to prison on charges of "terrorism," and handed down sentences ranging from 2½ years to 7½ years. Another defendant in the case, who was not employed by Cumhuriyet and had been charged for his activities on Twitter, got the stiffest sentence, 10 years. "It has been journalism itself that has been in the dock and today's verdicts defy logic and offend justice," said Milena Buyum, Turkey campaigner at rights group Amnesty International. "These politically motivated sentences are clearly intended to instill fear and silence any form of dissent."
All that is insane. When Erdoğan is not fighting hundreds of millions of "terrorists," including almost the entire European continent, the U.S. and probably half his own nation, he is busy cultivating deeper ties with countries such as Russia, Sudan and Iran.
During a December visit to Sudan, Erdoğan called his host, President Omar al-Bashir "his brother". Sadly, Erdoğan's brother, al-Bashir, is a man who is wanted by the International Criminal Court on charges of genocide and war crimes against his people.
Erdoğan, meanwhile, is allying with Russia and Iran, ironically, to topple Syria's Russia- and Iran-backed dictator, Syrian President Bashar al-Assad and to "bring peace to Syria" while invading the Kurdish enclaves in the country's north.
In Erdoğan's ideological divide, the world consists of "terrorist" countries such as the entire continent of Europe (minus Spain), plus the U.S. and half of his own country -- as opposed to "noble" countries such as Russia, Sudan and Iran.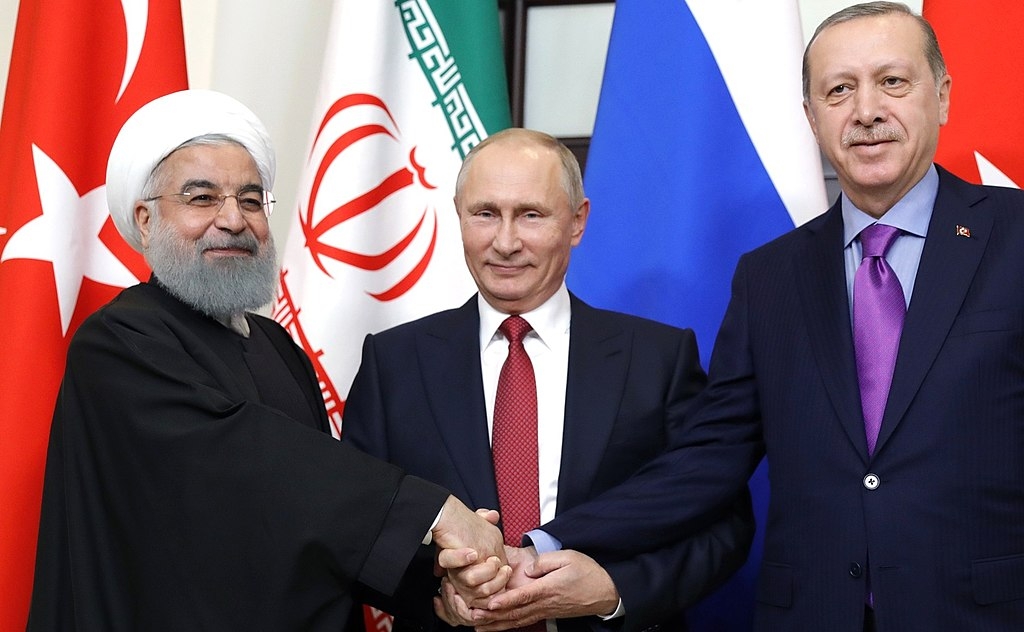 Russian President Vladimir Putin meets with Iranian President Hassan Rouhani and Turkish President Recep Tayyip Erdoğan in Sochi, Russia, on November 22, 2017. (Image source: kremlin.ru)
Burak Bekdil, one of Turkey's leading journalists, was recently fired from Turkey's leading newspaper after 29 years, for writing what was taking place in Turkey for Gatestone. He is a Fellow at the Middle East Forum.