Palestinian leaders have spent the past few months calling for boycotts of Israel and the US. The most recent call came just a few weeks ago, when Palestinian Authority leaders and officials called on all countries to boycott the inauguration ceremony of the US embassy in Jerusalem.
One of the officials who called for boycotting the ceremony was Ahmed Majdalani, a member of the PLO Executive Committee, and a top advisor to President Mahmoud Abbas. Majdalani is also famous for his repeated calls in the past few years for boycotting Israel in all fields.
Now, it seems that Majdalani is being forced to taste the same medicine he has been prescribing for Israel and the US. His efforts to promote boycotts of Israel and the US have backfired. Ironically, the boycotter Majdalani is now being boycotted by his own people. This is what happens when all you preach to your people day and night is hatred, incitement and boycotts. Eventually, you yourself become affected by the same messages of hate and brainwashing.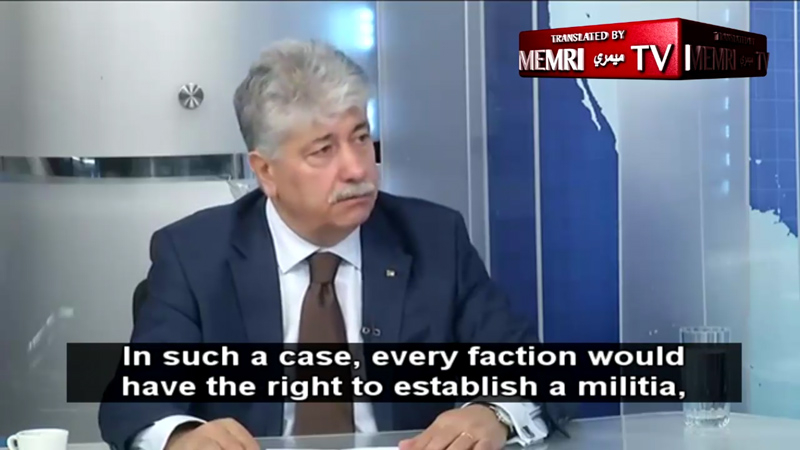 Ahmed Majdalani, a member of the PLO Executive Committee, who stands accused by his own people of promoting "normalization" with Israel. (Image source: MEMRI video screenshot)
Majdalani is now being accused by his own people for actually promoting "normalization" between Palestinians and Israel.
So what crime exactly did Majdalani commit and why has he become the subject of fierce criticism and calls for boycotting him?
It turns out the senior PLO official and promoter of boycotts has committed two "crimes": First, he accepted an invitation to attend the annual Herzliya Conference organized by the Israeli think-tank, the Institute for Policy and Strategy. Second, when Majdalani was asked to comment on the criticism from Palestinians for his participation in the Israeli conference, he replied: "My participation in the Herzliya Conference is not different from my participation in events organized, for example, by Bir Zeit University."
The annual conference is held at the Interdisciplinary Center at Herzliya -- a nonsectarian research college near Tel Aviv that was founded in 1994 based on the model of the American Ivy League Universities.
This was not the first time that Majdalani had attended the Herzliya Conference. In the past, he also faced strong condemnations for agreeing to be part of a conference organized by an Israeli think-tank.
This time, however, his critics decided that condemnations were not enough. Majdalani has now been handed a severe punishment; he has been banned from entering or speaking at any Palestinian university.
Dr. Amjad Barham, chairman of the General Workers' Union at Palestinian Universities, announced on May 22 that his union has decided to boycott Majdalani and not receive him at any university campus. He said the decision would be reversed only if Majdalani, a senior PLO official, apologizes for reportedly equating a Palestinian university and an Israeli educational institution.
Dr. Barham explained that the decision to boycott Majdalani came on the heels of the union's opposition to any form of "academic normalization" with Israel. "Our union will work hard to hold accountable any official or academic who is involved in promoting normalization with Israel and we will ask all Palestinian universities to boycott him or her," he said. "Any Palestinian academic who commits the crime of promoting academic normalization with Israel will be punished and banned from setting foot in any Palestinian university.
The Workers Union at Bir Zeit University also issued a similar call for boycotting Majdalani. The union said it was furious with the senior PLO official not only because he had attended an Israeli conference, but also because he had dared draw a parallel between Bir Zeit University and an Israeli educational institution. The chairman of the union, Sameh Abu Awwad, said that any Palestinian who is caught involved in promoting any form of "normalization" with Israel would be subject to punitive measures and boycotts. "We have issued an order banning Majdalani from entering our university," Abu Awwad said. "There is no room for normalizers [with Israel] on our campus."
So now the PLO official is permitted to enter any Israeli university, but he is persona non grata at Palestinian universities or other academic institutions. How dare he draw a comparison between a Palestinian and Israeli university? How dare he attend a conference alongside Israeli academics, politicians and experts? An intolerable crime, from the Palestinian point of view.
It is worth noting that those who took the decision to ban the PLO official from entering Palestinian universities are living under the "moderate" Palestinian Authority in the West Bank. Those who banned Majdalani from Palestinian universities and report to the Palestinian Authority's Ministry of Education, not Hamas.
This is the same Palestinian Authority that receives funds from the US and EU. In other words, Americans and Europeans are funding Palestinians who are opposed to any form of "normalization" with Israel. For these Palestinians, it would be better if Israel simply disappeared than having to engage in any kind of collaboration with it. Anyone who opposes "normalization" with Israel is actually acting against peace with Israel. How can there ever be peace between Palestinians and Israel if Palestinians are staunchly opposed to "normalization" with Israel? This leads us only to one conclusion: that Americans and Europeans are funding Palestinians who seek the annihilation of Israel.
Let us clarify for the sake of clarity. The Palestinians' anti-normalization campaign against Israel means that Palestinians are not interested in peace with Israel. What they seek is not peace with Israel, but peace without Israel. They want to see Israel gone from the Middle East. They want to see Jews vanish from the region.
The Palestinians' problem is not with a settlement or a checkpoint or a fence. They have a problem with the existence of Israel in any borders. Palestinians have still not come to terms with Israel's right to exist, period; this is the essence of the Israeli-Arab conflict. They see Israel as one big settlement that needs to be ripped out.
Back to Majdalani. There is no doubt that from now on this senior PLO official will find himself welcome on campuses in Israel. In fact, he has already spoken at various campuses and other platforms in Israel. But Majdalani knows that from now on he will be putting his life at risk if he ever again sets foot on a Palestinian campus.
Yet, Majdalani has only himself to blame. He has long been promoting boycotts of not only Israel, but also the US. If, day and night, you ram down the throats of your people that Palestinians must boycott Israel, what do you expect your people to do when they see you participating in a conference organized by an Israeli institution?
The controversy surrounding Majdalani's participation in the Herzliya Conference could serve as a useful wake-up call to the West. If a PLO official's visit to a conference in Israel is labelled treason, what would happen to a Palestinian who signed a peace agreement with Israel? No education for peace with Israel on the Palestinian side – rather, decades of Palestinian education for war with Israel – translates into an interminable Arab-Israeli conflict. And no wishful thinking on the part of anyone will change that.
Bassam Tawil is a Muslim Arab based in the Middle East