An Indonesian family of six, repatriated from former Islamic State (ISIS)-controlled territory in Syria, separately targeted three Christian sites in Surabaya, Indonesia, in May. The suicide bombings killed at least 11 people, as well as all of the attacking family members. Indonesian authorities suspect the bombers are affiliated with Jamaah Ansharut Daulah (JAD), the Congregation of the Islamic State. While anti-Christian incidents are common in majority-Muslim Indonesia, until now, suicide bombings by Islamists were not often seen there.
The same day, May 14, a second family, affiliated with the same terrorist JAD cell, also staged a suicide attack at Surabaya's police headquarters. A third family was killed in a town outside Surabaya when bombs prematurely exploded inside their home. All three families met regularly for radical Islamic religious sessions.
Indonesia's National Police Chief, Tito Karnavian, indicated that the suicide family that attacked the churches were among an estimated 500 people who had been deported from former ISIS-occupied land in Syria back to Indonesia.
A sizeable Indonesian terrorist group, JAD, designated a terrorist entity by the U.S. Department of State, has already pledged loyalty to ISIS, which, through their Amaq News Agency, claimed responsibility for the Surabaya attack. A JAD terrorist cell was also behind the May prison riot in Jakarta, an incident that claimed the lives of five policemen. JAD's leader, Aman Abdurrahman (a.k.a. Oman Rochman), is currently in prison, facing the death penalty for urging his followers to attack a Starbucks and a police post in Jakarta in 2016.
Indonesian author and counterterrorism expert Al Chaidar believes that some of Indonesia's ISIS volunteers to Syria are legacy terrorists, following in the paths of their Jihadi fathers. He also claims that some of these jihadists favor the al-Qaeda linked Al-Nusra, while others favor ISIS. Police Chief Karnavian describes JAD as even more radical than Indonesia's al-Qaeda-affiliated Jaamah Islamiyah (JI/Islamic Congregation), the terrorist group responsible for killing 200 people in Bali in 2002.
On another ominous note, Suhardi Alius, Indonesia's Chief of Counterterrorism Operations, said that about 40 JAD volunteers who joined the Jihad in the Philippines in 2017, gained combat experience in the process. These Indonesian JAD terrorists had evidently joined with Filipino terrorists to fight against Philippine army troops who were trying to liberate the town of Marawi in the southern Philippines from terrorist control. JAD's decision to dispatch some of its members to fight in the Philippines indicates that, like its predecessor, Jaamah Islamiyah, it might be interested in re-establishing the 15th century Sulu Islamic Sultanate throughout the archipelagos of Southeast Asia.
Other mostly non-violent but conservative Indonesian Muslim organizations groups -- such as the Islamic People's Forum and the Islamic Defenders Front -- can simply count on Indonesia's restrictive religious legislation to block Christian interests. These include the 2006 JOINT Decree on Houses of Worship, which requires the signatures of 60 neighboring households of non-Christian families to approve initiating church construction. Occasionally, however, the Islamic Defenders Front, through vigilante action, harasses Muslims who it accuses of not being sufficiently orthodox.
Both Christians and moderate Muslims are also often accused of violating Indonesia's blasphemy law. However, Islam's watchdog agency for doctrinal unity, the Council of Indonesian Ulama, continues to stir up intolerant feelings by issuing restrictive religious judgments concerning the rights of minorities. These judgements include helping convicting people who convert from Islam to Christianity of blasphemy despite Indonesia's civil Constitution, which pledges to protect the interests of minority religions.
Only one of Indonesia's provinces, Aceh is governed by Sharia law. In Aceh, Koranically approved physical punishments are meted out to "sinners" -- Christians and Muslims alike.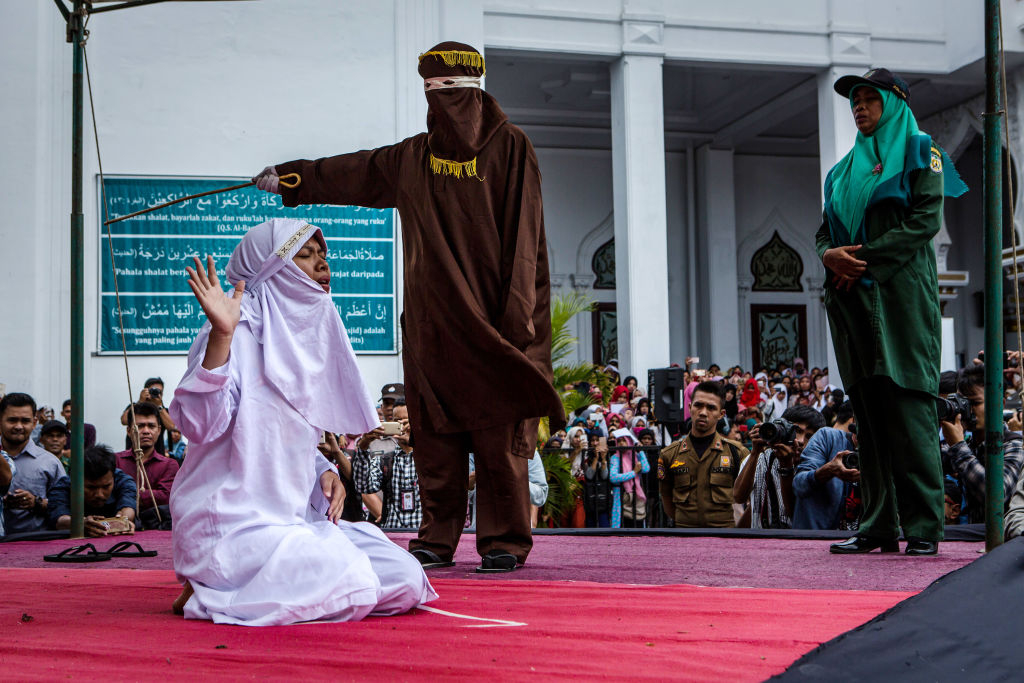 Pictured: A woman receives a public caning in Aceh, Indonesia -- a sentence for spending time with a man who is not her husband, which is a violation of Sharia law. (Photo by Ulet Ifansasti/Getty Images)
Nevertheless, both of Indonesia's largest Islamic organizations, Nahdlatul Ulama and Muhammadiyah, roundly condemned JAD's murderous assault on Christians.
JAD might not be successful in attracting many Indonesian Muslims to join its ranks; suicide bombings may be too extreme for most Indonesian Muslims. As more Indonesian foreign volunteers navigate their way back to this Southeast Asian nation, however, acts of terror, like these recent attacks, may become the new normal. Because of JAD's affiliation with ISIS and its global resources, the terrorist group is likely to have a much larger impact than its numbers indicate.
Finally, Indonesian General Gatot Nurmantyo predicts a dark future for the Indonesian state's rendezvous with terrorism. He says there are sleeper terrorist cells in virtually every one of Indonesia's provinces except Papua. If Indonesia's repatriated foreign fighters have their way, all of the country's churches could well be destroyed. If the repatriated foreign fighters are able to radicalize Indonesia's Muslims, all of the country may eventually resemble Aceh Province, where, after a lengthy reign of terror by Islamic militias, most Christians have been driven out.
Dr. Lawrence A. Franklin was the Iran Desk Officer for Secretary of Defense Rumsfeld. He also served on active duty with the U.S. Army and as a Colonel in the Air Force Reserve.