"We remain most curious," an Arab defense attaché told this author one evening, "how an intelligent man like [Turkish President Recep Tayyip] Erdoğan stubbornly fails to understand that his services are simply unwanted in the Arab world ... How he does not even understand that Turks are not Arabs and Arabs have no intention [to] go back to Ottoman rule." The Arab smiled and added: "Just because he champions the Palestinian cause does not make him a friend of Arabs."
In addition to his ideological kinship with Hamas and other militant Palestinian groups, Erdoğan has been more Arab than the Arabs when it comes to the Arab-Israeli dispute. Erdoğan has apparently been hoping to win allies in the anti-Israeli bloc and votes at home where Palestine is a "holy cause." He has repeatedly called on the Muslim world to unite against Israel.
In a 2017 summit of the Organisation of Islamic Cooperation, Erdoğan's Turkey spearheaded the idea of a "Muslim army" that would surround Israel. "Those who think Jerusalem belongs to them today will not be able to find a tree to hide behind tomorrow," said Erdoğan. Earlier this year Erdoğan called on Muslim leaders to unite against and confront Israel.
As Zvi Bar'el wrote in Haaretz, "Erdoğan wanted an empire but must suffice with an unloved country". His Muslim "allies" have divergent interests, policies and calculations, often obscured further by sectarian differences. They often fall apart even on common "holy causes" such as Palestine.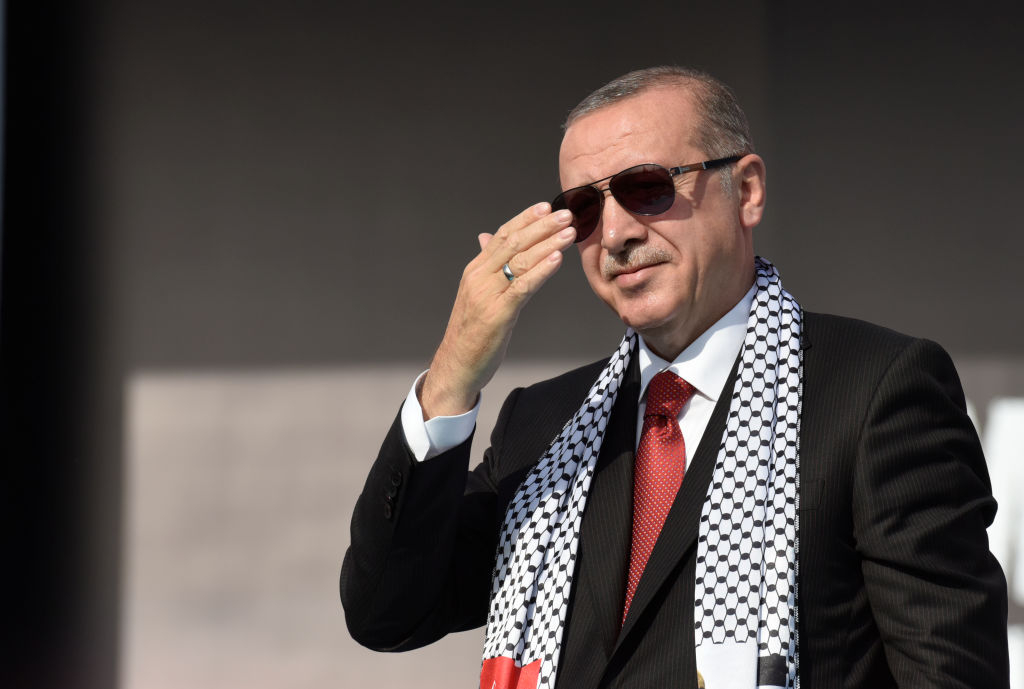 Turkish President Recep Tayyip Erdogan at an anti-Israel rally in Istanbul, Turkey on May 18, 2018. (Photo by Getty Images)
In June, crowds gathered at a square in Tehran to protest Iran's sliding currency and other economic woes. The crowds shouted, "Death to Palestine" and threw stones in anger, forcing storekeepers to close down their shops. They chanted, "No to Gaza, no to Lebanon".
Erdoğan's efforts to extend Turkey's sphere of influence to Jerusalem caused alarm among his Muslim allies Jordan, Saudi Arabia and the Palestinian Authority. At the end of June, Amman, Riyadh and Ramallah urged Israel to act against Erdoğan's claims that he is the custodian of the Muslim sites in Jerusalem. The Arab capitals said Erdoğan's efforts weakened their own interests and harmed Israel's. They complained that Turkish Islamic associations had lately been sponsoring activities and trips for thousands of people in East Jerusalem. They also had a strong presence in protests around the Temple Mount while Turkish government-funded charities were purchasing property. An official told Haaretz that the "Palestinian Authority was not interested in having another landlord in East Jerusalem".
Israel's Hadashot TV reported that Israel's top security body had drafted possible measures against the Turkish Cooperation and Coordination Agency (TIKA), a government organization active in the West Bank, East Jerusalem and the Gaza Strip. The planned measures could include a general restriction on all TIKA activities and require the agency to obtain individual permits for its projects.
The Turkish effort for more influence in Jerusalem, however, does not always come from institutional sources. In early July, the Israeli Defense Forces (IDF) Prosecution filed an indictment in the Samaria Military Court against a Turkish woman for smuggling funds to Hamas during trips to Israel and the West Bank. Ebru Özkan, 27, was arrested by police at Ben-Gurion Airport on June 11 and transferred to authorities on suspicion of endangering state security and for contacting terrorist organizations. According to the indictment, Abd al-tif Sada, a Hamas operative, allegedly guided Özkan about smuggling items for Hamas through airport security; he advised her to place the items in her checked luggage and not in her carry-on. Özkan was later released pending trial after an Israeli military court decided to grant her conditional release.
Matters for Turkey in the Middle East are not exactly moving in the direction Erdoğan might want. The Saudi media began championing a need to reconsider any alliance with Turkey and describing Erdoğan as an authoritarian ruler. A United Arab Emirates ambassador declared Turkey a threat to the region and said the Americans did not understand the gravity of this threat. Egypt, another Muslim country deeply hostile to Erdoğan, imposed an economic boycott on Turkey and advised Egyptians not to travel to Turkey or fly with Turkish Airlines -- thereby blowing up Turkey's hopes of using Egypt as a commercial bridge to Africa.
Again, as Bar'el wrote in Haaretz: "Thus no new Ottoman Empire will ever be born of Erdogan's dream; his 'sultanate' will end at Turkey's borders".
If that should count as a success, Erdoğan in fact has succeeded in achieving a rare title: making his country equally unloved by Muslim nations and Israel at the same time.
Burak Bekdil, one of Turkey's leading journalists, was recently fired from Turkey's leading newspaper after 29 years, for writing what was taking place in Turkey for Gatestone. He is a Fellow at the Middle East Forum.