On August 7, the Islamic Republic of Mauritania arrested Biram Dah Abeid, the founding head of the Initiative for the Resurgence of the Abolitionist Movement (IRA), a human rights organization dedicated to eradicating slavery in the west African nation. Abeid described the police waking him in his home in the capital city of Nouakchott, and taking him into custody without charges.
Abeid and those petitioning for his release have good reason to suspect that his arrest – one of many over the past few years -- is related not only to his persistent anti-slavery activism and critique of Islamic texts, but to the fact that he is running for a seat in parliament in the legislative elections slated for September 1.
Abeid, a member of the Haratin, Mauritania's largest minority group, established the IRA in 2008, the year in which Mauritania's first democratically elected president, Sidi Mohamed Ould Cheikh Abdallahi, was ousted in a coup led by General Mohamed Ould Abdel Aziz, who has been in power ever since. Abeid has been described as a "thorn in the side" of Aziz, particularly when he challenged Aziz in the 2014 presidential election, and came in a "distant second."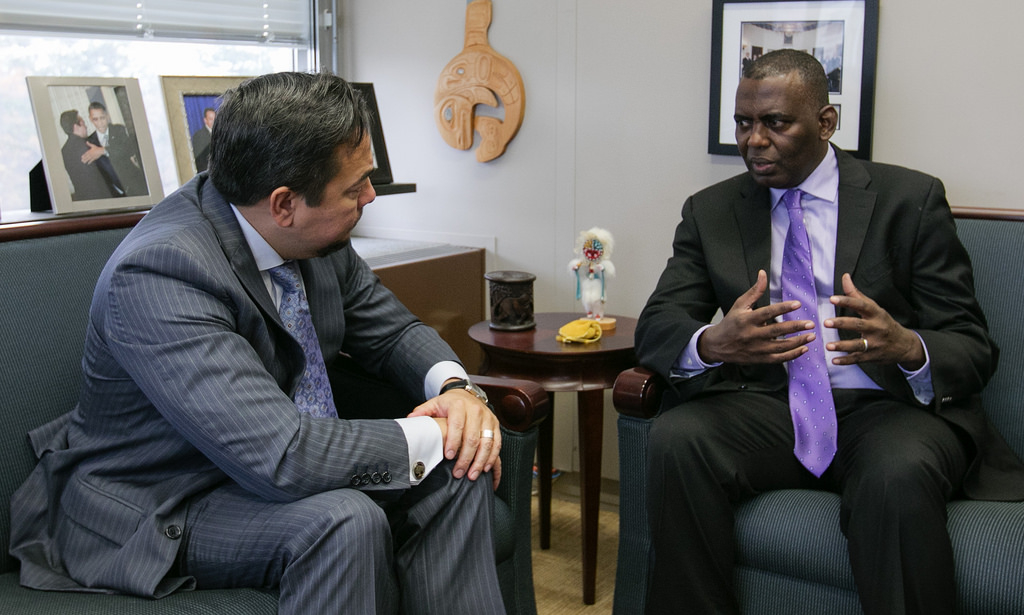 Biram Dah Abeid (right) meets with Ambassador Keith Harper, U.S. Permanent Representative to the Human Rights Council, on November 23, 2016. (Image source: US Mission Geneva)
Abeid, as described in a 2014 profile in The New Yorker, has long been a crusader against slavery. The practice was formally abolished in Mauritania in 1981, criminalized only in 2007, but is still practiced with virtual impunity there to this day. Regarding the use in Mauritania of Islamic teachings to justify slavery, Abeid says:
"My problem is not with religion. It's with the interpretation of religion as the origin, the justification, and the legitimatization of slavery. The use of Islam, not Islam."
In 2012, Abeid led a demonstration during which he and other protesters burned texts of the Maliki codes of Islamic jurisprudence, which "codify slavery, racism, and the oppression of women." He and others present were arrested on charges of "apostasy."
As The New Yorker's Alexis Okeowo described the incident:
By eight o'clock on the evening of the book burning, local news Web sites had begun calling Abeid a heretic. "When I went to bed, I was satisfied," he told me. "But I had a feeling something would happen tomorrow. When I woke up, it was a war—in the media, in the mosques." Newspapers were calling for his death. His phone and Internet had stopped working. Activists flocked to his home, and a steady stream of reporters came for interviews....

The police came at nine-thirty and put him in a squad car. "It was dark, and we didn't know where we were going," Abeid said. At the police station, Abeid's cell was filthy, full of mosquitoes, and cramped; five other activists were also imprisoned. Policemen brought a television to the cell, and Abeid watched Mauritanians calling for his death on the news. Hundreds of people had gathered in the streets to protest. Abeid recalled watching as President Aziz appeared onscreen and promised to administer the death penalty.

The police asked Abeid to state on camera why he had burned the books. He refused, suspecting that they would manipulate the video. During his time in prison, the authorities spread a rumor that he was an Israeli agent. "They said I work for the Jews," he recalled. "It's a way to make the Mauritanian people turn against me."
A 2015 piece in Front Page Magazine, by Stephen Brown, which chastised America's Black Lives Matter movement for ignoring the genuine plight of blacks in Africa, described the race-based nature of Mauritania's rigid caste system:
Mauritania's slaves are all black Africans and their owners are Arabs or Berbers, called "whites," who constitute about 20 percent of the population. Both slaves and masters are Muslim.

The "whites," like Mauritania's president, Mohamed Ould Abdel Aziz, make up almost all of Mauritania's political, business and military elite class that controls the country. And therein lays the problem. It is very difficult to get the elite class that makes the laws to take any meaningful action against slavery when many of them are reported to own slaves themselves. But this inaction is also based on a pronounced, anti-black racism that African-American writer Samuel Cotton noticed when he travelled to Mauritania in the 1990s to explore the slavery issue.

"The problem is that Mauritania's Arabs sincerely believe that blacks are born to be slaves," wrote Samuel Cotton in his book Silent Terror: A Contemporary Journey Into Contemporary African Slavery. "They believe that a black man, woman or child's place in life is to serve an Arab, and does not matter whether that black is a Christian, or a fellow Muslim."
The state's ongoing racism and widespread practice of slavery sparked the American Federation of Labor and Congress of Industrial Organizations (AFL-CIO) to demand in August 2017 that Mauritania be removed from the eligibility list of countries benefiting from the African Growth and Opportunity Act (AGOA), legislation enacted by Congress in 2000 that "significantly enhances market access to the US for qualifying Sub-Saharan African (SSA) countries."
To qualify and remain eligible for AGOA benefits, each African country "must be working to improve its rule of law, human rights, and respect for core labor standards." Yet, Mauritania was nevertheless deemed eligible for AGOA benefits as soon as the law was passed. In 2006, its eligibility was removed. Stunningly, in spite of its appalling human rights record, Mauritania's eligibility for AGOA benefits was restored in 2009.
In September 2017, a month after the AFL-CIO requested to testify before the US Trade Representative to defend its petition, an anti-slavery delegation from the US, which had intended to meet with Mauritanian government officials, was denied entry into the country when it landed at the Nouakchott airport. According to a report in the North Africa Post, this was part of Mauritania's "blackout on the practice of slavery in the country by denying access to international civil rights organizations."
The International Monetary Fund (IMF) nevertheless continues to provide Mauritania with huge sums of money to support its "economic reform" efforts. At the end of January, IMF Managing Director Christine Lagarde met in Morocco with Mauritanian officials and issued the following statement:
"I had a constructive meeting with Governor Abdel Aziz Ould Dahi and Minister Ould Djay, during which we discussed Mauritania's recent economic developments and prospects. I welcomed the launch of the Mauritanian authorities' economic reform program supported by the IMF's $163.9 million Extended Credit Facility (ECF).

"I reiterated that the IMF stands ready to continue to support Mauritania in its reform efforts. I also highlighted that Mauritania should take advantage of the current favorable external environment to accelerate reforms and transition to stronger growth, which is needed to improve people's living standards in a sustainable manner."
To state that Mauritania is engaged in the kind of "reform" that is "needed to improve people's living standards" is both false and unconscionable. Not only are Mauritania's minorities so impoverished that being enslaved is often their only perceived alternative to starving, but its deceitful government is responsible for perpetuating the situation.
Thus, according to CJA News Africa, six members of the House of Representatives sent a letter to Lagarde asking that the IMF cease providing loans to Mauritania. The March 5 letter, dubbed the "Mauritania Memo," was reportedly signed by Mark Meadows of North Carolina, Thomas Garret of Virginia, Jeff Duncan of South Carolina, Lee Zeldin of New York, Scott Perry of Pennsylvania and Gus Bilirakis of Florida. No response has been reported.
This brings us to the issue of Washington's leverage. Mauritania is considered an American ally. According to a recent State Department fact sheet:
"The United States engages with Mauritania on a wide array of issues, including counterterrorism, food security, trade promotion, and efforts to strengthen human rights and the rule of law. The Departments of State, Defense, USAID and Justice are represented at the U.S. Embassy in Nouakchott... Assistance other than humanitarian assistance to Mauritania was suspended after the 2008 coup. Following certification of the 2009 election by foreign observers, bilateral assistance restrictions were lifted. Mauritania is a member of the Trans-Sahara Counterterrorism Partnership (TSCTP) and receives security assistance to support its counterterrorism efforts... [a] key mission in Mauritania is to advocate for a democratic and peaceful transfer of power in 2019 from one elected president to another for the first time in Mauritania's history. ."
The arrest of Abeid -- a prize-winning human rights activist whose latest "crime" was being a candidate in an election -- should sound alarm bells in Washington. The Trump administration needs to demand Abeid's immediate release and make any further financial aid to Mauritania conditional upon proof of concrete moves to eradicate slavery and indentured servitude. Although referred to as the "world's last country to abolish slavery," it actually remains "slavery's last stronghold."
Ruthie Blum is the author of "To Hell in a Handbasket: Carter, Obama and the 'Arab Spring.'"