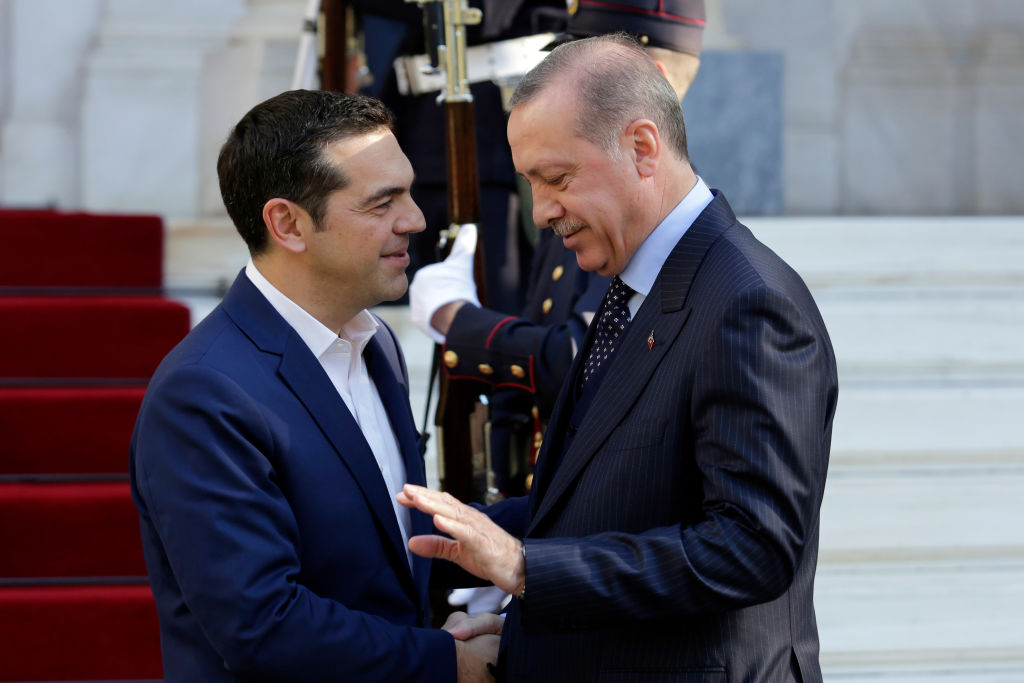 During his state visit to Greece in 2017, Turkish President Recep Tayyip Erdogan made a forceful request that Greece agree to re-negotiate the 1923 Treaty of Lausanne. Pictured: Erdogan and Greek Prime Minister Alexis Tsipras in Athens on December 7, 2017. (Photo by Milos Bicanski/Getty Images)
Turkish President Recep Tayyip Erdogan's June 24 re-election seems to be leading to heightened tensions between Turkey and Greece. Furthermore, in an eventual confrontation between these two NATO member states, Turkey's reported interest in purchasing air-defense missiles and fighter jets from Russia, underscored by Turkey's continued detention of American Christian Pastor Andrew Brunson and the U.S. imposition of sanctions on Turkish officials (as well as Turkish counter-sanctions), may well cause Washington to favor Greece.
In addition, prior to June 24, the Turkish parliament, and the Turkish people by referendum, awarded the presidency with nearly authoritarian power. Erdogan may now use these powers to strengthen even further his control of Turkey's domestic political order --- and to become more aggressive internationally as a result.
Erdogan's margin of victory in the June 24 election was slim. Despite his hold over the Turkish media, Erdogan garnered but a slim majority of 52% in the election. Erdogan, possibly to increase his domestic political support, might continue taking an aggressive posture toward Greece. Erdogan could, for instance, demand that Athens renegotiate the status of Greek islands in the Aegean Sea, which were awarded to Greece in the 1923 Treaty of Lausanne.
Turkey's nationalist political parties, which constitute most of the domestic opposition to Erdogan's Justice and Development Party (AKP), already favor a policy that demands Athens return territories given to the Greeks in the Treaty of Lausanne, after the Ottoman Empire's defeat in World War I. The nationalist People's Republican Party's (CHP) leader Kemal Kilicdaroglu publicly impugned Erdogan's patriotism for having failed to demand that Greece give back all the disputed islands:
"Look at islands of Aegean, they are Greek islands. The islands that should be ours are occupied by Greece. The Greek flag is fluttering on islands belonging to Turkey. I want an answer for this, Erdogan."
Erdogan might also want to insist that Greece should surrender sovereignty over the Dodecanese Islands, which consist of 163 islands and islets that Italy ceded to Greece in 1947.
Political opposition to Erdogan's AKP is also based on the fear that Turkey is becoming increasingly anti-democratic. In addition, many Turks fear that Erdogan's party is intent on transforming Turkey into an Islamic State, thus jettisoning the country's modern identity as a secular, democratic republic.
Erdogan seems openly nostalgic for the Ottoman Empire, and recently conducted a ceremonial visit to the refurbished tomb of Sultan Mehmet II, the Turkish conqueror of Constantinople in 1453.
The Ottoman Empire was dis-established in 1924, after more than four centuries as the center of Islam. After the declaration of a Turkish Republic in 1923 by secular, nationalist military officers led by Kemal Ataturk (Mustafa Kemal), both the Sultan and Caliph of the Ottoman Caliphate were forced to abdicate.
The initial sign that Erdogan actually may be adopting a more nationalist policy was his forceful request, during a December 2017 visit to Greece, that Greece agree to re-negotiate the 1923 Treaty of Lausanne. The Greek response was immediate and unequivocal. Greek President Prokopis Pavlopoulos replied:
"The Treaty of Lausanne defines the territory and sovereignty of Greece and the European Union and this treaty is non-negotiable. It has no flaws, it does not to be reviewed or updated."
Following that rejection, Turkey staged a series of provocative incidents in the Aegean region, including violations of Greek air space and incursions into Greek territorial waters. More serious incidents followed, among them the ramming in February of a Greek Coast Guard vessel by a Turkish patrol boat, harassing a Greek helicopter transporting Greece's Prime Minister Alexis Tsipras in April, and the crash of a Greek Mirage 2000-5 that had been on a mission responding to Turkish jets violating Greece's air space over a Greek island close to the Turkish coast.
Bilateral tensions are still escalating. Erdogan is demanding that Greece extradite several Turkish soldiers who fled there for asylum after a failed coup against him in July 2016. Greece's Supreme Court last year ruled against the extradition, declaring that should an extradition take place, the soldiers would suffer a curtailment of their human rights.
In response, Turkey detained for several months two Greek soldiers who had mistakenly crossed into Turkish territory during inclement weather, but in August finally repatriated them to Greece.
This escalating dispute also includes the divided island of Cyprus, which Turkey invaded in 1974. Since then, Turkey has occupied a northern section of the island, ethnically cleansing Greeks from that part of the island. Cyprus' political status has remained in limbo ever since.
In June 2017, peace talks between the island nation's ethnic Greek and Turkish Cypriot leaders seemed to be leading to the establishment of a unified government. By February 2018, however, negotiations came to a halt.
The president of Cyprus, Nicos Anastasiades, blamed this sudden collapse on the decision of Turkish Cypriot leader Mustafa Akinci to await the outcome of the Turkish referendum on the powers of the of the presidency. While the talks remain in recess with no set date for resumption, both the Greek and Turkish communities in Cyprus support a peace settlement. Discussions are underway to explore possibilities for resuming negotiations.
Whatever happens next, Erdogan maintains about 30,000-strong troop presence in the northern portion of Cyprus. If Greek-Turkish tensions escalate, the possibility of another ill-timed military provocation could escalate with them.
The ability of NATO to respond to other conflicts in the area could be affected, as well as NATO air and naval assets based in both countries. Moreover, such a conflict might open up an even greater opportunity for Russian interference.
Erdogan has indicated that he may not be interested in stopping there. Turkish journalist Uzay Bulut, now living in the US, quotes Erdogan as saying in early March 2018:
"There are physical borders and then there are borders in our hearts. Some people ask us: Why do we take an interest in Iraq, Syria, Georgia, Crimea, Karabakh, Azerbaijan, the Balkans, and North Africa?...None of these lands are foreign to us. Is it possible to divide Rize [in Turkey] from Batumi (in [Georgia]? How can we consider Edirne [in Turkey] as separate from Thessaloniki [in Greece]? How can we think that Gaziantep [in Turkey] has nothing to with Aleppo [in Syria], Mardin [in Turkey] with al-Hasakah [in Syria] or Siirt [in Turkey] from Mosul [in Iraq]."
Those overweening attitudes are undoubtedly causing concern in the Trump Administration, already with its hands full with the legacy bequeathed it in Iran, China, and North Korea, to name just a few places. Relations between Washington and Ankara have already deteriorated significantly under Erdogan -- as dramatically emphasized by America's absolutely correct refusal to turn over to Erdogan the man he says is behind Turkey's 2016 coup attempt, Fethullah Gülen, a Muslim cleric who exiled himself to Pennsylvania almost 20 years ago, as well as by the escalating imbroglio over detained U.S. pastor Andrew Brunson, who is apparently being held as a hostage to force the U.S. to extradite Gülen back to Turkey.
There is a marked increase in pro-Greece rhetoric at the U.S. State Department. Assistant Secretary of State for European and Eurasian Affairs Wess Mitchell recently called Greece, "an anchor of stability in the Eastern Mediterranean and the Western Balkans." Mitchell also bluntly warned Turkey that the U.S. would not accept any Turkish violations of Cyprus' Exclusive Economic Zone. Mitchell's warning was probably a reference to Turkey's actions to block offshore gas drilling by Cyprus.
If nothing else, Erdogan's impulsive assertiveness may be inspiring Greece to help in damping down some other sources of regional instability. Athens recently reached a compromise with Macedonia over its name, as "Macedonia" is also a northern region of Greece. Athens then sponsored "The Republic of North Macedonia" as a future new member of NATO.
Greece, which had previously adopted a stridently anti-Western policy in the wake of its massive debt crisis, now describes its overall foreign policy as "Euro-Atlanticism", and has steadily improved relations with other democratic states such as Israel. Greece and Israel are cooperating with Italy and Cyprus to export to Europe natural gas discovered in Israeli waters.
All of that does not diminish the threats to NATO and the region produced by Erdogan's growing truculence. Under U.S. President Donald J. Trump, the signs keep growing that the US is more and more likely to see things Greece's way.
Dr. Lawrence A. Franklin was the Iran Desk Officer for Secretary of Defense Rumsfeld. He also served on active duty with the U.S. Army and as a Colonel in the Air Force Reserve.