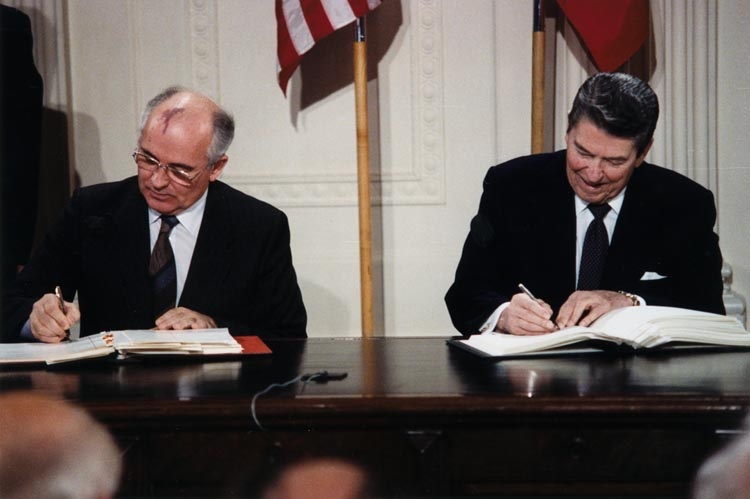 Those who warn against US withdrawal from the Intermediate Range Nuclear Forces Treaty (INF) are forgetting the very important lesson that made it a viable tool for ending the Cold War in the first place three decades ago: what President Ronald Reagan at the time called "peace through strength." Pictured: President Reagan and the Soviet Union's General Secretary Mikhail Gorbachev sign the INF in Washington, DC on December 8, 1987. (Image source: The White House)
The US renunciation of the 1987 United States-Soviet Union Intermediate Range Nuclear Forces Treaty (INF) has generated much skepticism in the arms-control community -- particularly in much of Europe, and from Japan.
These countries hoped not only to keep Russia and the United States in the 1987 treaty (despite Russia's major violations of the INF treaty), but persuade China to become a party to the treaty and thus be forced to eliminate the hundreds of INF-range missiles China has deployed in Asia and ranged against US and its allied interests.
Critics have presented the following five main arguments against the US move:
It enables Russia to build as many INF missiles as it likes, while simultaneously allowing Moscow to blame Washington for reneging on the treaty.

It imperils the entire structure of arms control, including the possible 2021 extension of the United States-Russia 2010 New START Treaty.

It would require extensive consultation with Europe or risk undermining allied cohesion and offering Moscow new targets in its campaign of political warfare against the NATO alliance.

It is unnecessary -- despite Russian violations -- because the US has adequate conventional air-launched and sea-launched cruise missiles to keep Russia at risk and defend Europe, and presumably America's Pacific allies, against China.

It concedes a strategic advantage to Russia, since no INF-equivalent missile is in production by the United States to match Russian INF missile deployments.
These arguments, however, do not hold up to scrutiny.
Given the fact that the Russian and Chinese threats are present and growing, the US decision to withdraw from the treaty and deploy weapons to counter these threats actually strengthens -- not weakens -- both deterrence and the defense of America's allies.
Unfortunately, however, most critics refuse to accept the implications of Russia's acknowledged violations of the treaty, as well as both Russian and Chinese continued rapid production of nuclear weapons and ballistic missiles (as Beijing is not a party to the INF treaty).
Moreover, Russia has violated not only the INF treaty, but, according to former senior White House nuclear arms official Frank Miller, every major arms-control agreement it has signed with the United States. In addition, according to the US nuclear specialist Mark Schneider, when Russia released its official nuclear-weapon figures earlier this year -- as stipulated in the New START treaty -- and announced a reduction in nuclear warheads, Moscow allegedly deployed more than two dozen additional multiple warhead missiles.
The same kind of deception is characteristic of China. Although Beijing often declares that it has a "no first use" nuclear doctrine, it is not a party to any nuclear-arms-reduction treaty, and therefore does not disclose its true nuclear capacities, doctrine and strategy.
US military commanders in Asia and US Pacific Command (PACOM) thus have voiced growing anxiety about the military missile balance in the Asia-Pacific Theater.
The point is that Russia and China both habitually brandish nuclear weapons against US allies, presumably to try to fragment America's European and Asian alliances.
To counter such threats effectively and stand up to the intimidation culture and tactics of Russia and China, the US would do well create a conventional and nuclear capability that is at least on a par with those of Moscow and Beijing. Rather than undermining arms control, this might induce Russia to negotiate in better faith in any future negotiations with the US and could drive a wedge between Russia and China.
The truth is that there is no INF arms-control regime to be saved. It is senseless to pine for a treaty that only one power -- the United States -- observes. Self-abnegation here only enables others to shoot first and make threats that the US cannot answer.
Those who warn against US withdrawal from the treaty are forgetting the very important lesson that made it a viable tool for ending the Cold War in the first place three decades ago: what President Ronald Reagan at the time called "peace through strength."
In short, deploying military forces the US needs to deter its enemies really needs to go forward in the absence of sound and verifiable treaties that would otherwise end these threats.
Stephen Blank is a senior fellow at the American Foreign Policy Council; Peter Huessy is director of Strategic Deterrent Studies at the Mitchell Institute for Aerospace Studies.