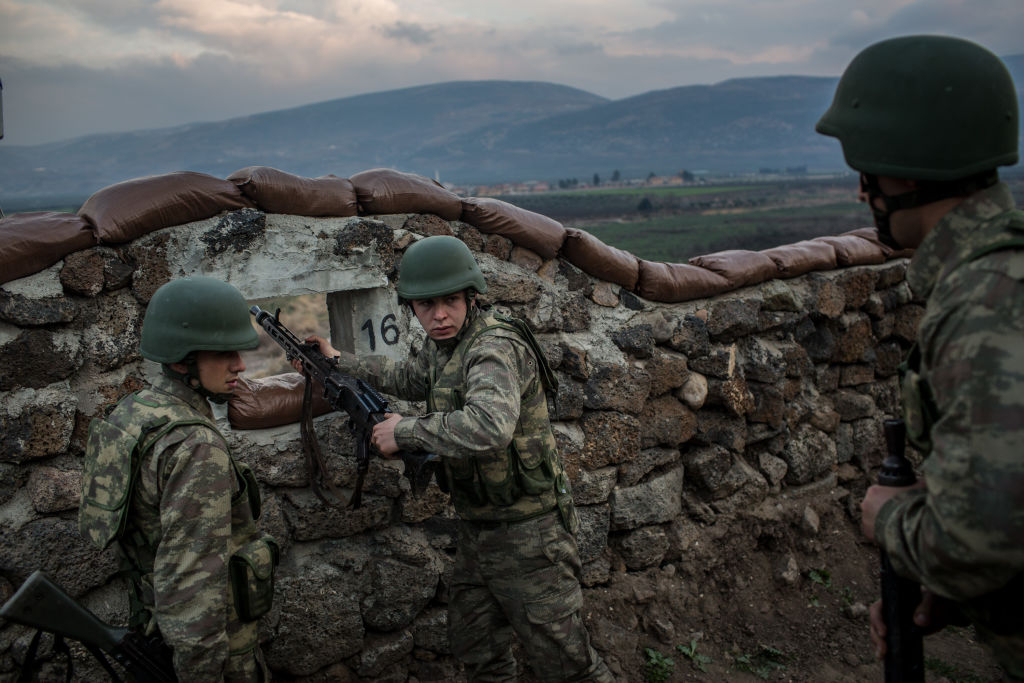 When Turkish President Recep Tayyip Erdogan's government needs U.S. support or approval for actions outside of Turkey, it touts its "alliance" with America. When addressing its base in Turkey, however, it is openly hostile to the U.S. Pictured: Turkish soldiers drill at a military outpost on the Turkey/Syria border on March 2, 2017. (Photo by Chris McGrath/Getty Images)
On December 18, the day before U.S. President Donald Trump ordered a full withdrawal of American troops from Syria -- on the grounds that the U.S. "had defeated ISIS" -- Turkish President Recep Tayyip Erdogan announced that Turkey was mounting a new incursion into northern Syria.
The same day, December 18, Erdogan gave a speech in which he said:
"We officially announced last week that we would start a military operation on the east of Euphrates. And we did it... We discussed these things with Mr. Trump too. He gave us positive responses... Until the last terrorist in the region becomes ineffective, we will rake through the Syrian territories inch by inch... We will breathe down their necks.

"The forces that went to Syria with the excuse of [fighting] ISIS still stay there, although such a threat no longer exists. I am saying it once again that we will not allow a terror corridor that is being tried to be established along our border. We already carried out three operations. Now it is time for the east of the Euphrates...

"We carried out Operation Olive Branch in Afrin and recently [another military operation on the Iraqi Yazidi region of] Sinjar. Now we are burying the terrorists in the wells that they have dug. We have spoken with Mr. Trump. The terrorists should go to the east of Euphrates. If they don't, we will send them there because the terror corridor disturbs us. Since we and the U.S. are strategic partners, we need to do what is required."
How interesting that Erdogan called Turkey and the U.S. "strategic partners," when he has repeatedly stated that Turkish campaigns in northern Syria are aimed at eliminating the U.S.-backed Kurdish groups -- including the Syrian Democratic Forces (SDF) founded in 2015 and led by the People's Protection Units (YPG), which in 2014 carved out a de-facto autonomy in the region. It is these groups in particular to which Erdogan was referring as the "terrorists" whom Turkey is "burying in the wells that they have dug."
Two days later, on December 20, Erdogan held a joint press conference in Ankara with Iranian President Hassan Rouhani, in which Erdogan announced that Ankara is siding with Tehran against Washington:
"We do not think that it is right for the U.S. to withdraw from the [nuclear] treaty... I would like to emphasize once again that... we think that America's decisions of sanctions against Iran endangers regional security... We will continue standing by the Iranian people in this period when pressures against Iran, which we think are unjust, are on the rise."
Rouhani added, "A third country cannot break our relations of neighborliness and brotherhood."
Anti-American statements from Erdogan and other Turkish officials are nothing new, however. Erdogan's chief military advisor, Adnan Tanrıverdi, for instance, told the pro-government newspaper, Yeni Şafak, on January 18, that since 2015, Turkey "has defeated the U.S. five times":
"1. The U.S. supported the propaganda targeting the stability in Turkey during the June 7, 2015 elections. But thanks to the sagacity of the people, [the AKP] came to power after 5 months.

"2. American support [for the PKK\Kurdistan Workers' Party] caused another trouble for Turkey through the PKK's 'self-rule' nonsense. Turkey solved this problem in 6 months.

"3. While Turkey was purging the Turkish military of the members of FETÖ [abbreviation of the 'Fethullahist Terror Organization,' supporters of the U.S.-based Islamic cleric, Fethullah Gulen, whom the Turkish government accuses of organizing the 2016 failed coup], a coup attempt took place on July 15, 2016. It was suppressed within 20 hours.

"4. The U.S. was going to surrender Jarablus [in Syria] to the terror organization PKK-PYD. Turkey noticed that and sent its soldiers to Syria and prevented that from happening.

"5. The U.S. attempted to remove Turkey's bases in Iraq, but Turkey successfully prevented that as well."
Tanrıverdi was basically boasting about his country, a NATO member, "defeating" the U.S., another NATO member, while claiming that all of Turkey's problems and military operations are America's fault.
Then, in February, Erdogan openly threatened the U.S. with an "Ottoman slap." This was in response to warnings by Lt. Gen. Paul E. Funk, commander of the U.S.-led coalition against ISIS, that if Turkey attacked those forces in northern Syria, they would "respond aggressively."
Such language was conspicuously absent in the December 7 U.S.-Turkey Joint Statement on Syria, according to which:
"Turkey and the United States share a commitment to address effectively the security concerns of both countries consistent with their obligations to one another as Allies and look forward to continued progress on issues of mutual interest regarding the ongoing crisis in Syria."
In other words, when Erdogan's government needs U.S. support or approval for actions outside of Turkey, it touts its "alliance" with America. When addressing its base in Turkey, however, it is openly hostile to the U.S.
Even more disturbing are reports that Trump said Turkey "should be able to easily take care of whatever remains" of ISIS in Syria. Turkey did not bomb or invade Syrian or Iraqi territories when ISIS invaded and took over those lands. In fact, ISIS members and supporters have been operating in Turkey, and the Turkish government has at times treated those who expose ISIS activities more harshly than ISIS supporters themselves.
For instance, an ISIS member on the Turkish government's list of wanted terrorists was released on December 19 pending trial, after she surrendered to Turkish authorities at the Turkish-Iraqi border. By contrast, a former opposition MP has been in jail since June for exposing and documenting the activities of ISIS and other jihadists across Turkey. Prosecutors have accused him, among other offenses, of "aiding a terrorist organization" and "insulting the Turkish state,".
It is one thing for Trump to want to bring U.S. soldiers home from Syria, for a number of reasons, chief among them, ceding the area to Iran and Russia. It is quite another for anyone to imagine that Turkey can serve as a substitute in the fight against terrorists, or on behalf of Western interests.
Trump is abandoning the entire eastern Mediterranean region to Turkey -- which, as part of the Muslim Brotherhood, wants to rid the region of Sunni monarchies and reconstruct the Ottoman Empire; to Russia, which wants to reconstruct the Soviet Union, and to Iran, which apparently also aspires to be the region's hegemon.
The U.S. withdrawal from Syria will end up costing Americans far more in blood and treasure down the line than the small but deterrent footprint there now. The damage a withdrawal will do at this time is inestimable -- and it will go down in history as Trump's legacy, just as Neville Chamberlain's forever is the bogus "peace for our time" deal Hitler dangled in front of him. It would have been so much less costly in blood and treasure to defeat Hitler before he crossed the Rhine.
How ironic it would be if Trump were to go down in history as one of those "losers" he so detests.
Uzay Bulut, a Turkish journalist, is a Distinguished Senior Fellow at Gatestone Institute and currently based in Washington D.C.