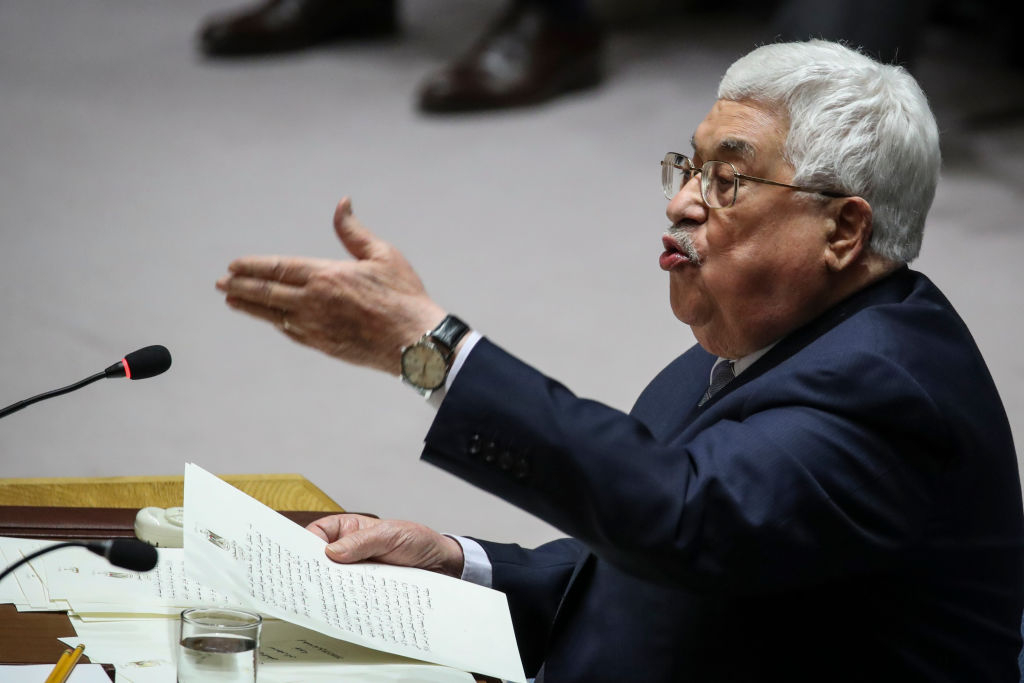 Palestinian Authority President Mahmoud Abbas and his cohorts have long been waging a campaign of hate and incitement against Israel -- one that aims at depicting Israelis and Jews as "criminals" and "murderers." (Photo by John Moore/Getty Images)
The Palestinian Authority (PA) leadership's favorite -- and probably most used -- word in recent weeks is "crime." This is the word that PA President Mahmoud Abbas and his senior officials in Ramallah have endorsed as part of their anti-Israel campaign of incitement. Almost every statement that is issued by the Palestinian leadership concerning Israel includes the word "crime."
For Abbas and his officials, almost everything Israel does or says is a "crime."
ّIn their world, building housing units for Jews in the West Bank or Jerusalem is a "crime."
According to the logic of Abbas and his Palestinian officials, the killing of a Palestinian terrorist who murdered two of his Jewish co-workers and Israel's subsequent demolition of his house is a "crime."
As far as Abbas and other Palestinians are concerned, Israel's security measures in response to terrorist attacks are also a "crime." In other words, they are saying that Israel does not have the right to conduct hot pursuit after terrorists hiding in Palestinian cities or refugee camps. Each time the Israeli army enters a Palestinian city to arrest a terrorist, the Palestinians cry "crime".
Visits by Jews to the Temple Mount in Jerusalem have been upgraded by Abbas and his officials from an ordinary "crime" to, in the words of one official, a "hellish crime."
They and other Palestinian factions, including, of course Hamas, have gone as far as condemning the establishment of Israel as a "crime."
Accordingly, Abbas's ruling Fatah faction, which is often described by international media outlets as "moderate," also considers the 1917 Balfour Declaration, which announced the British government's support for the establishment of a "national home for the Jewish people" in Palestine, as a "crime against humanity."
In recent weeks, the Palestinian leadership's list of "crimes" has grown to cover other matters.
In the eyes of Abbas and his top officials, a recent visit by Arab journalists to Israel is not only an "unacceptable crime," but a political and national sin" as well. These are the words used by Abbas's Ministry of Information to condemn seven Arab journalists based in Europe for accepting an invitation to visit Israel.
Last week, Abbas's ruling Fatah faction endorsed a statement issued by a group called the Islamic and National Forces that called for boycotting an Israeli-Palestinian shopping mall in east Jerusalem and warning Palestinians that "economic normalization" with Israel was a "crime" and an act of "intentional treason."
Abbas's Fatah also considers real estate transactions with Jews as a "crime." For Abbas and his representatives, any Palestinian involved in selling properties to Jews is a "criminal" and "traitor." This "crime" carries a death sentence.
Hence, we see that Abbas and his friends consider everything related to Israel and Jews as a "crime." They do not want Palestinians to do business with Jews; they do not want Palestinians to sell properties to Jews, and they do not want Arabs who believe in coexistence and peace to visit Israel. All these actions, according to the Palestinian leadership and its supporters, are "crimes" for which people should be punished.
When it comes to the actions of the Palestinian leaders themselves, however, they see utter innocence. For them, the daily incitement against Israel and Jews is not a "crime." For them, the glorification of terrorists and paying salaries to their families is not a "crime." For them, the shooting of a pregnant woman at a bus stop is not a "crime." For them depriving their people of international aid and cracking down on public freedoms under Abbas in the West Bank and Hamas in the Gaza Strip is not a "crime."
The daily use of the word "crime" to condemn Israel comes in the context of the Palestinians' continued effort to delegitimize Israel and demonize Jews. This is not a new policy. Abbas and his cohorts have long been waging a campaign of hate and incitement against Israel -- one that aims at depicting Israelis and Jews as "criminals" and "murderers." That is the main reason it has become almost impossible to find one Palestinian who is ready to accept any form of concussions or compromise with Israel. This campaign is also the main reason why Hamas has become highly popular among Palestinians, as the latest public opinion poll published last week showed.
Palestinian leaders bombard their people with the following message: All Israelis are criminals. All Israelis are guilty until proven otherwise. The establishment of Israel is a crime. Israel's anti-terrorism measures are a crime. The hands of Palestinians, by contrast, are lily white.
Such messages are driving Palestinians into the open arms of Hamas. If you are telling your people that Israel and the Jews are criminals whose hands drip with blood, and that anyone who does business with them or visits them is guilty of a "crime," you are telling them that Hamas has got it right: Palestinians should be seeking the destruction of Israel, and not peace with it.
Bassam Tawil is a Muslim Arab based in the Middle East.