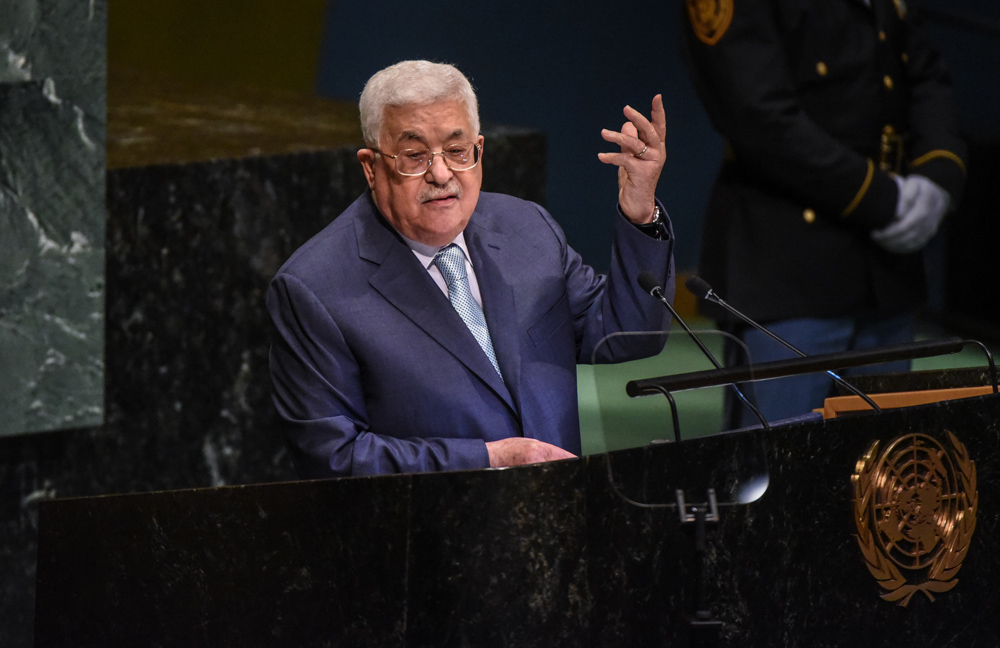 The Palestinian Authority's recent arrest and torture of a Palestinian mother of three is the kind of story that the "State of Palestine" does not intend to raise during its chairmanship of the largest bloc of developing countries at the UN. Pictured: Palestinian Authority President Mahmoud Abbas addresses the UN General Assembly on September 27, 2018 in New York City. (Photo by Stephanie Keith/Getty Images)
A Palestinian mother of three has accused the Palestinian Authority (PA) security forces of torturing her and threatening to rape her during the two months she was held in a PA prison in the West Bank.
The accusation by the woman, Suha Jbara, 31, came on the eve of PA President Mahmoud Abbas's visit to New York, where he is scheduled to assume the chairmanship of the largest bloc of developing countries in the United Nations, known as the "Group of 77 and China."
As chairman of the group, which represents 134 nations, Abbas and the "State of Palestine" will negotiate and co-sponsor proposals and amendments on various developmental, humanitarian and legal issues that are on the agenda of the UN.
On January 11, Jbara, who was released last week from detention, held a press conference in Ramallah in which she detailed the various methods of torture she experienced at the hands of her Palestinian interrogators. Her horrific experience, however, does not seem to be on the agenda of the UN or the Group of 77 and China, headed by Abbas. Apparently, the UN group's members, who voted in favor of naming the "State of Palestine" as chairman of the group, do not care much about the human rights record of the PA security forces in the West Bank.
Jbara, a dual citizen of the US and Panama, was arrested by the Palestinian Authority security forces in early November 2018 at her home near the West Bank city of Ramallah. According to Jbara, she was accused of "illegally collecting donations" for families of Palestinians killed or wounded during clashes with the Israeli army.
Bizarrely, the PA is accusing Jbara of something that the PA itself has done for years and is still doing: paying salaries to Palestinians in Israeli prison and the families of Palestinians killed while carrying out attacks on Israelis. According to Jbara, her interrogators also accused her of "collaborating" with Israel. During her detention, she went on hunger strike for 27 days.
The torture, according to Jbara, included pouring cold water on her face, solitary confinement for several days, strip-search, sleep deprivation, lengthy hours of interrogation and verbal abuse.
"The first stages were the worst," Jbara told the Palestinian Wattan TV station.
"They interrogated me for several hours, without taking into consideration that I felt sick. They moved me from one office to another. I saw a number of detainees who were blindfolded and handcuffed. The interrogators were pouring cold water on their faces and some of the detainees were lying on the floor. It was a horrifying experience for me."
Jbara also said that the Palestinian interrogators threatened to take her three children away from her. "They used my children to blackmail me," she reported. The interrogators apparently also threatened her mother, her sisters and her with sexual assault. "I'm now in a very bad health condition," she said. "I even have difficulty walking."
Last month, a representative of Amnesty International met with Jbara, while she was still being held in Palestinian detention, and heard about her brutal treatment at the hands of her interrogators. "The Palestinian authorities must urgently investigate the torture and ill-treatment of Suha Jbara, an activist who has told Amnesty International that she was beaten, slammed against a wall and threatened with sexual violence by her interrogators," the organization wrote.
According to Amnesty's report, Jbara described how, upon her arrest, she had a seizure, lost consciousness and was taken to a hospital. Armed security officials later dragged her barefoot, out of the hospital, and transferred her to the Jericho Central Prison.
There, when she asked for a drink, a male interrogator threw water in her face, slapped her, punched her in the chest and back, and threatened her with further violence. She was blindfolded and handcuffed throughout her interrogation, and was not allowed to drink water or use the lavatory.
"He insulted me all the time," she said, "used very dirty and violent sexual language, threatened to bring a doctor to look into my virginity and say that I was a whore, and threatened to hurt my family and to take my kids away from me."
According to Saleh Higazi, Deputy Director for the Middle East and North Africa at Amnesty International:
"Suha Jbara has described her torture in harrowing detail. In her testimony she gives an account of ruthless interrogators who have shamelessly flouted Palestine's obligations to treat prisoners humanely and violated the absolute prohibition under international law of torture and other cruel, inhuman or degrading treatment."
Yet, Jbara's story has barely attracted the attention of the international mainstream media. As far as many foreign journalists covering the Middle East are concerned, a Palestinian woman complaining about torture in a Palestinian prison is not newsworthy. Had she been detained by Israel, Jbara would have most likely made it to the front pages of the world's leading newspapers and magazines in a matter of minutes.
This is the kind of story that the "State of Palestine" does not intend to raise during its chairmanship of the largest bloc of developing countries at the UN. It seems that, from the point of view of the Palestinian Authority leadership, Jbara's ordeal does not fall within the category of human rights.
The PA regularly complains about human rights violations of Palestinians held in Israeli prison for security-related offenses. But when the PA's own security forces detain and torture a mother of three, Palestinian leaders are found elsewhere -- like at the helm of a UN bloc.
Actually, Palestinian leaders can rest easy concerning their torture of Palestinians. By being selected to head the bloc of developing countries, Abbas and the leaders of the "State of Palestine" will be in the company of countries rewarded for human rights violations -- including Saudi Arabia, Syria, Iraq, Venezuela and Yemen -- just elected as the vice-president of the United Nations Entity for Gender Equality and the Empowerment of Women, despite Yemen being ranked "as the worst country in the world on gender inequality (149th out of 149)" -- as well as several countries in Africa and Asia. That group exemplifies the old saying: birds of a feather flock together -- and these birds are definitely of the predator type.
Khaled Abu Toameh, an award-winning journalist based in Jerusalem, is a Shillman Journalism Fellow at Gatestone Institute.