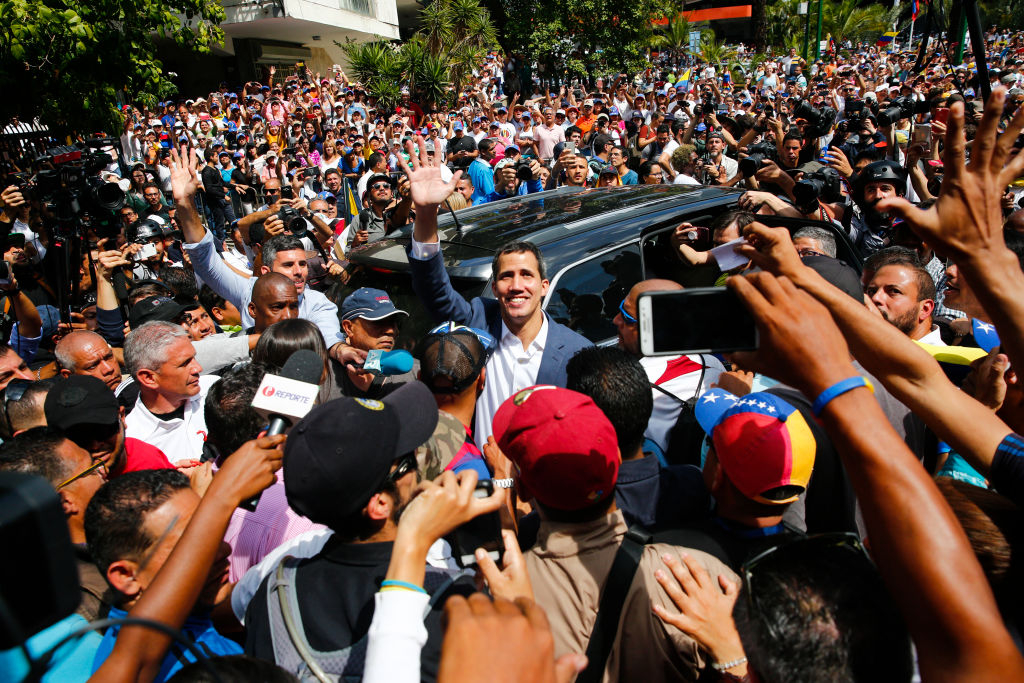 Juan Gerardo Guaidó Márquez appears to be the legitimate president of Venezuela, and his claim to the presidency has been recognized by the U.S., Canada, Brazil, Peru, Colombia, and a slew of European countries. Pictured: Guaidó (center, waving) on February 2, 2019 in Caracas, Venezuela. (Photo by Marco Bello/Getty Images)
"What are our national security interests in Venezuela?" Adam Smith, the Washington Democrat who chairs the House Armed Services Committee, asked Erin Burnett on January 29 during her CNN primetime show. "The idea that we're going to go in and do battle in Venezuela over who should be running that country, I don't see a single U.S. national security argument for doing that."
Not a single interest, Chairman Smith? In December, two Russian Tu-160 Blackjacks landed near Caracas. The Mach 2, nuclear-capable bombers can launch cruise missiles with a range of 3,410 miles, putting the U.S. homeland at risk from the airspace over Venezuela. The Blackjack bombers also buzzed America's West Coast as they left the region last month.
Representative Smith charged President Trump with making Venezuela policy "on whims and fantasies and no reality behind it."
On the contrary, Trump policy is based on the reality that the U.S. must be involved in the resolution of the Venezuelan crisis and not on the whims or fantasies that bad actors on their own will produce constructive solutions.
Unfortunately, there is no shortage of misguided ideas when it comes to Venezuela. Tony Blinken, for instance, deputy secretary of state in the Obama administration, told Kate Bolduan on her CNN show on January 28 that Washington should bring China and Russia into discussions about the crisis.
Why, you may ask, is this a less-than-brilliant idea?
First, there is a crisis in Venezuela because there are two figures claiming to be the legitimate leader of the Bolivarian Republic of Venezuela, Nicolás Maduro Moros and Juan Gerardo Guaidó Márquez.
Maduro's re-election in May of last year was marred by charges of widespread vote-rigging, vote-buying, and other irregularities, but more fundamentally it failed to meet constitutional requirements. As such, Guaidó, due to his role as head of the National Assembly, appears to be the legitimate president.
The 35-year-old Guaidó has been recognized by the U.S., Canada, Brazil, Peru, Colombia, and a slew of European countries.
He is not, however, recognized by either China or Russia. They back Maduro to the hilt because they have much to lose if his leftist government falls. Both maintain crucial military facilities in the country, such as China's satellite-tracking facility inside the Capitan Manuel Rios Air Base in Guarico, and have substantial investments and financial ties.
China, for example, has lent Maduro and his predecessor, the infamous Hugo Chávez, over $62 billion, perhaps as much as $70 billion. Of that amount, somewhere between $10-$25 billion remains outstanding. In recent months, China, the regime's largest creditor, has been digging itself in deeper. In September, Beijing extended Venezuela another $5 billion in credit. Russia has also loaned the country billions.
Second, the partnership of Beijing and Moscow is certainly up to no good. As an initial matter, the duo, powers from the other side of the world, are in Venezuela to take on the United States, not help it.
As Joseph Humire of the Center for a Secure Free Society told Fox News, "Russia and China are using Venezuela as a proxy conflict to challenge the U.S." Venezuela, like, Cuba, is a base. Moscow and Beijing, he notes, are providing "economic support to establish a military-industrial presence in Venezuela."
"We can try to negotiate with Moscow and Beijing," Humire told Gatestone Institute, "but for them to help the U.S. resolve the Venezuela crisis they would have to leave Latin America alone, something that almost two decades of regional escalation by Russia and China tells us is unlikely to happen." Their projects in Venezuela are an extension of a continent-wide effort. They want, he points out, to turn Latin America "into a contested theater for military and intelligence operations."
Moreover, there are other objections to asking for Chinese and Russian assistance. It is doubtful, as Matt Ferchen of the Leiden Asia Center in the Netherlands suggests, that Beijing can help another society transition to democracy. The same, of course, can be said about Vladimir Putin's Russia. After China and Russia worked to turn Venezuela into "the Syria of the Western Hemisphere," they are not about to democratize it.
Furthermore, Robert Evan Ellis of the U.S. Army War College told Gatestone that an outreach from Washington "would legitimize the concept that Russia and China have a constructive role to play in Western Hemisphere security."
The Obama administration officially renounced the Monroe Doctrine in 2013, but five years later, then secretary of state Rex Tillerson resurrected it -- and not a moment too soon. There is real danger to the U.S. and Latin America if any state outside the region is allowed to establish colonial or neo-colonial relations here.
In particular, China's ties with Caracas are the essence of neo-colonialism. Historically, the commercial dealings between the two have not been at arm's-length. These dealings have benefited Chávez, Maduro, and their cronies, a "criminal syndicate collaborating with extra-hemispheric authoritarian regimes" as Ellis wrote in a note to security professionals last month.
Beijing has been extending loans and investment on favorable terms to entice Venezuela's leaders into dependence.
Beijing often talks about "South-South solidarity" and a "new era" in China-Latin America ties, but others see "debt-trap diplomacy" or "debt servitude." As a debt slave, Caracas cannot ignore Beijing's geopolitical demands. Some would call this debtor-creditor relationship the foundation of "neo-colonialism," but this debt-trap diplomacy may be even more sinister than that.
Venezuela's subservience should be viewed in the context of Beijing's longer-term goals. Xi Jinping, the extraordinarily ambitious Chinese ruler, seems to be trying to recreate the imperial-era tributary system, in which others were required to acknowledge Chinese supremacy. Xi has been dropping hints that China is the world's only sovereign state, and that bold notion, in turn, suggests he believes in formal colonialism, namely, having China dominate the world.
Whatever form of colonialism China is promoting at the moment, Ellis was correct when he told Gatestone that "the U.S. has everything to lose from inviting China and Russia to the table, and no realistic prospect of gains."
China and Russia make no global problem better. The only sensible approach, therefore, is to remove them from our hemisphere, and the place to begin to do that is Venezuela.
Gordon G. Chang is the author of The Coming Collapse of China and a Gatestone Institute Distinguished Senior Fellow.