When I was invited to debate in favor of the motion "Is BDS Wrong?" at the Oxford Union, I fully expected to lose the vote of the 250 or so students and faculty who are members of the oldest debate society in the world. "Israel always loses at Oxford," I was warned by colleagues who had debated other Israel-related issues. Nonetheless, I decided to participate, hoping to change some minds.
I proposed as my opponent Omar Barghouti, the Qatari-born, Israeli-educated, co-founder and spokesperson of the Boycott, Divestment and Sanctions (BDS) movement, but he refused to debate me. The Union then selected Noura Erekat, a Palestinian-American human rights attorney, who has been a vocal supporter of BDS.
When she backed out at the last minute, I began to get suspicious: was the BDS movement boycotting me? After all, BDS advocates have called for "common sense" academic boycotts against individuals who they feel are too vocal in their support for Israel, in addition to a blanket boycott of all Israeli academic institutions. After speaking with the organizers of the debate at Oxford, I continue to believe that I was in fact being boycotted.
The Union then selected Peter Tatchell, a distinguished and popular British human rights activist who has participated in 30 Union debates, most of which he has won. I knew I was in for a difficult time, especially when the audience applauded his points more loudly than mine and when many of the questions seemed hostile toward Israel, though polite.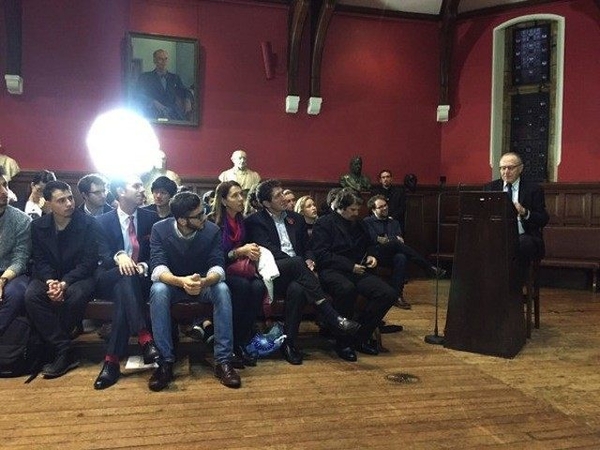 Alan Dershowitz at Oxford Union. (Image source: Embassy of Israel in London)
Mr. Tatchell's main argument was that BDS was a nonviolent form of protest against Israel's occupation and settlement policies that mirrored the boycott movement against apartheid South Africa, and followed the principles of Mahatma Gandhi and Martin Luther King. He was articulate in arguing that boycott tactics generally were a non-violent alternative to war and terrorism. The force of his argument was somewhat weakened by the recent spate of terrorist knife attacks by Palestinians against Israelis, which leaders of the BDS movement such as Barghouti have justified as resistance to the "decades-old regime of occupation."
I argued that BDS was not an alternative to war but rather an alternative to peaceful negotiations by the Palestinian leadership. This is because the BDS movement is firmly opposed to the two-state solution. Omar Barghouti confirmed as much when he said, "definitely, most definitely, we oppose a Jewish state in any part of Palestine." Thus, the BDS movement makes it more difficult for the Palestinian leadership to accept the kind of painful compromises that both sides must agree to if there is to be a negotiated resolution.
Together with other efforts to delegitimize and isolate Israel, BDS also sends a false message to the Palestinian street: namely, that international economic and political pressure can force Israel to capitulate to all Palestinian demands, without any compromise on territorial issues. In turn, this disincentivizes the Palestinian leadership from accepting Prime Minister Netanyahu's offer to begin immediate negotiations with no preconditions.
Such discussions are particularly important now, to halt the gruesome cycle of violence that has intensified in recent weeks. Both sides must return to the negotiations table, and both must be willing to make concessions. For the Israelis this means rolling back settlements, and granting greater autonomy to the West Bank; for the Palestinian Authority, it means renouncing violence against Israeli civilians, disavowing Hamas and other terrorist organizations, and accepting the need for territorial compromise with land swaps.
BDS opposes any effort at negotiation that isn't premised on the recognition that Israel is an apartheid state. Indeed, many of its leaders refuse to recognize the right for Israel to exist as a nation-state for the Jewish people. In so doing, they are empowering radicals on both sides of the issue who have no desire to see a peaceful resolution to the conflict.
Many liberal activists such as Mr. Tatchell—whose advocacy on behalf of LGBT rights I greatly admire—have made common cause with BDS, hoping to pressure Israel to end the occupation, and afford greater self-determination to Palestinians in the West Bank. They seem to believe that a movement advocating non-violent tactics is necessarily the best way to achieve a lasting peace. But BDS is radically opposed to any negotiated settlement, and has increasingly begun to regroup bigots of all stripes who feel comfortable with the language used by its leaders, such Mr. Barghouti.
Mr. Tatchell and many pro-BDS academics also feel that Israel has committed human rights violations both in the occupation of the West Bank, and in its prosecution of the armed conflicts in Gaza. During the course of the debate, I issued the following challenge to the audience and to my opponent: name a single country in the history of the world, faced with threats comparable to those faced by Israel, that has a better record of human rights, compliance with the rule of law or seeking to minimize civilian casualties.
I invited audience members to shout out the name of this country. Complete silence. Finally, someone shouted "Iceland", and everyone laughed. When the best is treated as the worst, in the way the BDS movement singles out Israel for accusation, the finger of blame must be pointed at the accusers rather than the accused. In the end, the case against BDS won not because of the comparative skill of the debaters but because I was able to expose the moral weakness of the BDS movement itself.
*This op-ed originally appeared in the Jerusalem Post online.

Alan Dershowitz is an emeritus professor of law at Harvard Law School. His latest book, "Abraham: The World's First (But Certainly Not Last) Jewish Lawyer is now available.