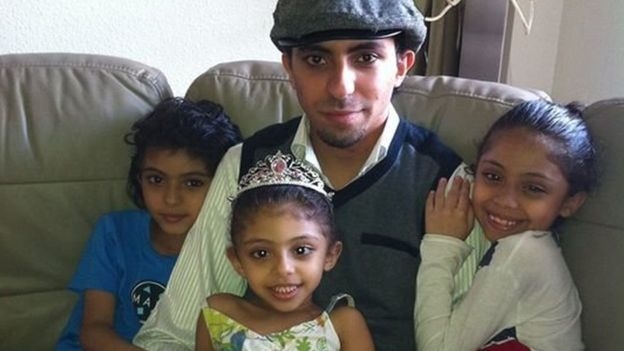 In 2012, the young blogger and human rights activist, Raif Badawi, was arrested in Saudi Arabia for "insulting Islam through electronic channels" and in 2014 sentenced to 10 years in prison and 1,000 lashes. Pictured: Badawi with his children, before his imprisonment. (Image source: Badawi family handout)
Eleven women are on trial in Saudi Arabia this week, charged with lobbying for women's right to drive and for abolishing the system of male guardianship over women[1]. Under the male guardianship system, Saudi women are still treated as legal minors. They are assigned a male guardian, who has to approve their applying for a passport, travelling outside the country, studying abroad on a government scholarship, getting married, leaving prison, or even exiting a shelter for abuse victims, according to the BBC.
The male guardianship system drew renewed international attention in January, when a young Saudi woman, Rahaf Mohammed, barricaded herself in a hotel room in Bangkok, and said that her family would have her imprisoned if she returned to Saudi Arabia. She eventually found asylum in Canada.
The 11 women were arrested in May 2018, just one month before the Saudi regime finally granted its female citizens the right to ask their male guardian if they may apply for a driver's license.
The women have been imprisoned for 10 months without access to legal counsel, and only learned of the charges against them when they were recently brought before the Criminal Court of Riyadh.
According to the Wall Street Journal, prosecutors charged the women activists, who include Loujain al-Hathloul, Iman al-Nafjan, Aziza al-Yousef, Amal al-Harbi, Dr. Ruqayyah al-Mharib, Nouf Abdulziaz, Maya'a al-Zahrani, Shadan al-Anezi, Dr. Abir Namankni, Dr. Hatoon al-Fassi and another female activist, with having broken Saudi law, "By taking foreign money to work against the kingdom and communicated with an enemy country and enemy media".
A panel of three British MPs said that the women activists were being held, "in cruel and inhumane conditions":
"The panel's report concludes that the detainees – female activists arrested last spring – had been subjected to cruel and inhumane treatment, including sleep deprivation, assault, threats to life and solitary confinement. Theeir [sic] treatment is likely to amount to torture and if they are not provided with urgent access to medical assistance they are at risk of developing long-term health conditions, the report says."
According to Crispin Blunt, the former Conservative Chair of the Foreign Affairs Select Committee, who led the panel:
"The Saudi women activist detainees have been treated so badly as to sustain an international investigation for torture. Denied proper access to medical care, legal advice or visits from their families, their solitary confinement and mistreatment are severe enough to meet the international definition of torture. Saudi Arabia stands on the brink. It is not too late to alter course and avert the spiral downwards to catastrophe that the detention of these activists represents."
In stark contrast to the human rights abuses, the de facto leader of Saudi Arabia, Crown Prince Mohammad Bin Salman (known as MBS), has sought to project an image of himself as a keen reformer and modernizer, a moderate who respects women's rights and the guarantor of Saudi Arabia's Vision 2030 plan, which aims to bring the country into the 21st century, at least economically, by, among other ventures, becoming less dependent on oil revenues.
In a recent CBS 60 Minutes interview, MBS said that women are "absolutely" equal to men, "We are all human beings and there is no difference". He added:
"We have extremists who forbid mixing between the two sexes and are unable to differentiate between a man and a woman alone together and their being together in a workplace. Many of those ideas contradict the way of life during the time of the prophet and the Caliphs. This is the real example and the true model... The laws are very clear and stipulated in the laws of Sharia: that women wear decent, respectful clothing, like men. This, however, does not particularly specify a black abaya or a black head cover. The decision is entirely left for women to decide what type of decent and respectful attire she chooses to wear".
However, when pressed more closely on the issue of human rights, Mohammad Bin Salman reveals the, mildly speaking, "alternative approach" to human rights within the kingdom. First, human rights critics appear to be seen as "radicals" presumably because they are perceived as threatening to the stability of the Saudi regime: CBS asked about the "dozens of people who have criticized your government [and] have been arrested in the last year. They include economists, clerics, intellectuals. Is this really an open and free society?" MBS answered:
"We will try to publicize as much as we can and as fast as we can, information about these individuals in order to make the world aware of what the government of Saudi Arabia is doing to combat radicalism.... Saudi Arabia believes in many of the principles of human rights. In fact, we believe in the notion of human rights, but ultimately Saudi standards are not the same as American standards. I don't want to say that we don't have shortcomings. We certainly do. But naturally, we are working to mend these shortcomings".
Saudi Arabia does not, unfortunately, seem to be working hard at all on mending "these shortcomings". In fact, it still clearly operates under seventh century standards: Authorities last year cut the heads off 48 people in eight months. The kingdom also administers public lashings for "criminal offenses" that, in the West, are considered basic human rights, such as freedom of expression or freedom of religion. In 2012, the young blogger and human rights activist, Raif Badawi, was arrested for "insulting Islam through electronic channels" and brought to court on several charges including apostasy. After his 2012 arrest, Amnesty International designated him a prisoner of conscience, "detained solely for peacefully exercising his right to freedom of expression". He was sentenced to seven years in prison and 600 lashes in 2013, then resentenced in 2014 to 1000 lashes, ten years in prison and a fine of 1 million riyals (approximately $267,000). He had written:
"My commitment is... to reject any oppression in the name of religion... a goal that we will reach in a peaceful and law-abiding way."
His lawyer, Walid Abu'l-Khayr, was also jailed and sentenced to 15 years, to be followed by a 15-year travel ban.
Disturbingly, executions in the last few years appear to have gone up: In the eight months after Mohammad bin Salman was appointed Crown Prince (July 2017 – February 2018 inclusive) there were 133 executions in Saudi Arabia compared to 67 in the eight months before that, according to Reprieve, a UK based human rights group. In 2017, there were 142 executions and nearly 150 executions in 2018. One of the most horrifying cases was that of an Indonesian domestic worker, Tuti Tursilawati, who killed her abusive Saudi employer, apparently to prevent him from raping her. The execution went ahead, apparently without either her family or the Indonesian government being informed.
According to Reprieve, nearly 40% of those executed in 2018 were convicted of drugs offences; 77% of those executed were foreigners, who also made up half the number of people put to death. Also, according to Reprieve, between 2014 and the end of 2018, 700 executions in Saudi Arabia took place.
Other human rights abuse cases include Abdullah Hasan al-Zaher and Ali al-Nimr. Abdullah was arrested by the Saudi authorities when he was only 15 years old for participating in a peaceful protest, according to the European Saudi Organisation for Human Rights. He has been sentenced to death and is still on death row, seven years after Saudi authorities arrested him. Ali was arrested in 2012, also accused of participation in an illegal demonstration and other offences, such as "explaining how to give first aid to protestors" and using his Blackberry to invite others to join him at the protest. According to Reprieve:
"Ali was tortured and forced to sign a false confession. This was the only evidence brought against him. He was sentenced to 'death by crucifixion,' which in Saudi Arabia involves beheading and public display of the body".
Ali is the nephew of Sheikh Nimr, a cleric who had called for reform in Saudi Arabia before being executed in January 2016.
Despite its catalogue of grave human rights abuses, in 2015, Saudi Arabia was elected chair of the UN Human Rights Council panel in charge of appointing independent experts. According to the independent UN watchdog, UN Watch, Saudi Arabia was chosen to head a five-member group of ambassadors, known as the Consultative Group, which has the power to select applicants from around the world for more than 77 positions dealing with human rights mandates -- positions such as the UN Special Rapporteur for violence against women.
The recent charges against the 11 women's rights activists, however, also presents an opportunity for the Saudi regime to prove that its talk of modernization and reform is not just limited to bringing the Saudi economy up to date with the 21st century by reducing the dependence on oil exports or by opening the first cinema.
The regime now has a magnificent opportunity to prove that it genuinely wants to move from 7th century jurisprudence and into a more 21st century understanding of concepts such as the rule of law – especially a law, a women's right to drive, that it has already permitted.
It could also do so by providing a general amnesty, not only to the 11 women activists recently charged, but to the many others sentenced, some of whom have been mentioned above. Such an initiative would help present the country in a refreshing new light to the West -- especially after the recent revelations of the UN's special rapporteur on extrajudicial, summary or arbitrary executions, Agnès Callamard, in investigating the Khashoggi case -- and might even help it acquire the significant financial investments it so needs and desires.
---
[1] According to Saudi Arabia's 2018 report to the UN Human Rights Office of the High Commissioner:
"In 2017, a law was passed that allowed women access to services without being accompanied by a man. Those services included health and legal services, the right to divorce, choosing a place of residence, and getting an identification card". As for the male guardianship system, Saudi Arabia has asked the UN to, "consider the decades of established social norms when reviewing changes in society. All countries went through development phases and any change would have to be a gradual change".
John Richardson is a researcher based in the United States.