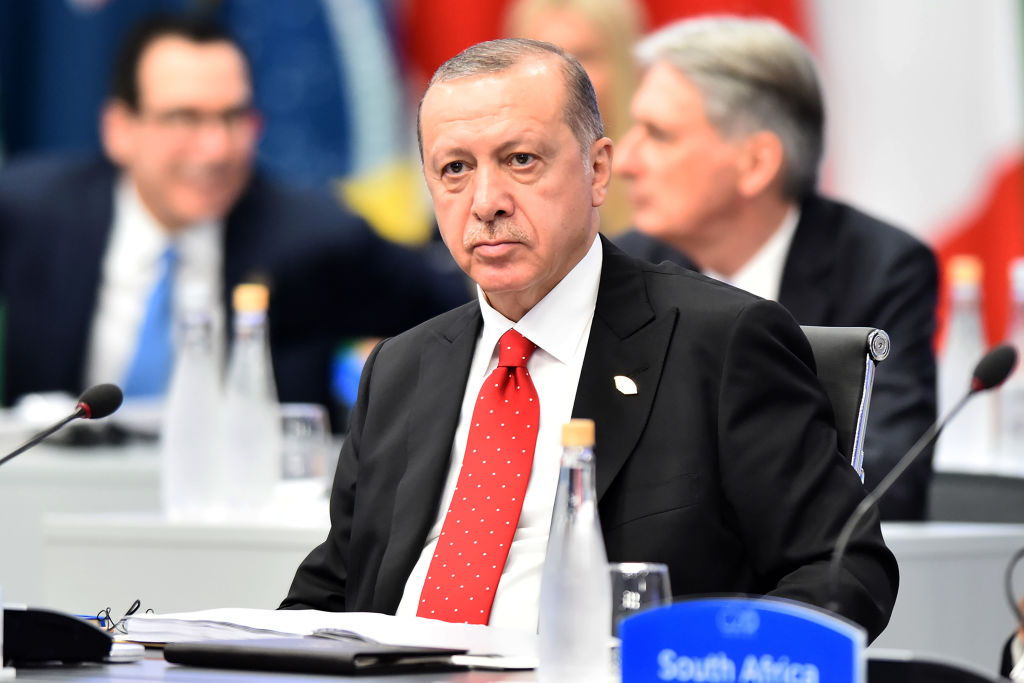 The defeat of President Recep Tayyip Erdoğan's AKP party in the March 31 municipal elections, coupled with a new wave of economic and financial crises, could force Erdoğan into early presidential and parliamentary elections. (Photo by Amilcar Orfali/Getty Images)
On March 31, the Turks went to the ballot box to elect mayors for their cities. Ostensibly the election results marked President Recep Tayyip Erdoğan's 15th consecutive election victory since his (Islamist) Justice and Development Party (AKP) came to power in November 2002. The AKP won the biggest number of votes (44%) nationwide. Its ultra-nationalist ally, the Nationalist Movement Party (MHP) won 7% of the vote. That was good news for Erdoğan. In reality, it was good but incomplete news for Turkey's Islamist strongman.
"Who loses Istanbul [in elections] loses Turkey," Erdoğan roared in a 2018 speech, underlying the importance of big Turkish cities in municipal elections.
He may be right. Winning Istanbul and Ankara was how political Islam eventually won Turkey. Precisely 25 years ago, in March 1994, the municipal elections caused a series of seismic events in the then-secular Turkish political landscape: In an altogether shocking election result the (Islamist) Welfare Party (RP) won Ankara and Istanbul, with Erdoğan elected as mayor of Turkey's biggest city. RP's leader, Necmettin Erbakan, Erdoğan's mentor became Turkey's first Islamist prime minister after he won the biggest number of votes in parliamentary elections in 1995, just a year after the party had won two of Turkey's biggest cities.
Ironically, 25 years later, Turkey's Islamists lost Ankara and Istanbul in another municipal election, although Erdoğan's AKP, citing vote rigging and other irregularities, challenged the results. The claim is particularly ironic as in all of past elections Erdogan was accused of vote-rigging, but only now, for the first time, are they complaining about irregularities. According to the Supreme Election Board, so far known to be a pro-Erdoğan rubber-stamp authority, opposition candidates won both Ankara and Istanbul. Ruşen Çakır, a Turkish columnist, said, perhaps prematurely:
"The election today is as historic as the local election in 1994. It's the announcement of a page that was opened 25 years ago and is now being closed".
"While losing Istanbul would be a nuclear defeat for Erdoğan," said Soner Çagaptay, director of the Turkish Research Program at the Washington Institute for Near East Policy, "losing Ankara, which is shorthand for political power and government, is a pretty significant loss".
In addition, the opposition bloc won several big cities that had traditionally voted for Erdoğan's AKP. With Sunday's results, the entire Turkish coastline of the Aegean and Mediterranean seas -- as well as the capital, Ankara, some major cities in Central Anatolia, the entire Thrace region and two provinces in northeastern Turkey -- went to the opposition. The predominantly Kurdish southeast was, as always, divided between the pro-Kurdish People's Democracy Party and AKP.
What do the election results mean for Turkey and Erdoğan? A few observations:
Allegations about Erdoğan's/AKP's vote-rigging have never been unconvincing, but the magnitude was hard to prove. It was anyone's guess: from 1% to 10%. This author has been on the lower end of the wide spectrum. The election results in Istanbul, now disputed by the AKP, put the opposition candidate into the lead by a margin of 23,000 votes in a city with 10.5 million voters.

It was the economy, not politics, that caused the average Turk, otherwise a staunch supporter of Erdoğan, to feel bitter about the government. In 2018, the Turkish lira hit record-low levels against major Western currencies; the unemployment rate hit a nine-year-high; inflation spiked, and the economy shrank by 2.4% in the last quarter of the year and 1.6% in the third quarter. Jesse Colombo of Forbes wrote:

"Though Turkey's government and many commentators are blaming the Trump administration and foreign speculators for the country's economic downturn, the reality is that it was already 'baked into the cake' many years ago due to the credit bubble that formed".

That "baking into the cake" is Erdoğan's worst nightmare. His election defeat, coupled with a new wave of economic and financial crises (a new Turkish lira plunge, surging bond and inflation rates, several conglomerates in the defaulting queue, more jobless voters, price hikes, more taxes and banking restrictions) could force Erdoğan into early presidential and parliamentary elections (now scheduled for June 2023). Erdoğan, relying on his nationalist partner, MHP, has played down the message of the municipal elections, ruling out early national elections at any time. "Please do not be heartbroken with this result," Erdoğan told party loyalists after the March 31 election results came in. "As of tomorrow morning, we will start finding and making up for our shortcomings," Erdogan added.

Ironically, the two "kingmaker" forces in the near future of Turkish politics will be the two camps that have traditionally been most hostile to each other: Turkish and Kurdish nationalists, both of which have around a 10% popularity in nationwide elections. Until 2016, Erdoğan courted the Kurds and deeply antagonized Turkish nationalists, including his best ally, MHP leader Devlet Bahçeli. He then scrapped all peace talks with the Kurds, made a U-turn and allied himself with Bahçeli -- a smart maneuver that earned him votes in the 2018 presidential race. After March 31, Erdoğan can easily calculate that his dependency on Bahçeli has grown even bigger. Bahçeli, for his part, could be tempted to abandon Erdoğan and, before a near-crisis has turned into a perfect storm, call for early national elections, by citing economic mismanagement.
Simple religious Islamist conservative and ultra-nationalist populism are still keeping Erdoğan in power, but there are signs that, if the economy keeps getting worse, those forces may not be able to save him. There are many signs that this is taking place.
Burak Bekdil, one of Turkey's leading journalists, was recently fired from the country's most noted newspaper after 29 years, for writing in Gatestone what is taking place in Turkey. He is a Fellow at the Middle East Forum.